Nokia Lumia 822 Review From an Apple Fan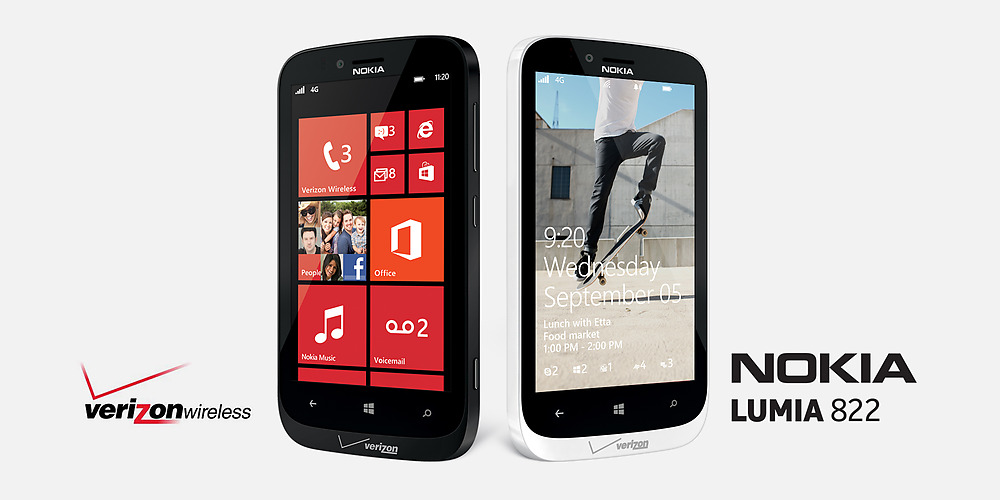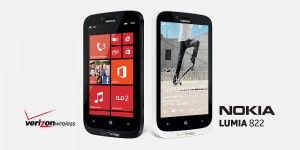 This is a guest post by Steve Borsch from Eden Prairie, MN.
Wondering if you should buy an iPhone, Android or Windows 8 mobile phone? As an Apple fan, I can tell you that you have never had more choice than you do right now. I think my perspective may help you understand a bit more about two of your choices: an iPhone or a Windows Phone 8 device, like the new Nokia Lumia 822 available only at Verizon.
Having used mobile phones since the early 1990s - from huge, heavy ones in a "bag" to ones that flip open like the original Star Trek communicator - I was instantly smitten when Apple rolled out the first iPhone in 2007. I had one the next day because I was (and still am) a voracious consumer of all things Apple. It completely changed how I use mobile phones and data while on the go.
When Android appeared and many manufacturers licensed that operating system and started making phones, it was intuitively easy to use because it leveraged the same user interface methods (icons for apps that you launch by touching) as did the iPhone. I could pick up an Android phone and instantly understand what it did and how it worked. It was remarkably "iPhone-like."
Microsoft had some catching up to do and blazed its own trail with Windows Phone 8. When it appeared on the market, I didn't spend much time trying to learn its new, radically different user interface because it would have required spending too much time with it. I played with various models in the Microsoft Store at Mall of America and at my local Eden Prairie Verizon store, but never invested the time necessary to really give the operating system a workout.
Until now. Recently, Verizon loaned me the Nokia Lumia 822 running Windows Phone 8 and, I must say, not only was I impressed with the phone running on the Verizon 4G LTE network I've come to know and love, I have to admit that I like so many aspects of this phone and the Windows Phone 8 user interface itself that the choice of a smartphone is even harder for a first time buyer.
By now, you have probably read so many hardware reviews you are sick of them. The Nokia Lumia 822 has been out for awhile, and I promise you this won't be an exhaustive review of the device and all of its features bit-by-bit. Instead, I would much rather give you an overall impression of the phone, the network it runs on and Windows Phone 8 operating system from someone who uses the "other" phones and operating systems extensively.
The Good
Here are a handful of observations about the phone and the operating system that you might find useful:
- The phone feels very good in my hand. It is light, well balanced and the review model is in an attractive charcoal gray.
- The quality of phone calls was surprisingly good. I don't expect much from mobile phones, especially because I use high quality voice on my computer daily with Skype. But this is a phone even callers said "was one of the best mobiles I've heard."
- The screen size is a large 800 x 480 pixels and nicely crisp.
- The Windows Phone 8 interface took some getting used to, but once I had, it became remarkably intuitive and fast to learn. The big key to a user interface is that you should be able to quickly build "muscle memory" so you instantly (and without thinking) know where something is and you just go to it. That sort of fast knowing happened more quickly than I'd anticipated, and I can sit here right now while writing and not looking at the phone itself and know exactly what I would have to do to change a setting, look at photos, make a call, send a text message and more.
- Microsoft's SkyDrive (7 GB of storage in the cloud) is easily accessible so you can store your digital files there for easy access.
- Office 365 is a nice addition, especially because the tight integration of Office and the phone works incredibly well (better spreadsheet view, for example, than anything I've seen on any other platform).
The Not So Good
Take these with a grain of salt, but here's what I didn't like:
- The 8 megapixel Carl Zeiss lens camera wasn't as good as the iPhone 4S camera (which is essentially unchanged in the new iPhone 5). The contrast ratio was better on the iPhone (you could see more in the shadows, for example), and I never could figure out how to defeat the flash (the flash *always* would light up to focus the camera and, if defeated, would then turn itself off before taking the photo!).
- Internet Explorer loads websites slower than Safari or Chrome on either an iPhone or Android phone, and this is regardless to whether it's a Web page loading on Wifi or Verizon's network. In comparison, pages load much faster on the two other main smartphone platforms.
- The speaker sounded tiny and, even with headphones in doing a comparison between an iPhone 4S and the Lumia 822, the iPhone's headphone sound reproduction was more faithful than the 822's output (note: I did an A/B comparison between the two listening to one of the Minnov8 Gang podcasts that I record, edit and produce to know exactly how it should sound).
- The overly "whooshy" aspect of the Windows Phone 8 interface. Moving from area to area in Windows Phone 8 creates a page turning whoosh that I find disconcerting. It seems like eye candy for eye candy's sake rather than something useful for the person manipulating the smartphone.
- The lack of some of my favorite apps that simply are not available (yet) on this platform.
The Bottom Line
So, would I buy this phone? Probably not, because I expect a lot more out of my smartphone and am overly concerned with audio, video and photo quality. Since I'm so incredibly invested in iPhone apps and have a ridiculous number nearing 300 of them on my iPhone (many of them purchased), the switching costs for me or my family would be too high. Plus, many of these apps also work on our iPads, doubling the pain if we switched.
Apps, and the number of them available, might sway you because the Apple App Store has 700,000+, Google Play App Store also has 700,000+ and the Windows Phone Store has approximately 127,000.
If you are like my wife, someone who uses a handful of apps like email, Web browsing, text messaging, Facebook and other mainstream apps, all of these are available on Windows Phone 8. I'm constantly running in to people who use but a handful of smartphone apps (regardless of the platform), so consider this strongly before you buy any phone.
Also, consider your use of Microsoft technologies and its ecosystem because the integration with Microsoft Office, SkyDrive and other Microsoft services already are very tight and work incredibly well.
If you are still using a feature or basic phone (or, as some call it, a "dumb phone"), then you really need to step up and get a smartphone. Too much is happening with mobile to not be using one because the world's knowledge is increasingly at your fingertips, your friends, family and coworkers are online so you can connect with them easily, e-commerce is shifting quickly to mobile (and you can get deals if you buy off your mobile device!), you can play music, watch videos and so much more. At a price of $99 for a 2-year Verizon contract (plus there are discounts…go online to verizonwireless.com or visit a store to learn more) and data/voice plans that are affordable, you simply must have a smartphone in your pocket and purse. The Nokia Lumia 822 with Windows Phone 8 is a great choice.
With more than 25 years in high tech playing a variety of roles in sales, sales management, business development and strategy creation, Steve Borsch has enjoyed leadership roles at Lawson Software, Vignette, Apple, Pioneer New Media, Panasonic Communications and others. Now CEO of Marketing Directions, Inc., a 26-year-old trend forecasting and management consulting firm in Eden Prairie, MN, he podcasts weekly as one of the Minnov8 Gang.
For more Verizon Wireless news, subscribe via RSS feeds in the right rail.