How Do I Optimize and Improve My Nonprofit Website Design?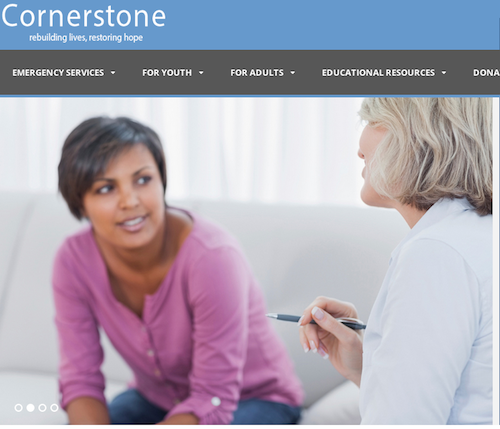 It's essential for nonprofits to have websites that can be easily found and navigated. Patty Radford Henderson, cofounder of Union Park Marketing, a St. Paul, MN-based digital marketing agency with expertise in content strategy and development, says it's key to build and optimize the best website for your cause, business and customers.
"Beyond a nonprofit's employees, leaders and volunteers, the website is its biggest asset and most valuable resource," Henderson said. "It provides 24-hour service and can be a real help to those in need."
According to PewResearch Internet Project's findings on mobile device use, 34% of website visitors go online mostly using their mobile devices rather than desktop or laptop computers. Nonprofits providing critical services must have websites that are optimized for flawless user experiences on desktops or mobile devices.
Henderson and her team at Union Park partnered with Cornerstone, a violence prevention organization based in Bloomington, MN, to create a website that would serve as the online resource for victims of domestic abuse, sexual violence and human trafficking. As a longtime supporter of Cornerstone and its Day One program, Verizon made a $50,000 donation to support Union Park's work to redevelop and optimize the organization's websites.
For nonprofits looking to improve their websites, Henderson has three essential steps to ensure organizations are found online and are helpful resources to people they aim to serve:
1. Have the right content.
Start with research. Know who is looking for your organization and how they are finding you. First, learn about your current site using free tools such as Google Analytics and Webmaster Tools. "You want to see how consumers are interacting with your site – traffic numbers, what pages they are looking at and where they are leaving your site," Henderson advises.
"Sometimes we find that what a company thinks resonates with its target audiences doesn't actually match how people are searching for information." Henderson starts gathering this data by hosting informational interviews with stakeholders, employees and existing clients to get a 360-degree view of the business.
Following the analytics research and interviews, Union Park uses a proprietary Topic Mapping process that identifies the content that is most in demand and the common language being used.
2. Optimize for search engines and mobile devices.
Having the right content will only get an organization so far. The next step is making sure the site is technically optimized for search engines. This is the key to being found. Optimizing content for mobile devices is also a requirement, as Pew Research points out.
For example, when Patty started working with Cornerstone on its websites, she quickly noticed the domestic violence crisis hotline number could not be "clicked" to dial. People trying to call the hotline needed to memorize or write down the number in order to call. Union Park updated the website and mobile optimization so any smartphone user just needs to click the number to direct dial. This is a simple, but crucial, change in user experience – especially during a crisis.
3. Use a trusted content management system (CMS).
Developing a website on an easy-to-use and affordable CMS will support long-term content strategies and search engine optimization (SEO). Union Park built Cornerstone's websites on the WordPress platform. Its user-friendly design and interface acts as a guide for uploading and modifying content. It also recommends keywords and metadata for SEO. Cornerstone's team is now able to directly manage content updates, which is ideal.
Henderson also encourages nonprofits to ensure their Google Maps and Apple Maps listings are up to date, accurate and include keywords for SEO. She also recommends organizations leverage their email and mail databases to build website engagement.
Having a nonprofit website design with the right content and mobile optimization is essential for organizations to help the people they aim to serve every day.
For more Verizon Wireless news, subscribe via RSS feeds in the right rail.