Prepare the Perfect Holiday Feast With These Recipe Apps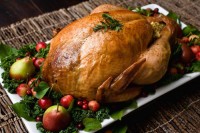 With the onset of cooler temperatures, changing leaves and the end of Daylight Savings Time, our thoughts turn to the holidays - time with family and friends, chestnuts roasting on an open fire and of course, food. Lots and lots of delicious food!
Thanksgiving, with its turkey, stuffing and pumpkin pie, kicks off a holiday season that can induce a little anxiety. From planning the perfect menu to making sure multiple dishes are done on time, hosting a holiday dinner can be stressful for even the most seasoned chef.
Thanks to your smartphone or tablet, preparing the perfect holiday feast can be fun and easy. We recommend the following recipe apps to help make planning and preparing your holiday dinners as easy as (pumpkin) pie.
Celebrate the holidays with Better Homes and Gardens ($0.99)
Plan a holiday gathering to remember with the help of this party planning app from the editors of Better Homes and Gardens. The app, which is available on iOS, offers creative ideas for recipes, invitations, festive decorating and party games. You can even find the perfect dinner music through exclusive links to iTunes playlists.
AllRecipes Dinner Spinner (Free)
Looking for some creative recipes to try this holiday season? Look no further. This app offers thousands of user-submitted recipes, including options for vegetarians and those with special diets. Simply enter an ingredient or shake your device to find some creative cuisine ideas. Nutrition facts are included for health conscious users watching their calories. AllRecipes Dinner Spinner is available on iOS and Android.
Chow Thanksgiving Coach (Free)
Cooking an extensive meal for family and friends can be stressful. This app leads you step by step through the entire planning process, from shopping for ingredients, to making sure the turkey is moist and delicious. First, choose your Thanksgiving menu. Then the app will provide a step-by-step guide for preparing each dish, including a timeline of what to prepare and when. The Chow Thanksgiving Coach app is available on iOS.
Epicurious Recipes & Shopping List (Free)
Are you hoping to impress guests with extravagant recipes from well-known magazines like Bon Appetit or Gourmet? This tasty app gives food lovers access to a huge library of professional recipes created by recognized chefs. You can filter your search by what's in your fridge, what's healthy, or by what holidays are coming up. It even provides you with interactive shopping lists and step-by-step stove-side instructions. The Epicurious app is free and available on iOS and Android.
iCookbook ($4.99)
More than just recipes, iCookbook contains everything a cook could possibly need. Once you've selected from the thousands of recipes available to choose from, share your holiday menu on Facebook or email it to family and friends. The voice command feature allows you to conveniently navigate through recipes while keeping your hands free to prepare food. You can even add personal notes to recipes and access a multitude of tools, such as timers and measurement conversions. The iCookbook app is available on iOS and Android.
Now, grab your smartphone or tablet, download these apps and get ready to dazzle your family and friends with your crafty culinary skills.
Are there any other recipe apps you're planning to use for the holidays?
For more Verizon Wireless news, subscribe via RSS feeds in the right rail.