Verizon Employees Rally in the Rain for Electronic Recycling Effort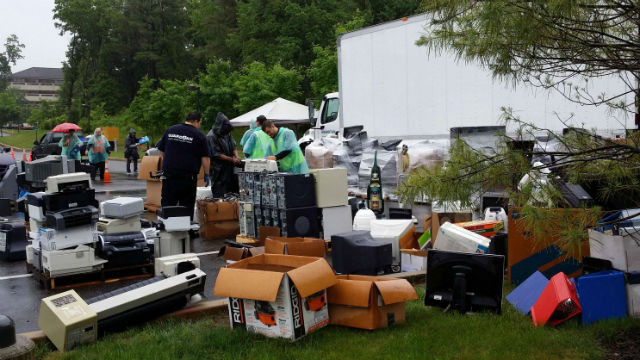 In 1952, Gene Kelly danced his way through puddles, splashing onto the big screen in the hit movie Singin' in the Rain.

The classics never get old, but the TVs we watched them on have aged significantly. I saw plenty of those dated TVs make their own cameo during another Verizon recycling rally.  According to the EPA, only 17 percent of the 864,000 TVs discarded in previous years were recycled.  If not recycled, such electronic waste can end up in landfills.
 
To help combat the electronic waste problem, Verizon hosts recycling rallies open to employees and the community.  Since 2010, Verizon has collected more than 1.5 million pounds of electronic waste.
 
Our last rally was during a rainy World Environment Day (June 4th) in Basking Ridge, NJ.  While no one was singing in the rain, there were plenty of smiles going around as the local community and Verizon's Green Team members helped ensure old TVs were being recycled.