Results of Verizon & Des Moines Moms Blog Holiday Photo Contest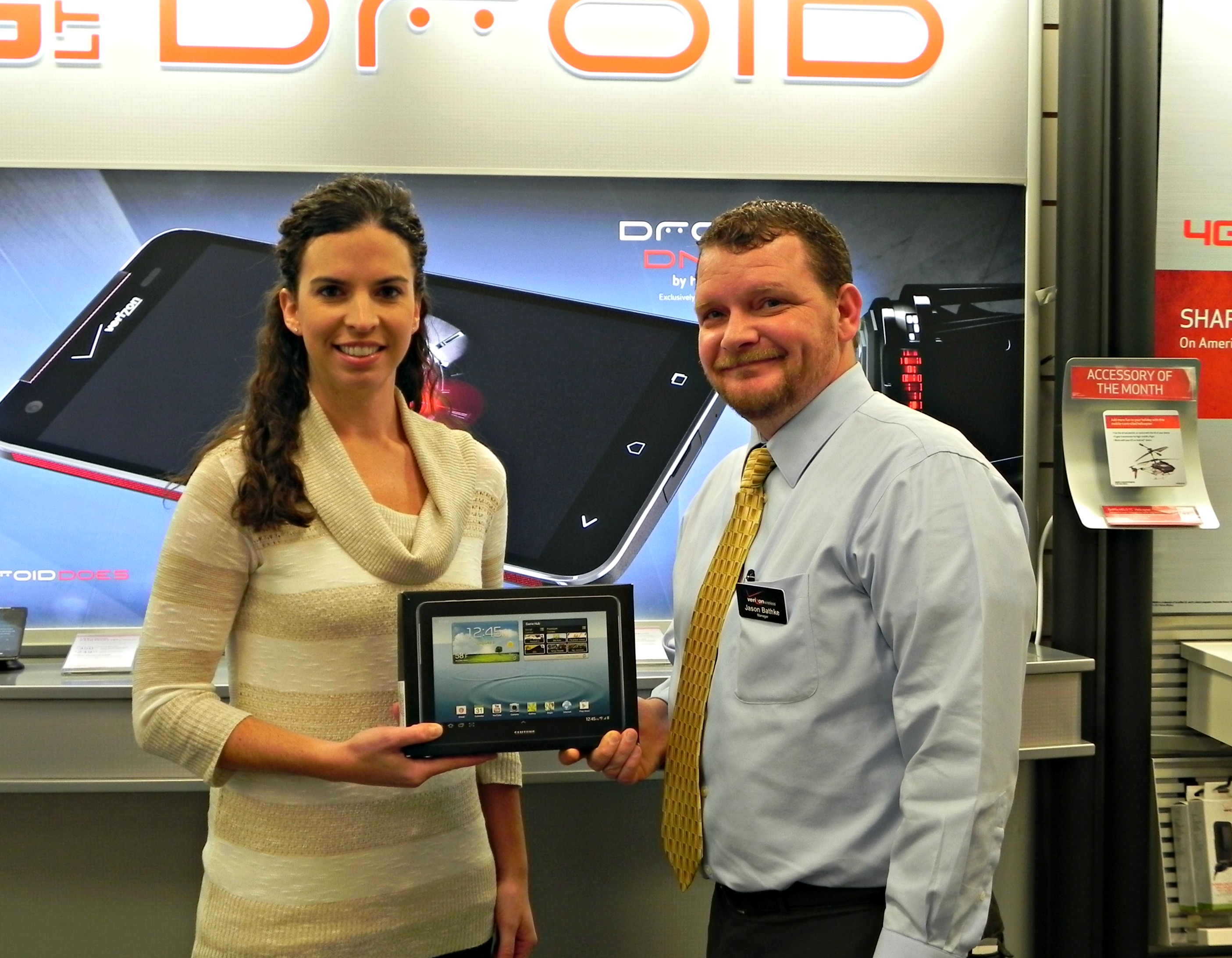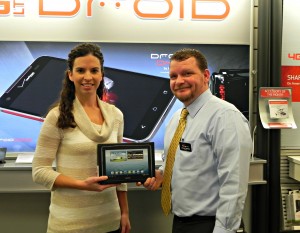 Des Moines Moms Blog holiday photo contest winner, suzandandy, with Verizon Wireless Store Manager, Jason Bathke, in Des Moines, IA.
Recently, we worked with the wonderful ladies over at the Des Moines Moms Blog to host a holiday mobile phone photo contest, where one lucky person would win a Samsung Galaxy Tab 2 (10.1).
The winning photo, "A Helping Hand", was submitted by suzandandy. The judges at Des Moines Mom's Blog felt this quality photo exemplified the spirit of the season, the innocence of children and a generous heart. We agree!
I was thrilled with the amount of photo entries we had. They were all great, and it was difficult to choose a winner.
Here are some comments from the winner:
"This was such a fun contest! I enjoy taking pictures anyway, so this provided a fun outlet to share them. I easily uploaded five of my photos to the Flickr site for the contest. The winning photo was taken the night of my husband's office Christmas dinner. Since we have four kids (ages 10, eight and twin three-year-olds) we often have them help each other get ready. I asked Kylee to help me by putting her twin brother's tie on. She gladly helped out, and I managed to catch that sweet moment on my phone's camera."
"I appreciate Verizon Wireless teaming up with the Des Moines Mom's Blog for this great contest with such a wonderful prize. The whole family is excited to have a tablet. We plan to use it for both educational and fun apps, as well as entertainment when we travel. The option to use it as a 4G LTE connected device or with WiFi makes this tablet so incredibly versatile. We can't wait to use it!"
Longtime blogger, Des Moines Moms Blog contributor and Verizon Wireless customer, Jody Halsted, knows a thing or two about cameras and smartphones. A freelance writer and full time mom, Jody uses her DROID RAZR MAXX by Motorola to capture moments for both personal memories and online publishing. Jody explains how the contest came together:
"Chronicling my life for my readers and myself is just second nature for me. I used to carry a pocket sized point and shoot, but when I bought my first DROID smartphone, I didn't have the need for a point and shoot. I take as many images with my smartphone as I do with my professional camera - possibly more, as it is always with me!"
"No matter where you go, you're likely to see parents with phones turned sideways, snapping photos. I've seen smartphones used to record memories from the Alamo to Yellowstone and the Cliffs of Moher to Australia."
"A few years ago, I was lucky enough to begin what has been a terrific relationship with the Verizon Wireless Great Plains Region. Knowing how often moms snap photos with their smartphones, I thought a holiday photo contest would be a terrific fit for the new Des Moines Moms Blog. Since many of the DMMB readers aren't bloggers, we had to contrive a contest that was both easy and fun to enter. Creating a Flickr group was the solution and, judging by the number of entries, it wasn't difficult for the readers to get involved. Thirty eight people contributed more than 200 photos."
"I would like to thank all our readers who entered the contest. We were thrilled to have Verizon's support and are beyond appreciative for the remarkable prize package!"
Thanks again to Jody and the entire DMMB community for working with us on this fun contest! Happy Holidays.
For more Verizon Wireless news, subscribe via RSS feeds in the right rail.