Road Construction Season: How to Better Navigate With Mobile Tech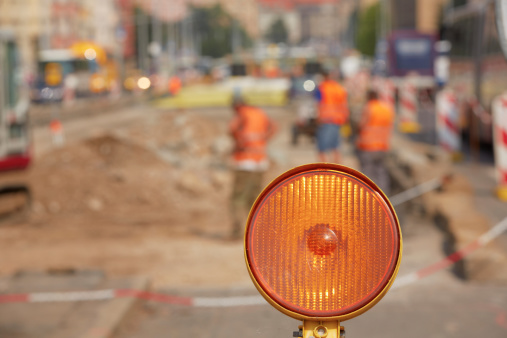 Spring is here, and popping up alongside the pink and yellow tulips are the dreaded orange traffic cones. Road construction season has officially arrived, and drivers are bracing for headaches and delays throughout the warm weather months. In fact, according to Jordan Perch, an analyst at DMV.com, research conducted by the Texas A&M University Transportation Institute showed each American commuter spent 38 hours on average stuck in traffic due to congestion over the course of a year. Perch went on to note it is very likely that road construction projects are among the leading factors for causing traffic congestion.
With so many construction projects on the docket, drivers are likely looking for ways to better navigate road construction season and avoid getting caught in delays and detours. Mobile technology—from traffic cameras that operate on Verizon Wireless' 4G LTE network, to traffic apps—can help drivers be prepared even before they hit the road. Consider the following tips:
Check out traffic cams: Many cities offer traffic cameras that allow drivers to view video or still images of traffic conditions on their smartphone or connected tablet before they leave. In Pennsylvania for example, PennDot posts the images to the state's 511PA website at www.511pa.com and on 511PA mobile apps that you can download for free to a smartphone or connected tablet from Google Play and iTunes.
Get real-time road reports: There's a variety of traffic apps you can download to help you check road conditions before you leave your house. Waze (available on iOS and Android) is the world's largest community-based traffic and navigation app. Drivers in your area share real-time traffic and road info, saving everyone time and gas money on their daily commute. INRIX® XD Traffic Maps and Alerts (available on iOS and Android) provides accurate traffic, routing and road alerts, including current traffic conditions, incidents, construction, police and road closures.
Be prepared: Even with careful planning, sometimes you just can't avoid getting caught in construction traffic. Consider keeping some travel accessories in your car to ensure you can stay connected on the go. The Energizer Cup Inverter is a compact car charger that fits into most cup holders and can power up to five devices, including smartphones and connected tablets, at once. If you need to take calls on the road, keep your hands safely on the wheel with the Droid Roadster 2 Portable Bluetooth Speaker from Motorola. The smart design enables you to clip it to your vehicle's visor, much like a garage door opener, so it's always handy. The device lets you hear incoming messages, speak outgoing texts and use Voice Dial without touching your phone. And voice commands allow users to simply say "Answer" or "Ignore" into your device to activate a call.
As we celebrate the arrival of spring and warm weather, remember that you don't have to dread getting stuck in traffic this road construction season. Let mobile tech give you insights to road conditions, construction zones and alternate routes before you hit the road.
If you're using mobile tech to help deal with road construction zone traffic, send me a tweet and let me know – @VZWlaura.
For more Verizon Wireless news, subscribe via RSS feeds in the right rail.