Roadtreking With Mike Wendland – A Visit to Bronner's Christmas Wonderland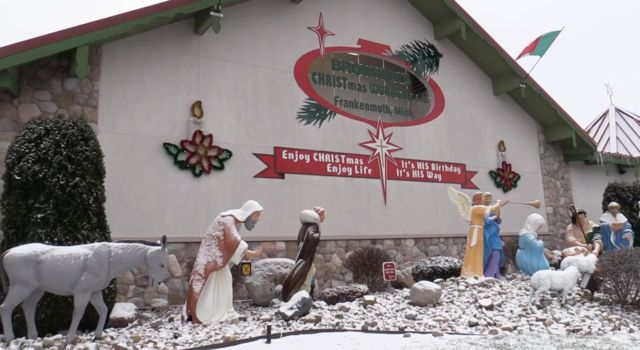 With the 2013 holiday shopping season now underway, few stores were as busy as Bronner's Christmas Wonderland – the world's largest Christmas store located in Frankenmuth, MI.
Over the three-day Black Friday weekend, more than 50,000 people made their way up to Frankenmuth to check out the displays and add to their holiday adornments. For my wife, Jennifer, and me, it's a holiday tradition.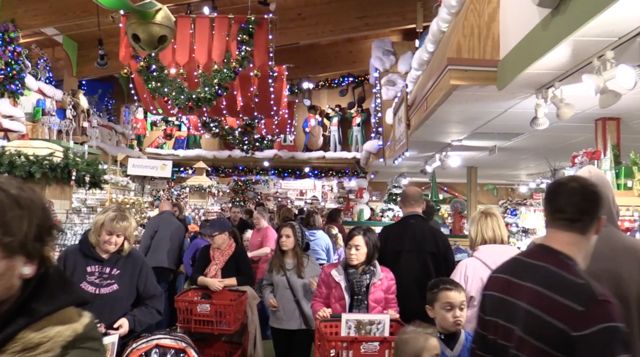 More than 50,000 shoppers visited Bronner's over the three-day Black Friday weekend.
But this year, we noticed a major trend. As Bronner's keeps expanding, the store gets bigger and bigger, and it conversely gets easier and easier to get lost. That's where technology kicks in, as you can see in this video:
At more than seven acres in size, Bronner's is now so big that many shoppers needed their cell phones to meet up with their friends after getting separated in the various decoration departments.
"We can't imagine how hard it would be without it," said Cathy Hall of Chicago, who texted some friends to meet her near the west entrance.
She was far from alone. Lost husbands were connecting with their wives by cell phone. Friends were passing along bargains and the aisle locations of sought after ornaments. A grandmother was taking photos of her granddaughter in front of a dazzling Christmas tree display and posting it on Facebook.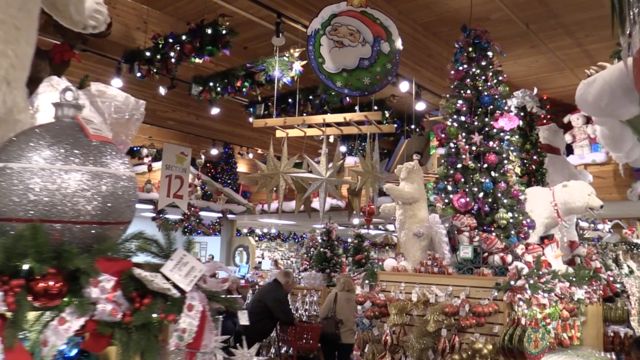 Bronner's has more than seven acres of indoor holiday displays.
Frankenmuth is in Verizon's solid 4G LTE coverage area. Verizon reps shared with me that the company experienced a 62% increase in 4G LTE usage in downtown Frankenmuth during Black Friday compared to a typical Friday.
The folks I met came from all across the Midwest, and as far away as Georgia. Many have an annual appointment up here with friends and family. Some dress in Christmas sweaters and holiday themed apparel.
The store has a great outdoor lighted display, as well, which draws after dark spectators from Thanksgiving through the New Year.
This may be the busiest time of the year, but the world's biggest Christmas store is busy all year. Each year, Bronner's sells more than 600,000 glass ornaments. If all the light sets sold in one year at Bronner's were stretched out in a continuous line, they would span approximately 530 miles, or the driving distance from Detroit to St. Louis, MO.
Inside, you'll find lawn displays, stuffed animals, Nativity sets and more Santas than you can count.
Bronner's is open every day of the year except Thanksgiving, Christmas, New Year's Day and Easter Sunday.
Many make an outing of it, driving a mile down the road into the Bavarian-themed town of Frankenmuth, famous for its chicken dinners and trendy tourist shops.
Disclosure: While Verizon Wireless compensates Mike for the stories he reports from his travels throughout the Midwest about how technology enhances our lifestyles, all opinions and content are directly from Mike, not Verizon Wireless.
For more Verizon Wireless news, subscribe via RSS feeds in the right rail.