'Tis the Season for Giving: Maryland Officials, Nonprofits Highlight Verizon's Impact in Maryland
'Tis the Season for Giving: Maryland Officials, Nonprofits Highlight Verizon's Impact in Maryland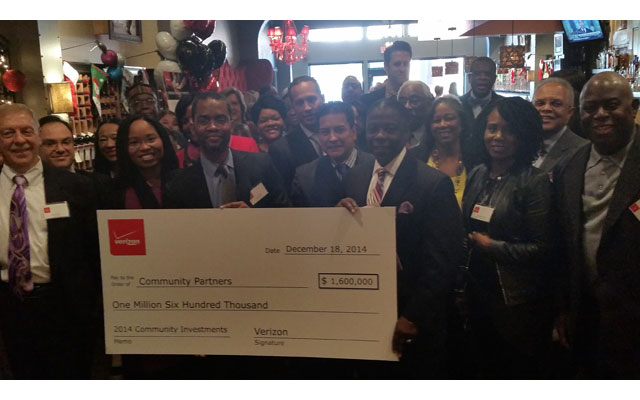 Verizon released its "Community Support Report" at a holiday gathering with community partners, nonprofits and state and local government officials on Dec. 18 to highlight the company's impact in Maryland this year.
To date, Verizon has awarded $1.6 million in grants to support communities in such areas as domestic violence awareness and prevention; healthcare; and STEM (science, technology, engineering and math). In addition, company employees donated thousands of volunteer hours this year.
About 100 people gathered for the event, which was emceed by WOLB Radio talk show host Larry Young. Maryland Senate President Thomas V. "Mike" Miller Jr. discussed the importance of corporate partnerships, along with Maryland Delegate and Majority Whip Talmadge Branch. Both thanked Verizon for its corporate responsibility.
Dr. Carnell Cooper of the University of Maryland Medical Center discussed how Verizon's funding helped implement the only comprehensive, hospital-based domestic violence awareness and prevention program in Prince George's County.
Alex Baston of Education Based Latino Outreach, an organization serving the Hispanic community in Baltimore, thanked Verizon for creating the Verizon Digital Village, a computer lab located in the Jose Ruiz Community Center. The lab has 21 personal computers made possible with a Verizon Foundation grant enabling immigrants and other community residents to hone their computer skills, search for jobs and research class assignments – all free of charge.
This year, Verizon also supported the STEM program at the Boys & Girls Clubs of Southern Maryland. Executive Director Joy Hill-Whitaker stressed how funding from Verizon helped generate students' interest in STEM-related courses and careers and enabled the organization to redirect other funding to provide meals for needy students.
"Verizon is driven by its employees to use the innovative power of our technology and philanthropic dollars to address critical social issues," said Tabb Bishop, Verizon's vice president of state government affairs. "We are proud to partner with key nonprofit organizations throughout the state to be a positive force for change in communities in greatest need."