Secrets From a Tech Recruiter: Karyn Soucy
Secrets From a Tech Recruiter: Karyn Soucy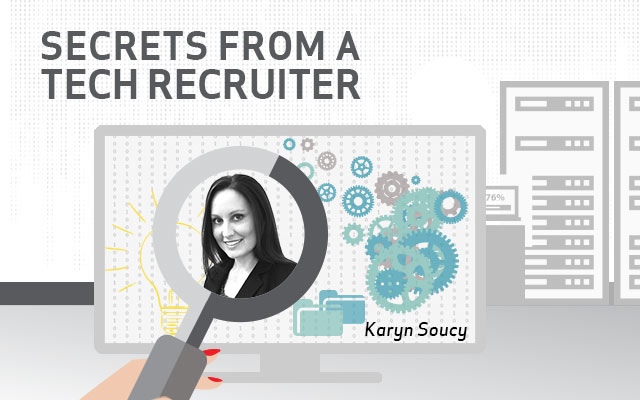 When you work at Verizon, you'll be working with some of the best and brightest minds including Ashok Srivastava at the helm, as our Chief Data Scientist. Check out recruiting secrets below from the Verizon talent acquisition team to help your tech skills stand out as we look for the right recruits to help us invent and bring those inventions to market.
"I'm always looking for candidates excited about the technology they're working with. The individuals who grab my attention are the ones who are familiar with the product they'll be working on and who've done their research before I even speak with them on the phone."

- Karyn Soucy, Talent Acquisition, Boca Raton, Florida
How to impress our talent acquisition team with your own technical savvy:
Backend developer isn't the same as end-to-end developer. We use platforms that are so cutting-edge you simply either have the experience for a specific position or you don't. Highlight HTML, high-volume systems or HTTP protocol experience—as long as it fits the niche we're looking for. Repurpose your résumé so we notice applicable degrees (computer science: highly desirable!) and target companies you've worked for.
This is not the time to be humble. Don't bury the important info at the bottom of your résumé: Bring the tech roles you've held within the past three to five years to the top. That software you helped debug this year or framework you just helped bring to fruition? That's what we want to see!
Give us a snapshot of what you do best. Provide a brief summary of the database, network protocol or OS in your wheelhouse. A succinct, concise statement—just a couple of sentences long—about your networking expertise, distributed-systems savvy or preferred software methodology will capture a hiring manager's interest.
You code in your sleep—and on request. Whether you're at a more senior level or just a few years out of the gate, you know the drill. If we ask you to demonstrate your coding skills on the whiteboard, you don't hesitate, because it's second nature, you're confident, and you want to show us you have what it takes to succeed in software engineering.
Come back for more insights in the next installment of our Secrets From a Tech Recruiter.