Bring Out Your Inner Kid With Smart Accessories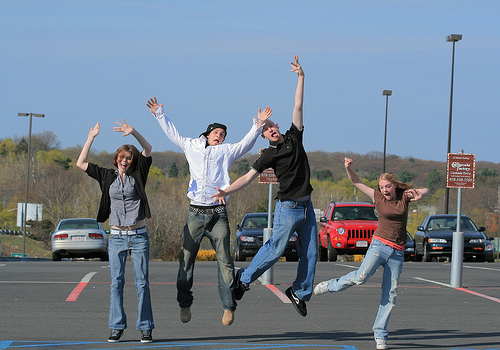 As an adult, do you sometimes wish to be a kid again? If so, we have smart accessories that will make you forget all about your responsibilities and put some fun into your day. A smart accessory interacts with your phone or tablet, bringing them to life in ways you never imagined.
Have you ever wanted to see what your house looks like from 100 feet up? Give the quad rotor Parrot Drone a test flight. Using your phone, you can control a four-rotor plane to fly over 150 feet and take pictures and video of the flight. I have had one for more than six months, and I still get geeked up to use it weekly. I can follow the kids on their bikes, play with the dogs or clean the leaves off my roof in style!
If you wish to relive the golden days of arcades, you need to get an iCade: Arcade Cabinet for iPad®. Playing Space Invaders, Asteroids, Centipede, Pac-Man and more on this mini standup will take you straight back to 1982. With a full size joystick and buttons, this accessory paired with your iPad will give you hours of entertainment.
If remote control cars are your thing, give the Griffin Moto TC Rally a try. The MOTO TC Rally brings real-world, off-road rally racing into your hands. Drive, maneuver and race Rally from your iPhone, iPad or iPod touch, paired with the MOTO TC Rally app.
Winter is often a great time for puzzles. Try a different level of puzzle building with the Ravensburger Augmented Reality Puzzle: Times Square. Sure, you've finished a puzzle before. But has it ever come to life, talked to you and plastered your photo on a virtual billboard in Times Square? This Ravensburger puzzle uses augmented reality via your iOS-compatible mobile device to place you in the middle of the scene you just created.
Does doing housework not sound too thrilling? Do what I do: Rock out with the volume on 11 using the Bose® SoundLink II Wireless Bluetooth® Speaker II. Doing the dishes is way more fun when you're jamming to hair bands of the 90's.
If you have some outdoor activities on your schedule, take your music with you using the Beats Wireless Headphones by Dr. Dre. Immerse yourself in your favorite songs wirelessly while you run around trying to climb trees in your backyard.
Grab one of these cool smart accessories and infuse a little fun and relaxation into your day!
For more Verizon Wireless news, subscribe via RSS feeds in the right rail.
Photo Credit: Pink Sherbet Photography via Compfight cc