How Smart Home Technology Gave One Family Peace of Mind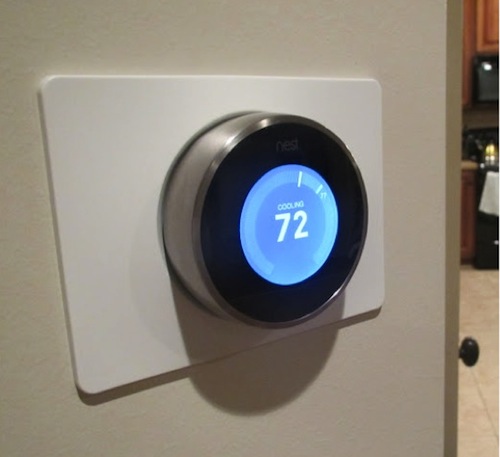 This is a guest post from Geoffrey Brackman, tech enthusiast, family man and manager of a Chevrolet Buick dealership who lives in DuBois, PA. We loaned Geoffrey with a variety of smart accessories to help him transform his home into a smart home. Geoffrey shares his experience with his new smart home gadgets and tells us why he now can't imagine going back to daily life without them.
Since my smart home technology makeover, the three products I find myself using on a daily basis are the Nest Thermostat, Chamberlain MyQ Garage and the Kwikset Kevo.
The Nest Thermostat has really given us a whole new level of convenience. Our home has forced air heat and central a/c that is controlled by one thermostat on our first floor. Since we installed the Nest, gone are the nights of waking up, going downstairs and adjusting the temperature. My wife and I can reach for our smartphones and make adjustments from there.
I also paired the Nest with a Jawbone UP24 bracelet. When the UP24 knows I'm in bed, it tells the thermostat to drop the temperature to 71 degrees, and it also tells the Nest to bring the temperature back up to 73 when I wake up in the morning. Also, when no one is home, the Nest drops the temperature down to save on heating and cooling costs.
I was also able to pair it with the Chamberlain MyQ smart garage door opener. When our garage door goes up and the Nest knows I haven't been home, the temperature is automatically adjusted to the prior comfort level.
Speaking of the MyQ, I absolutely love the custom notifications. I have MyQ alerting me if the garage door remains open longer than one hour. I can call my wife and see if our kids are outside playing or away from home. If they are away, I can remotely close the garage door.
I have also had to receive deliveries when I have not been home. When the delivery person calls me, I open the garage door while they are on the phone with me, they leave the package and I close the door. It's pretty sweet.
I've even installed a Belkin NetCam to monitor the contents of my garage to make sure delivery people don't get too nosey while they're dropping off those packages!
Of all the smart home technology we've been using, my wife and kids love the Kwikset Kevo the best (here's a series of photos of me installing the accessory). They have a little key shaped fob with them at all times. When they get to the front door, they just tap the lock with their index finger and the door magically unlocks. My wife would tell you that she isn't impressed with the magic, but more so the convenience of not having to dig for her keys with arms full of groceries. She can just tap and enter the house.
Making our home a smart home has really become a family affair, and we've all been able to use the smart home technology. My kids are 3, 6 and 9. Each of them can open the front door and the garage door without assistance from me or my wife. However, we don't allow them to touch the thermostat— that's an adults only area!
After living with these smart accessories, I really see these technologies becoming the new standard in homes. It's similar to how I catch myself looking twice when someone has a flip phone. We are almost at that point where we assume everyone has a smartphone. As smart home technology continues to grow, we may do the same when visiting a friend. We'll look twice when we see they are opening their door with a key verses using technology like the Kwikset Kevo.
Through the experience of turning my home into a smart home, I found that ultimately, having a smart home has given me peace of mind. Gone are the days of wondering if the front door is locked or if I remembered to put the garage door down while on my way to vacation or a business trip.
At the end of the day, for me, quality of life with these new found conveniences has improved. Whoever would have thought using keys or adjusting the thermostat the old fashioned way would ever be an inconvenience? Now that my home is smart, I'll never go back. The question is what will I smarten up next?
For more Verizon Wireless news, subscribe via RSS feeds in the right rail.