Smart Semester: 4G LTE Samsung Galaxy Camera Worth Every Penny
This is a continuation of our ongoing college series, "Your Smart Semester: Technology 101." We invited Ali Hendricks, a Butler University student, to spend a little time with technology and give us her college take. Today, Ali is talking about Verizon's 4G LTE Samsung Galaxy Camera that traveled with her on summer vacation.
If you've seen the new Samsung Galaxy S4, you probably know Samsung does it right when it comes to phones. If you haven't seen the new Samsung Galaxy S4 yet, let me tell you something: Samsung does it right when it comes to phones!
Not only does Samsung do phones right, but the company does cameras right, too. I can give a firsthand testament after getting to try out the 4G LTE Samsung Galaxy Camera on my vacation to let you know how well it would work for a college student.
I should tell you – I'm a photographer, so I know a little bit about cameras (from high end to low end in terms of price). Of course, the camera I use for my photography business is a DSLR. But, I did use a point-and-shoot for a long time before I started professionally in photography.
The bad thing about the camera I use professionally is that it's huge (unlike the Samsung Galaxy Camera). Yes, it takes great pictures, but it's really heavy and very expensive, so I didn't want to carry it throughout Disney World. I would only bring it on the beach for a short amount of time.
That's why the Samsung Galaxy Camera was perfect for my vacation. It's small, but packs so much punch.
First of all, the wide-angle capabilities are amazing. I use a wide-angle lens on my full-frame DSLR and still, the Samsung Galaxy Camera captured about one-third more of the scene than my DSLR. Having a wide-angle camera on the beach was perfect, especially because the scenery is what I wanted to capture most.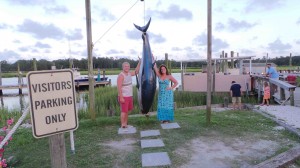 Another awesome thing about this camera is you can upload all your pictures directly to Facebook or Instagram, both of which are necessities, obviously. Plus, it's equipped with Verizon Wireless' 4G LTE network – by which I'm forever spoiled. I haven't upgraded to 4G LTE on my phone yet, and I truly didn't know what I was missing.
I didn't play with the various settings on the Samsung Galaxy Camera much while I was reviewing it because my brain is so trained to only shoot in natural light, which means any normal setting works. However, I wish I would have because there's so much you can do with it.
As a photographer, my favorite setting is manual. The cool part about this camera is if you choose to shoot manual, each control briefly states what it does, and as you change the setting, the lighting changes in the display. This is a great way to teach yourself to shoot in manual, which is really like day and night from shooting on auto.
You can do so much while shooting in manual that you can't do in auto, but it's hard to learn on a big DSLR through trial and error. This camera shows you what the picture will look like before you even take it so you can get the settings just right.
The manual feature itself sells me on the Samsung Galaxy Camera, but if it doesn't sell you, there's so much more it has to offer, like the capability to upload directly from the camera and the super wide-angle view.
At $549.99, the Samsung Galaxy Camera isn't cheap. But right now, no good camera is cheap. If you're looking for a good camera to capture your college moments, that takes great pictures and truly helps you learn to be a better photographer, this one is the answer.
And, shoot, if $549.99 is too much for you right now, ask mom and dad to help. After all, the holidays are coming sooner than you think!
For more Verizon Wireless news, subscribe via RSS feeds in the right rail.