Smart Semester: Tips For College Grads Using Social Media From HR Expert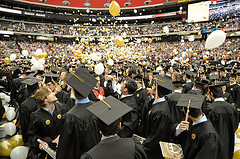 This is a continuation of our ongoing college series, "Your Smart Semester: Technology 101." We invited Ali Hendricks, a Butler University student, to spend a little time with technology and give us her college take. Today, Ali shares her conversation with an HR expert about using tech and social media to find jobs, as well as other great tips for college grads.
One more year until graduation, and I'm already thinking about my job searches when I leave Butler University. Looking for a job can be intimidating – and navigating HR departments can be a bit of a mystery. As social media becomes more of a tool to help land a job, even with a 140-character "twesume," I decided to ask an HR expert for some advice and tips for college grads.
Meet Sharlyn Lauby, also known as @HRBartender on Twitter. With more than 35,000 followers, Sharlyn is a regular contributor to Mashable, and her blog has been recognized as one of Spark Hire's Top 25 Must-Read Blogs for Employers. Her "day job" is president of ITM Group, a training firm in South Florida.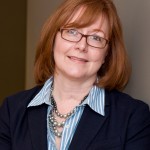 Today, she answered my questions about the best tips for college grads doing job searches. Specifically, we talked about how to use social media responsibly. After all, the last thing anyone needs is to lose a job opportunity because of an accidental tweet from their smartphone!
Q: What are some of the most common mistakes college grads make in applications/interviews?
I believe the biggest mistake is thinking lack of corporate experience is a disqualifier. College grads have a lot of relevant experience in the projects they complete during school, jobs held while attending school and volunteer roles. They should think about how to showcase those experiences during an interview.
For example, college students who worked every summer at the same store should make sure a recruiter knows they are dependable, reliable and the store management asked them back every year. The students who held officer positions with a college fraternity or sorority can point to managing budgets and resolving conflicts. Don't minimize the non-corporate experiences.
Q: How are employers using social media and what are they looking for there?
I would expect that recruiters are searching LinkedIn profiles for potential candidates. It's important to keep your LinkedIn profile updated and optimized for search.
And if college grads are using Twitter to engage with career sites, they should think about what their status updates say about them. It's only logical if someone tries to engage with a career site Twitter account that whomever is managing the account is going to look at their profile.
Q: Should college students keep their profiles locked? If not, why not?
One of the most important things people (not just college students) need to do is learn the privacy settings for whatever social media platform they plan to use.
We've seen in the media plenty of examples where a person has posted a status update in anger or frustration, or after a night of too much partying, that has come back to haunt them. I've also seen users get some level of fame on social media and decide it's their new obligation to "entertain" their followers - sometimes with regrettable results.
If your goal is to get a job, think about whether your status updates help or hurt that goal. This doesn't mean you can't be human and mention a book you've read, having dinner with friends or cheer for your favorite sports team.
Q: What are some of the latest issues related to social media and job applicants?
The one I hear about most often is companies asking candidates for their passwords. I can't tell people what to do, but I would suggest thinking long and hard about whether you want to work for a company that asks for your social media passwords. The company you are interviewing with, however, may insist that its own employee passwords not be provided due to security concerns. So contradictions do exist when it comes to providing and sharing.
Q: How much does being tech savvy play into desired qualifications for employers these days?
I do feel being tech savvy is desired and can provide an advantage. Candidates today should know the basics, at a minimum - how to create a Word document, spreadsheet and presentation. More companies are looking at Bring Your Own Device policies (BYOD). Candidates should know the basics of troubleshooting their devices.
For example, I'm a consultant, and I call a tech company that helps me when I run into problems. But, I know they don't want me calling about every little hiccup. Some things I should be able to figure out on my own.
And, since we've been talking about social media, candidates should know the major platforms. They don't have to use them all, but know what they are and what they do.
Q: Are employers evaluating applicants now based on how well they use social media?
I find this is driven by the position you're interviewing for. I've seen companies very interested in how many followers a candidate has when it's for a sales or marketing position. At the same time, candidates are playing up their social influence during interviews. It can be a win-win depending upon the position.
Q: Any other trends or important tips for college grads?
Remember you are interviewing the company as much as they are interviewing you. Do your company research and ask great questions!
She makes this all sound so fun and easy, doesn't she? Check out the HR Bartender blog for fun reads on other HR qualms and questions. Oh, and mind your p's and q's – I mean, uh, tweets and retweets.
Here's my take on social media in a column I wrote for Butler's Public Relations Student Society of America chapter.
Have any other questions? Tweet them to @HRBartender.
For more Verizon Wireless news, subscribe via RSS feeds in the right rail.
Photo Credit: Will Folsom via Compfight cc