Are Smartphones For the Birds? They Can Be With Bird Watching Apps.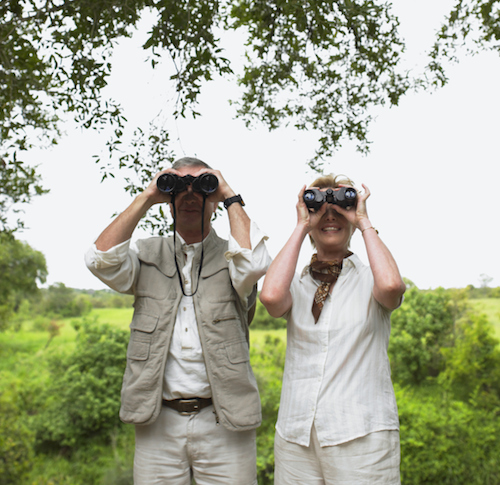 Can you tell the difference between a crow and a raven? Or do they just look like blackbirds? How about a sparrow and a wren? The next time you look up in the air and have trouble differentiating between airborne creatures – try looking down at your cell phone.
Expert birders have created an entire suite of bird watching apps and digital resources that can help you locate and identify practically every bird you are likely to encounter in North America.
One of the best mobile birding apps is the iBird Pro Guide created by the Mitch White Group. This was one of the first smartphone bird field guide apps created and continues to be one of the most reliable apps available. This interactive guide features full sized color illustrations of 924 different bird species found throughout the United States and Canada, range maps indicating where your favorite birds are likely to be seen, and a search function that allows users to search by size, color, shape, song and more.
Jean Leonatti, an avid bird watcher (or "birder" as they tend to call themselves) from Columbia, MO, has used the iBird app for a number of years.
"In the old days, you could always spot birders because they always had their trusty field handbooks in tow," observes Leonatti. "Now, most people are turning to digital apps on their cellphones because they are so convenient. It's funny. You can still spot the birds, but it's harder to spot the birders because they aren't carrying their clumsy old books around," added Leonatti.
Currently, the iBird app is only available for iOS 7 or higher operating systems – and it does carry a price tag of $19.99 – but it's certainly worth the price for admission to the world of birding.
Another popular digital guide is the National Geographic Birds: Field Guide to North America app. At just $9.99, it's less expensive than iBird, but offers the same wide array of bird identification information for North American birds. As you may expect, the photos of birds presented by National Geographic are beautiful, and the search function on this app sets it apart from other similar products.
For instance, if you spot a bird and are only able to identify it as a "hummingbird," the app will provide you with all birds that match the generic "hummingbird" term. As you add characteristics such as color or geographic location to your description, the app automatically narrows the list of birds that you may have spotted.
The Audubon Society also offers a similar bird watching app called Audubon Birds Pro that's equally as powerful as the previous apps, has a lower price than most ($4.99) and has been recommended for use by both expert and novice users.
Now that you have the apps, you need a place to spot birds during the frigid month of January. In Missouri, that's not a problem. One of the most magnificent and inspiring sights you will ever see is the American Bald Eagle as he flies effortlessly through the air then comes to roost on a perch high above the ground, apparently surveying all that lies beneath.
If you have never witnessed this inspiring spectacle, you may want to consider one of the Eagle Days events sponsored every January by the Missouri Department of Conservation and nature-loving volunteers in local communities throughout the state. Details for Eagle Days activities in the Columbia, Springfield, St. Louis and Kansas City areas can be found online by visiting the Missouri Department of Conservation website.
If you really become interested in birding as a hobby, you can actually add to the database of bird watching by reporting sightings of specific species in different parts of the country. BirdLog North America, created for both iOS and Android devices, allows bird watchers to record and submit their sightings directly to the eBird database right from the field, and the Bird Codes app provides short, 4-letter codes for all birds that make reporting easy and accurate.
And don't forget, you can always use your mobile device to keep in touch with fellow bird watchers in the field, find nearby restaurants and services you may need while on a trip, or even find your way home from some remote site known only to the birds who frequent the area.
So, load up your phone, dress warmly and head to the field to view your favorite flying friends, and maybe even catch a glimpse of the majestic bald eagle. There are hundreds of species just waiting to meet you and dozens of bird watching apps to help you make the introduction complete.
For more Verizon Wireless news, subscribe via RSS feeds in the right rail.