#SmartSummer: Busy Mom Shares Back to School Mobile Tech Tips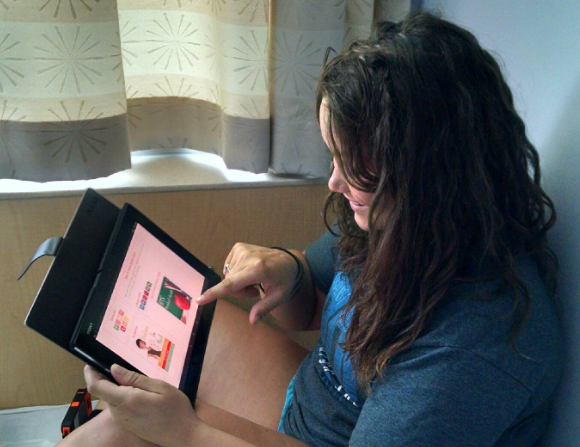 This is part of our #SmartSummer series, where we're sharing stories related to using tech to enhance summer activities and fun with family and friends.
Heidi Gray is bargain hunting mom, living in Kansas City and blogging at smslwithheidi.com (Save More, Spend Less with Heidi). She loves to share deals, tips and tricks with other moms, hoping to make their busy day-to-day lives a little easier. Disclosure: We loaned Heidi the Sony Xperia Z2 Tablet, the Jawbone Jambox Mini and the Samsung Galaxy S5.
As a busy mom and wife, back to school means back to routines. As a result, I have my work cut out for me organizing schedules, coordinating family meals and making sure school work is a number one priority.
So, when summer is on its way out and homework is on its way in, there are a few apps and other mobile tools I enlist to help us start the school year off on the right foot.
Tip 1: Use the Cloud
My family is always on the go—from sports practice, to clubs, to friends' houses, there's no stopping us! We've found that using mobile technology is a great way to make sure homework gets done well and on time. Apps such as Google Drive and Dropbox enable my daughter, Elizabeth, to access her most important school work from anywhere. These apps store documents on the cloud, so all her homework is right at her fingertips.
Not only is the cloud a secure way to keep the most up-to-date version of her assignments accessible at school and at home, but it's great to use on devices like our Sony Xperia Z2 Tablet, when our computer isn't nearby. (Hint: These tools are great for work-at-home parents who are constantly on the move, too!)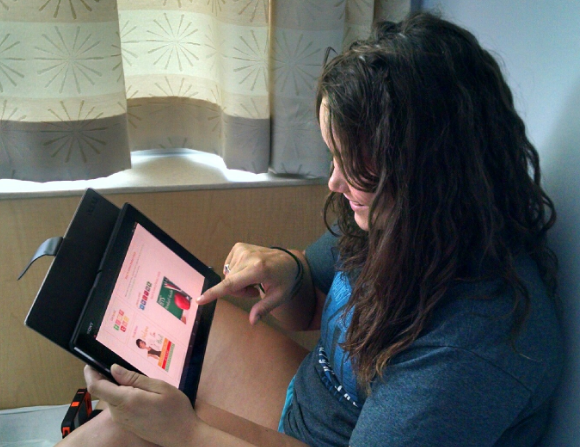 Heidi's daughter using the Sony Xperia tablet.
I also love this tablet's durability. Even if your kids are always careful with their tech devices like my daughter is, I find peace of mind in knowing that it's waterproof and very durable in case an accident does happen.
Tip 2: Go Wireless
Sometimes long, challenging assignments make it tough for kids to concentrate, so having a little background music can be helpful. My daughter and I both love the Jawbone Jambox Mini speakers because they're lightweight, easy to use and so portable! If she wants to move from her bedroom to the kitchen to work, she can just grab her music and go. We also love the sound quality and how easy it is to sync with all our mobile devices.
Tip 3: Sync Up
When school activities get rolling and homework picks up, I used to feel like my fridge and calendar were covered in to do lists. Now, I reach for apps like Colornote, which allow my whole family to share to-do lists, and Google Calendar, which syncs effortlessly with all our devices, to make sure everyone is on the same page. Whether we're all sitting around the dinner table discussing our plans, or all at a different activity looking at our smartphones, we can save lists and make plans in a snap.
Tip 4: Save More, Spend Less
When it comes to back to school shopping, I love finding the best deals I can! Who said this time of year has to be expensive? But when time is at a premium, browsing all the weekly ads can turn into a headache, so I look to my favorite shopping app, RetailMeNot, for all the best deals. I can be sure I'm getting the best price, and I have access to all the information I could possibly want, no matter if I'm at my desk at home or standing in line at the grocery store.
I especially love to use this on smartphones like the Samsung Galaxy S5—the large screen with incredible quality makes sorting thought all these deals a breeze!
I hope these apps and devices are as helpful to you and your family as they are for us when it comes to back to school. Here's to a great new school year!
Get more tips from Heidi by following her on Twitter @savemrespendles.
For more Verizon Wireless news, subscribe via RSS feeds in the right rail.