Sports Broadcasting on the Road With NFL Mobile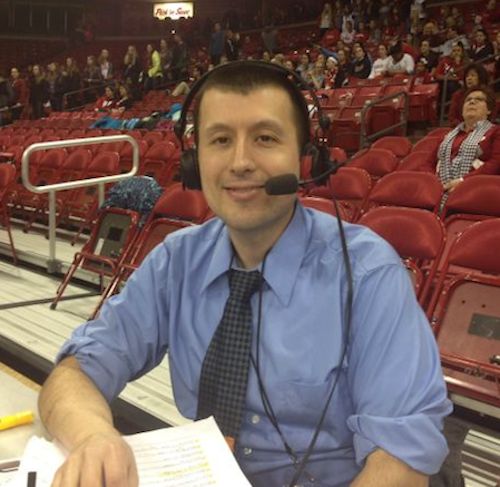 We recently chatted with Jon Arias, play-by-play guy for Wisconsin women's basketball and volleyball, and producer/co-host for The Mike Heller Show for iHeartMedia. The Mike Heller Show is aired in Madison, Milwaukee and Eau Claire, and features the best of Badger, Packer and Brewer sports talk. We loaned Jon a Samsung Galaxy S5 fully-loaded with NFL Mobile for the 2015 NFL season. Connect with him on Twitter: @JonAriasRadio.
How did you get started in sports broadcasting?
I started in college at Winona State University. I wasn't exactly sure what I wanted to major in and always thought being on the radio would be fun. They had an opening for a sports director, so I applied and got the job. It's been all sports broadcasting from then.
What's your favorite part of sports broadcasting and who has been your favorite interview?
My favorite part of being in the sports media is being able to be at the games and interact with coaches and players afterward. I've also been fortunate enough to work on a talk show where I have to talk about sports every day. That's pretty cool. We've had numerous great interviews on the show, but the one that stands out to me was more recent when we talked with ESPN college basketball analyst Dick Vitale. It was a normal interview until the end when we asked him about his new book. He got very emotional talking about being bullied as a kid and it showed a side of him that the average sports fan doesn't see very often. Listen here.
What does your job entail on a daily basis?
It varies from day-to-day. Some days are spent out on the road. Some days are spent at arenas. A lot of the time I spend producing and writing updates, too. I spend another big portion of my day preparing and arranging interviews for the [Mike Heller] show. During the NFL season, a lot of my time is spent traveling with the local women's basketball and volleyball teams to conference sites.
What got you interested in NFL Mobile?
The fact that I would be able to keep track of the NFL wherever I was. I thought, "Oh boy, this would be really neat, especially if I have to travel to a different city to broadcast basketball or volleyball games!" I saw it as a big timesaver and a way to keep in the NFL mindset, even when I'm off reporting on non-football sporting events. If I have to go to a volleyball game on a Sunday, I can keep track of the Packers game at the same time – and be able to prepare for Monday's show. The biggest perk was the mobility.
How has it helped you during your job?
A couple ways. Not only does it help on a Sunday to be able to see the game live, it also helps me interact with our audience that's hanging around on Twitter. I can still stay informed on the game, when I'm someplace where I can't see the game – and I can talk with The Mike Heller Show's listeners in real time about it. This saves me from having to rush to catch up once I'm done reporting on my other sporting events. On Monday I can simply go to the NFL Mobile app and get the highlights. And if I did happen to be at an away game, I don't have to wait for the television to be on my schedule. I can do it all right there on the app!
Do you think NFL Mobile can make a big difference for football fans?
Absolutely. We all have days where we're committed to something else. Sometimes those commitments involve travel that takes you away where you won't be able to watch the game, but with the app you're covered. You can trust it. It's from the NFL. You can customize it for your team and receive highlights and alerts. It's simply an awesome way to keep up with game day stuff, and also to remain updated with your favorite team throughout the entire week. I find that very valuable.
For more Verizon Wireless news, subscribe via RSS feeds in the right rail.