Sportswriting in the Age of Social Media: A 3-Screen Experience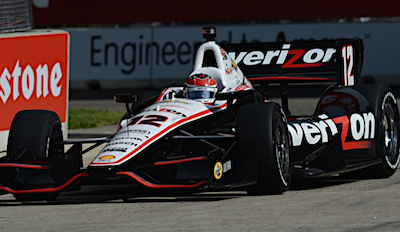 This is a guest post from Chris Jenkins, a writer and editor at Marquette University in Milwaukee. Formerly a national sportswriter, Chris still occasionally works as a freelance sportswriter.
It wasn't so long ago that life was pretty simple for sports writers: Watch the big game from the pressbox, make a couple wisecracks to the person sitting next to you, go to the locker room to get a few quotes after the game, then come back and take a few hours to write something up for the next day's paper.
As a former full-time sports writer who graduated college in 1996, I had a front-row seat to watch the media business evolve (not quickly enough, but that's a topic for a different time).
I'm old enough to remember the Tandy TRS-80 ("Trash 80"), the electronic word processing equivalent to an automobile that starts with a hand crank.
Its tiny screen displayed two lines of type at a time. It ran on a fistful of AA batteries and it actually had a rudimentary modem, connected to an actual hard-wired phone through a spaghetti bowl of wires. Suddenly, you didn't have to go back to an office, send a fax or dictate over the phone to get a story in the paper – unless, of course, the story you just wrote magically vanished from the TRS-80's memory during the transmission process, in which case you had to start all over.
Fast forward to today, where the TRS-80 might as well be a carrier pigeon. Today's emerging technology has forced reporters into a mad scramble of new priorities.
With so many eyeballs gravitating toward social media, tomorrow's paper has permanently taken a back seat to live coverage. It's not even really worth debating whether this is good or bad … it just is, and it's never going back.
So, when something big happens at a big event today, you don't stop to take it in, absorbing details to put in the next day's paper. You write about it. Like, now. Pound out 400 words in three minutes and post it, with multiple updates afterward.
Today, being a sports writer—or any other kind of journalist—requires clear eyes, calm nerves, a multi-tasking mind and fast fingers.
And, perhaps, three screens.
At the invitation of Verizon's Illinois/Wisconsin team, I recently test-drove a Google Nexus 7 tablet. And where do you test drive stuff? A racetrack, of course!
I took the Nexus 7 to three Verizon IndyCar Series races for a few recent freelance gigs: The Grand Prix of Indianapolis on May 9, the Indianapolis 500 on May 25 and Milwaukee IndyFest on Aug. 17.
I haven't taken a tablet with me to past events (troglodyte confessions: I actually don't own one!) … but now that I have, it seems like a must. The Nexus 7 would turn out to be a near-essential tool.
Today, social media is more than an outlet for journalists to promote their work and interact with readers; it also can be a significant source of story leads, if you know where to look and what to ignore.
An example: The Grand Prix of Indianapolis—a new race held partly on the Indianapolis Motor Speedway's famous oval track and partly on a road course that winds through the track's infield— started off with a spectacular crash. Fortunately, no drivers or fans were seriously injured, but that wasn't the end of the story.
As I typed an instant update about the crash on my computer, I paused every 30 seconds or so to use the Nexus 7 to monitor Twitter – where it quickly became apparent that the mayor of Indianapolis, who was at the track to wave the green flag to start the race, had been hit by debris from the wreck.
That's when three screens came into play: a computer to continue typing the story, the Nexus 7 to monitor Twitter and a phone to send emails and text messages to officials, attempting to confirm what was being reported on Twitter. (Indeed, inaccurate or intentionally misleading Twitter reports have burned many a journalist, making the fundamentals of accurate reporting and verifying information more important than ever.)
Could you type a story, send emails and monitor Twitter just using a computer? Sure – but all that switching back and forth between applications would cost you precious seconds.
Fortunately, this story had a happy ending: An email back from a spokesman in the mayor's office confirmed that the mayor was just fine.
Write it, send it, get back to watching the race.
With that said, here's my mini-review of the Nexus 7:
It's FAST. The Verizon folks weren't kidding about the 4G LTE speed.
It's easy to use.
It has great resolution, even on a medium-size screen.
It's bigger than a phone but still fits in a sportcoat or cargo pants pocket.
Did I mention it's fast?
One downside – The master on/off button can be a little sensitive, so an accidental brush of that button can send you back to the lock screen when you didn't intend to.
I also enjoyed using the Nexus 7 to feed my main sports addiction: English Premier League soccer. The matches live-streamed flawlessly on the device, whether I was in the middle of Indiana or near downtown Milwaukee. Impressive.
So, in summary: I think I need one.
For more Verizon Wireless news, subscribe via RSS feeds in the right rail.