Strapping on a GoPro & Tackling the Madison Mini Marathon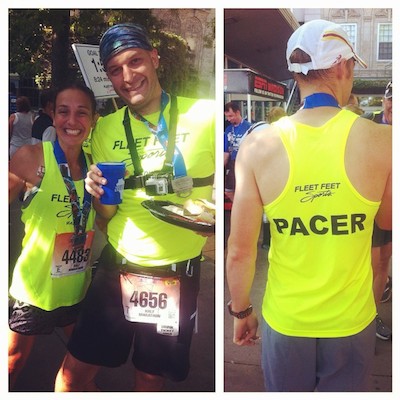 This is a guest post from Curtis Hall, who participated in the recent Madison Mini Marathon on Saturday, August 16. Curtis is an avid runner, who races about eight times a year, and mostly trail ultramarathons. When he's not outside, you'll likely find Curtis at Fleet Feet, where he hangs out with runners, plays with shoes and motivates other runners to "go the distance." For the Marathon, Verizon offered Curtis the chance to capture all the action by wearing a GoPro.
I have run races where there have been sudden weather changes. I've broken shoelaces, developed nasty blisters, dropped my nutrition, lost a water bottle, been attacked by animals, tripped and fallen, and gotten completely lost. Yet I've also experienced many positive surprises while running. I've met some incredible people, I've been left speechless by some beautiful scenery, I've learned about new products, and I've discovered things about myself.
This year's Madison Mini Marathon was one of those events that presented a number of positive experiences. I've run this race twice before and love doing it. This year I was assigned to be part of the official pace team for the race, so since I knew others would be counting on me to run my pace, I wanted to be as prepared as possible. I also had the assignment of carrying a GoPro camera for the entire race, which was something I have never worn before.
I was excited to try out the Go Pro camera, especially since I have seen some incredible footage online captured by these tiny, high quality cameras. Obviously running a half marathon wasn't going to capture the same kind of images that you'd get skiing down a glacier or jumping a mountain bike off of a cliff, but it still seemed like the best way to capture many of the moments from the run.
Wearing the camera was a lot of fun, and not just because I've been able to relive the race while I watch the footage, but because the camera brought out a lot of silliness in many of the other runners around me. All I'd have to do was say, "Smile, you're on GoPro," and I'd get the greatest reactions from people.
There are so many aspects to the Madison Mini that make it such an amazing event. You see some of the most beautiful parts of Madison over the course of 13.1 miles. It is an extremely well organized event. The volunteers are incredible. And the post-race party is unlike anything I've experienced at a race.
But the thing that continues to make this race extra special for me are the participants, and being a pacer allowed me to have great interactions with so many runners. Because I stood out so visibly (being over six feet tall, wearing a bright yellow shirt and holding a giant sign), many runners came up to me before the race and started seeking last minute advice, asking me what my strategy was and how I could help them finish at their goal time. Although many of these runners were nervous, they were also expressing a ton of gratitude to me for pacing.
My favorite part of this year's event happened around the 5-mile point. Usually at about that point in a half marathon is when reality sets in for most runners. All that adrenaline that was pumping through the system at the starting line is gone, but you haven't yet reached the halfway point. During the Mini, this is also where runners go through the University of Wisconsin Arboretum, a beautiful location, but not a location where there is much crowd support. Folks had quieted down and I knew many of them were starting to have to dig deep to keep with our pace group. The crowd ahead of me had thinned quite a bit from the start, but as we were pounding the pavement, I noticed the sound of dozens of feet striking the ground in perfect rhythm. It was very cool… almost hypnotic.
I decided to look behind me and see how many runners were with us. The sight of 50 to 60 runners immediately behind me, all with that same look of determination on their face, is a sight I won't soon forget. Many of these runners stuck with us the entire race, and seeing them cross the finish line a few seconds under their goal time was so rewarding. Although many runners came up to us afterward to thank us, I kept reminding each of them that it was they who did all the work.
This is just another thing I love about running. Almost every runner I meet is kind, grateful and so supportive of everyone else. If you want to see this first hand, consider signing up to run and volunteer at an upcoming local race.
Check out some of this video I took with the GoPro:
For more Verizon Wireless news, subscribe via RSS feeds in the right rail.