Team PrISUm Hopes to Shine in Solar Car Race With Help From the Sun & Verizon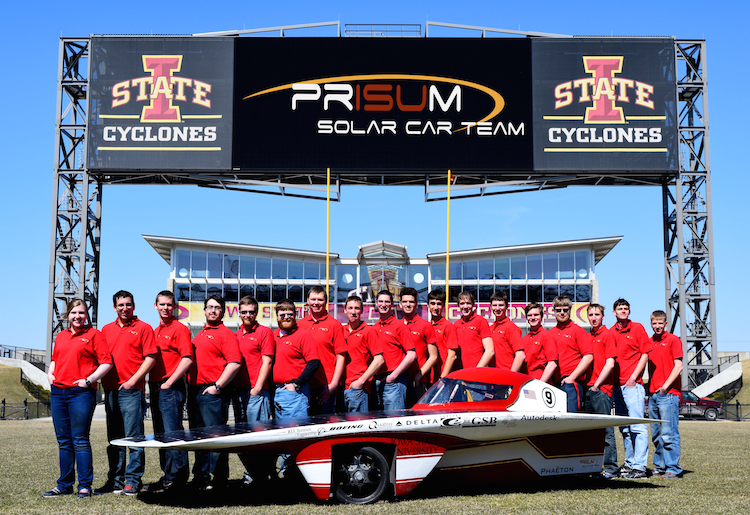 A group of students from Iowa State University soon will be showcasing their talent in a very unique way.
Team PrISUm will join teams from 16 other colleges and universities in the Formula Sun Grand Prix – an annual solar car race held this year from July 29 – 31 in Austin, Texas.
Hosted by the Innovators Educational Foundation, the three-day race showcases the potential of solar powered vehicles. While Team PrISUm will rely on the sun to power them through the race, team members will rely on the power of Verizon Wireless devices and the 4G LTE network to communicate with one another and share their adventures with fans.
"After a third-place finish during last year's American Solar Challenge, Team PrISUm is hungry for a first place finish," said Matte Goode, Team PrISUM project director. "The keys to this race are a light weight, low air resistance, a reliable vehicle and some sunshine."
Open to teams around the world, the Formula Sun Grand Prix tests the limits of the vehicles in handling curves, braking and acceleration. The winner is determined by the total number of laps completed over the three days of racing. The team who completes the fastest single lap around the track also will be recognized during the awards ceremony.
With lessons learned from the American Solar Challenge, Team PrISUM spent the past year optimizing its 12th solar vehicle, called Phaeton. While the car may look the same on the outside, volunteers completely rebuilt the electrical system and interior to ensure a reliable, versatile and robust design.
"On paper, every design seems perfect. It is when you manufacture the components, assemble the product and test the device for 1,000 miles that you begin to notice its downfalls," Matte said.
To document their experiences, team members will use devices on loan from our team at Verizon, including the Samsung Galaxy Note Pro, the Droid Turbo and the GoPro Hero 4. And to ensure their connectivity, they also have two Jetpack MiFis.
"We will use the devices for weather updates, too. As we are solar powered, we have to know what the weather will be like so we can adjust how we drive the car," Matte said. "And, because the team can't take many of the drawings and technical documents with us to Texas, we will need to communicate with team members back in Ames."
Founded in 1989, Team PrISUm is a student-run organization dedicated to educating the public about advances in vehicle efficiency and the capabilities of solar energy. Over the years, PrISUM has become an integral part of the college experience for many ISU students.
For race updates and possible live feeds, follow Team PrISUm on Facebook, Twitter, YouTube and Periscope.
For more Verizon Wireless news, subscribe via RSS feeds in the right rail.