Tech For Entrepreneurs: 10 Apps, Tools & Technologies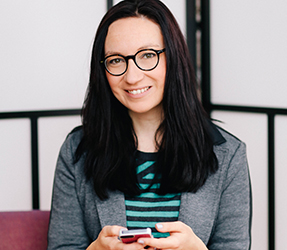 This is a guest post from Heather Whaling (@prTini), founder/CEO of Geben Communication, a PR firm that helps emerging brands and forward-thinking, established companies excel in a social world. Named one of the top entrepreneurs in Columbus, OH, Heather also serves on the Board of Directors for The Women's Fund of Central Ohio. Connect with Heather through her PR blog, communication trends e-newsletter or Instagram.
Startups are nimble. They work quickly, and they like to stay one step ahead of their competitors. So as a PR pro who works with a number of startups, that means I need to stay one step ahead of the curve, too. Sure, our clients often task us with things like community management or generating media coverage, but they also rely on our team to serve as expert resources, business counselors and trend monitors … a "know-it-all," as we like to say.
I've tried a lot of new apps, tools and tech for entrepreneurs over the years - not only to help our clients stay one step ahead, but our own team, too.
Here are a few of our favorites for staying connected, on time and on task:
Our team has tested a number of project management solutions, and Basecamp is the clear winner. It's incredibly easy to use and keeps our whole team organized. Plus, it has a helpful calendar feature where we can map out content and keep track of which events are coming up that could impact our clients.
Like most entrepreneurs, I typically do most of my reading either early in the morning or late at night - neither of which is an ideal time to share links online. Using Buffer, I can schedule links to post throughout the day, instead of all at once, as I read them. Buffer also has easy-to-understand analytics to help me determine which content resonates with my followers.
Some days our entire team is in the office … others, we're working from home or various coffee shops around Columbus. Dropbox (a free, online file-storing service) allows us to access our files from anywhere, as well as on any device (they have Android, iPhone, iPad and Kindle apps, too). Through Dropbox, we can also easily share files and folders with clients.
Evernote is a fantastic tool for organizing all your notes, files and websites. Plus, you can sync everything you save on multiple devices. For example, I use Evernote to capture potential blog post ideas and save meeting/call notes.
Finally, "expense reports that don't suck!" (Seriously, that's their tagline.) We use Expensify to manage our company's expenses, so I highly recommend it for other entrepreneurs looking for an easy way to manage theirs.
Remember that early morning and late night reading I mentioned earlier? Feedly compiles news feeds from multiple sources across the Web, so I use it to access all my favorite blogs and websites in one place.
Whether you're a fast-growing company or you just have a few invoices to send per month, FreshBooks is a helpful tool for time-tracking and invoicing. Even better? It integrates seamlessly with Expensify.
We use Google Drive to store and share documents, sometimes internally, but often times with our clients, too. We can collaboratively draft and edit documents through Drive, so it's a huge time-saver when we're in a crunch and need to quickly turn around deliverables.
One of our favorite work hacks, IFTTT helps automate your online life. (Think of it as a tool that allows your people to take care of things for you – without actually having people.) You can add various social media/Web services to your account and create "recipes" that trigger if certain things happen. I'm an avid New York Times reader, so one of my personal favorite recipes is having popular NYT Technology articles delivered directly to my inbox.
Managing social media is a big part of our business, so our team spends a lot of time on Twitter, Facebook and other networks. Hootsuite allows us to manage multiple accounts from one dashboard – not just scheduling content, but also monitoring searches and lists to identify opportunities to interact with our clients' fans and followers.
Here are a few more of our team's favorite PR tools and productivity apps.
What other tech for entrepreneurs is on your must-have list?
For more Verizon Wireless news, subscribe via RSS feeds in the right rail.