Full Transparency
Our editorial transparency tool uses blockchain technology to permanently log all changes made to official releases after publication. However, this post is not an official release and therefore not tracked. Visit our learn more for more information.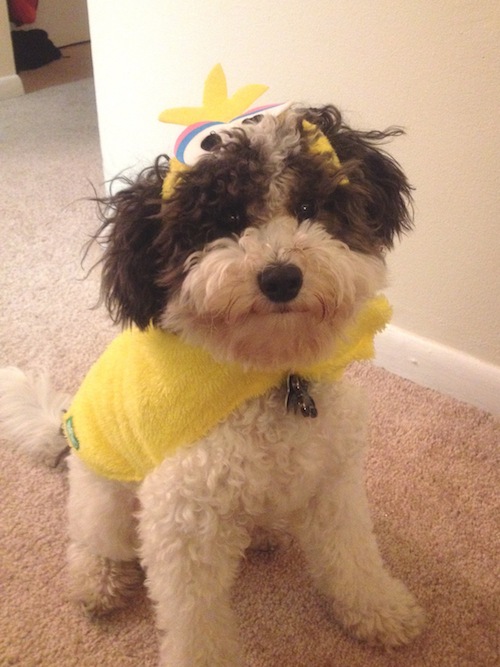 This is a guest post from Stephanie Vermillion, who shares tips about using tech and dog-centric mobile apps to take care of the new puppy she brought home during Adopt A Shelter Dog Month.
"When you know, you know."
This phrase typically describes two people who fall in love and know immediately that they're going to spend the rest of their lives together, full of romance and roses.
My "when you know, you know" moment hit the second I met Harry, a 15-pound, six-month-old, black-and-white bichon poodle who was up for adoption at the local animal shelter. Wow. After looking into his big, teddy bear eyes, I knew I'd take puppy love over romance and roses any day of the week.
On October 4, 2013 (during October's National Adopt A Shelter Dog Month), I signed the papers, purchased a collar and brought that little bundle of curly, bright-eyed joy home—to an apartment that had no dog food, no crate, no food bowls … oh my. Somewhere between the pet store and my parking lot, it hit me:
I have a dog, and I have no idea what I'm doing.
I've heard it said that all couples should have a dog before kids for the training. Well, if that's the case, I should have considered a hamster before Harry because the whole potty training, feeding schedule and waking up to the sound of an "accident" on the carpet was a shock to my system.
Honestly, at six months old I thought Harry would be good-to-go on the potty training front. However, the women at the shelter told me that the adoption process can disrupt a puppy's system, which meant accidents were likely. Oh boy.
Even though it was stresssful, one look at his little face made it all worth it. And, I felt much better when I remembered I had the power of technology on my side. I found all sorts of dog-specific mobile apps, including apps to decode your dog's bark and apps that soothe pets with acoustics.
These options sounded fun, but my focus was on preventing permanent, smelly floor damage. I selected the Dog Bells app, which lets you set reminders for meals, potty breaks, walks and medicine. It was a lifesaver, particularly in the early days when I needed reminders of when to take Harry out and what time to feed him dinner to avoid 2 a.m. "issues."
Once we got in our groove, being a dog mom wasn't so scary after all.
In fact, it was—and continues to be—one of the best decisions I ever made. I spent all of 2013 considering dog adoption and devoted countless hours to the Pet Finder app, which features adoptable dogs nearby and across the country. I went back and forth on whether I was ready. It took an email about Harry and his limited availability due to insane cuteness to make me take the plunge.
After we got that whole potty training thing taken care of, I was able to enjoy more of the fun parts of having a dog, like playing fetch and hitting up the dog park. I used the photo app Tadaa to record and edit every second of puppyhood, including Harry's first Halloween. He was Big Bird, and yes, I'm that dog mom.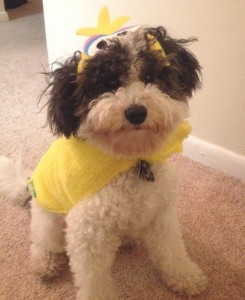 Harry dressed as Big Bird last Halloween.
To keep our fitness on track, I used my Fitbit to record our daily walks. A dog needs about 30 minutes of exercise per day, and considering the walk is a dog's absolute favorite part of the day (just ask Harry), it's a daily task you really can't miss. If you need more motivation to get your dog outside, try the Tagg Pet Tracker and Petometer.
Are you considering a new dog? There's no better time than Adopt A Shelter Dog Month!
If you're in the market for a new dog, or perhaps on the fence like I was, take this month's observance as a welcome hint: there's no time like the present, especially when a puppy's involved.
You don't have to be a dog expert—I didn't even have the foresight to buy a crate. However, with mobile resources on hand, you can learn quickly and enjoy one of the best treats life has to offer: fluffy, unconditional puppy love.
Disclosure: Stephanie Vermillion is a senior account executive at Wordsworth Communications in Cincinnati and works with the Verizon Wireless PR team.
For more Verizon Wireless news, subscribe via RSS feeds in the right rail.