Bloggers Make Tech Predictions For 2014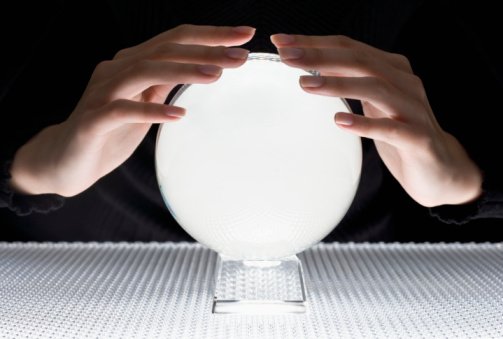 Wouldn't it be nice to have a crystal ball? To know what the next big thing will be, to know the next word that will become a verb (e.g. Facebooking, Instagramming) or to know which device will change our lives forever.
While I don't have a crystal ball, I did find the next best thing: tech predictions from some of the best and brightest tech bloggers in the Midwest. Here are their tech predictions for 2014:
Larger, Higher Resolution Screens
"I think screen sizes will continue to grow slightly and Apple will finally increase the size of the new iPhone, while competitors offer slight .2 or .5-inch increases to screen sizes without dramatically increasing the size of the phone itself. Screen resolutions climbed to 1080P in 2013, and rumors are already hinting at higher and higher resolution screens on the flagship devices in 2014. – Josh Smith, editor of GottaBeMobile
Low Cost Smartphones
"The rise in off-contract, low-cost, smartphones. We are already seeing the start of this trend with the Moto G, which Verizon recently announced costs $99. Nokia has also been spearheading this movement recently with its low cost Lumia 520 range, and I expect to see more of this in 2014. The reason it will explode this year is because the upper end of the smartphone demographic has been capped at steady growth of performance and features. While incremental improvements are attracting repeat smartphone buyers, corporations are now targeting the first-time buyer with low-cost, but high quality devices, such as the Moto G. – Brad Sams, senior news editor of Neowin
Wearable Technology
"Of course, wearable technology will be more popular, and Bluetooth built into clothing will be a fad." – Brian Behler, writer at Phat Guy Phone Reviews and staff editor for BlackBerryOS
"Is there a smartwatch market? In 2014, we will find out if consumers really do want a smartwatch. In late 2013, Samsung released one of the first mainstream smartwatches, but so far, it has yet to gain mass market appeal. With many others, including Sony, Microsoft, and Apple, reportedly working on a smartwatch in 2014, we will find out if consumers really want this type of device or if they will simply fade away like 3DTV." – Brad Sams, senior news editor of Neowin
Small Cells
"Faster video download times and performance with less buffering has been on the wish list for awhile, but will benefit mobile users the most in 2014 thanks to 4G small cells, which are like cellular stations but located closer to the ground. These tiny wonders will greatly reduce dependency on WiFi on the go." – Michael Siebenaler, contributor for GearDiary.com.
Think you know what's next? Tell me your tech predictions for 2014 on Twitter at @VZWlaura.
For more Verizon Wireless news, subscribe via RSS feeds in the right rail.