Tech Travel Tips For the "Gadget Obsessed"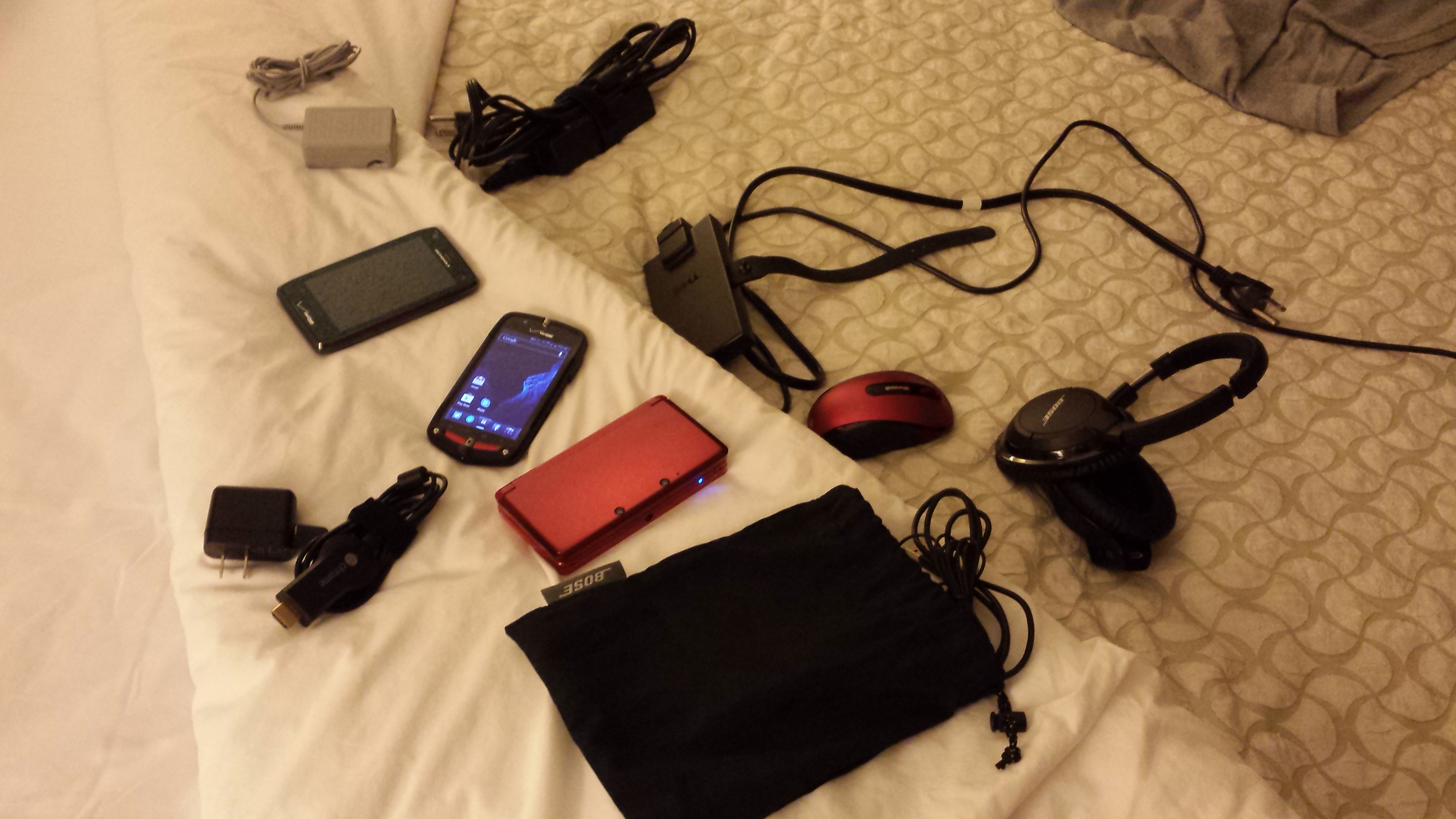 This is a guest post from Tim Tender (@TT_7), who travels the country working for Weather Central as a trainer/software implementer. Today, Tim shares his tech travel tips. Disclosure: We loaned Tim the Galaxy S4 and Bose headphones.
Hi, my name is Tim and I'm addicted to tech. I like to be surrounded by my favorite devices and gadgets when I travel.
And I travel a lot – I'm normally on the road three weeks each month. With how much I travel, I don't think I'd survive without my tech.
What types of tech do I like to keep with me? Well, take a look inside my bag: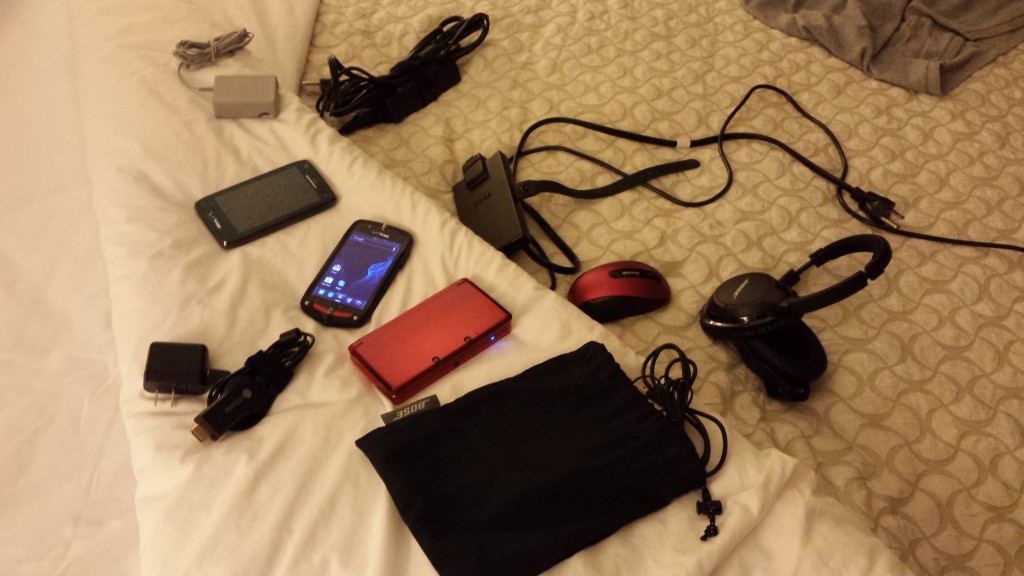 Smartphone: Right now, I have the Galaxy S4 (not pictured, as I used it to take the photo). I've said it before and I'll say it again: This is a phenomenal phone. The battery life is great and it gets me through most travel days without having to charge at the airport.
Smartphone #2: Yes, I carry a second cell phone. You know that old phone you're not using anymore? Well, it's great for music and games. You don't need to have cell service; just keep all your music apps updated via WiFi (Spotify is a great option) and you're golden.
Bose Bluetooth Headphones: These wireless headphones are perfect for listening to my music (on smartphone #2). While they're not the noise-canceling headphones you're used to from Bose, they still do a great job dulling the noise. (Personally, I'm not sold on noise-canceling headphones. I like to be able to hear my surroundings … but that's just me.)
Laptop: I recently purchased a new Asus laptop that I'm still getting used to. It has a big screen, which is great for the hotel. If you don't need such a big screen, I'd recommend a smaller tablet to keep you occupied on long flights.
Chargers: I usually have three phone chargers, a laptop charger and the charger for my headphones.
That's the bulk of what I carry, but sometimes there are other items. Right now, I'm sporting the Samsung Galaxy Gear smartwatch and carry around a Nintendo 3DS.
As I've learned from my many travels, sometimes you just can't find a way to charge your devices. I've figured out a few basic tips that can help any traveler from facing the dreaded dead battery:
First, dim your screen. Your screen brightness is one of the biggest causes of battery drain. By dimming the screen as much as you can, you'll prolong the battery life of your device.
Second, when on the plane, your phone should be in airplane mode (or even off). When your phone is in normal mode, it'll constantly search for a signal, which drains your battery.
Finally, hold off on those app updates until you're back home. Turn off auto updates and only update apps that are absolutely necessary.
Keep these tech travel tips in mind and you'll still have juice to call for a ride when your plane lands.
What's the oddest tech in your travel bag? Do you have any great travel tips? Let me know on Twitter @TT_7.
For more Verizon Wireless news, subscribe via RSS feeds in the right rail.