Tech Trendsetter: Granite Ridge Builders Uses Tech to Pull Ahead of the Competition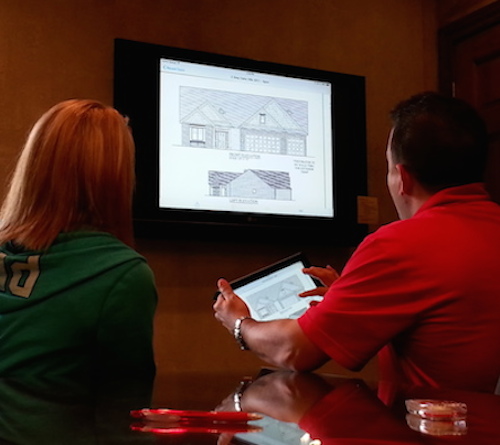 If you're a homeowner shopping for the newest and latest updates, Granite Ridge Builders has created technology to complete – and share – your dream home. Nearly 2,000 floor plans available in 400 subdivisions can be shared as quickly as it takes to tap the Internet with a Verizon Jetpack inside a model home.
The company, which builds homes in Indiana, Michigan and Ohio, has evolved with technology as quickly as technology has offered new products.
As a business leader, it shows in the company's sales figures. Last year, Granite Ridge Builders recorded $66 million in sales, while its nearest competitor logged $16 million in sales, according to building permit data.
Jason Spuller, the company's technology lead, said using Verizon technology has made all the difference with the ability to share immediately accessible information.
"We're all a society of now,'' Spuller said. "It doesn't matter the age of a customer. People want information right away. If you can engage, you can answer questions immediately."
For example, a model home visit and discussion might veer into talking about fireplaces. A Granite Ridge salesperson can create an immediate slideshow via a Verizon iPad, AppleTV and Jetpack to go through thousands of fireplace configurations.
Just as products have evolved, Granite Ridge has changed with the times. The company started out with push-to-talk phones, then BlackBerrys, and now Android smartphones. The company has integrated iOS as easily as Android platforms and uses a mix of both right now.
Technology works perfectly into the company's build mentality in order to offer the best to home buyers. Granite Ridge also is featuring a unique model home this November in Fort Wayne, IN, complete with smart home accessories found in Verizon's Fort Wayne "Smart Store," the first of its kind to open in Indiana.
Want to take a road trip this fall to see the home of the future filled with Verizon smart home accessories? If you're in the Fort Wayne area, check out this November preview featuring smart home technology from Granite Ridge Builders.
Event: Innovation Home Gallery
Location: 7467 Flutter Road, Fort Wayne, IN 46835
Grand opening: November 7 & 8
For more Verizon Wireless news, subscribe via RSS feeds in the right rail.