Tech Trendsetter: Indiana Teen Entrepreneur Launches Anti-Bullying App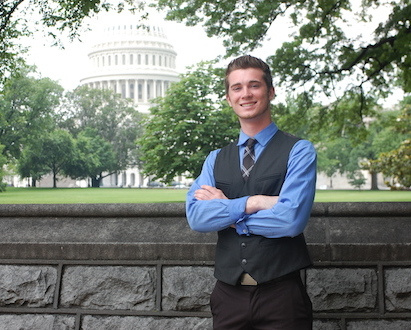 Sometimes you can daydream in class and come up with an exceptionally good idea – like an anti-bullying app that students can use in their schools. But turning a concept into reality takes persistence, hard work and some mentoring when you're just 16 years old.
Brandon Boynton, a high school student in Madison County and licensed Apple developer, turned his video gaming couch time into entrepreneur time – and now his homework consists of software development, branding and financial and business plans.
The BullyBøx app is getting plenty of media attention as well, including a video chat its founder did with CNBC.
Brandon's app, which took about 250 hours to develop first for iOS then Android, won a local contest through the Madison County Chamber's Young Entrepreneurs Academy, which just began its competitive student youth program this year. Then The BullyBøx app won a regional contest in Florida. Finally, Brandon landed in the top six for winners of a young entrepreneurs competition at America's Small Business Summit in Washington, D.C.
For an ongoing mentor in Madison County, he was referred by the academy to the local Flagship Enterprise Center – which is now assisting with financial planning and marketing help that a young startup venture needs to get noticed.
While his app is now in place in just a few Indiana schools at the start of this school year, Brandon, now 17, is working on a multilingual version of the app. To raise additional capital, he's also running an IndieGoGo campaign hoping to raise $25,000 by September 24.
Personal motivation was also a factor in development of this app. Brandon says he was bullied in 8th grade. As a result, he felt some of his development time could be better spent on an app with significant social value. More than 3.2 million students fall victim to bullying and don't know who to tell, according to his app campaign video. And that inability to share can turn tragic.
Cyberbullying is defined as bullying that takes place using electronic technology, which can include cell phones, computers and tablets, as well as communication tools, including social media sites, text messages, chat and websites.
According to federal authorities, almost one-fifth of all students in grades 9-12 have been bullied on school property. Almost 15% of students in the same grades have experienced cyberbullying.
"This is a way for students to send anonymous reports by logging into a school account, directing the report to the right administrator and even sending screenshots from social media – where bullying often happens," Brandon said.
The app is free to students and schools pay only $1 per student to use the website component and analytics. School officials can also select keywords to trigger an immediate phone call if The BullyBøx servers analyze and determine the report to require immediate attention.
One of the key parts of his app includes data analytics for schools. Administrators can pay immediate attention to a trouble spot if reports are coming from specific locations on school grounds, for example.
Dr. Lynn Staley, superintendent of Liberty Christian School in Anderson, introduced the app to her middle school and high school students at the start of the school year in August.
"To me, this is a no brainer for anyone in education." Dr. Staley also knows bullying is significantly under reported and the anonymity provided by The BullyBøx makes it a critical tool.
For immediate help if you know someone who is a target of any kind of bullying, please call the LIFELINE at 1-800-273-8255.
Like what you've read? For more stories on how technology enhances our lives, subscribe via email or RSS in the left sidebar.