Tech Trendsetter: Indy Eleven's Peter Wilt Making Soccer Personal with Social Media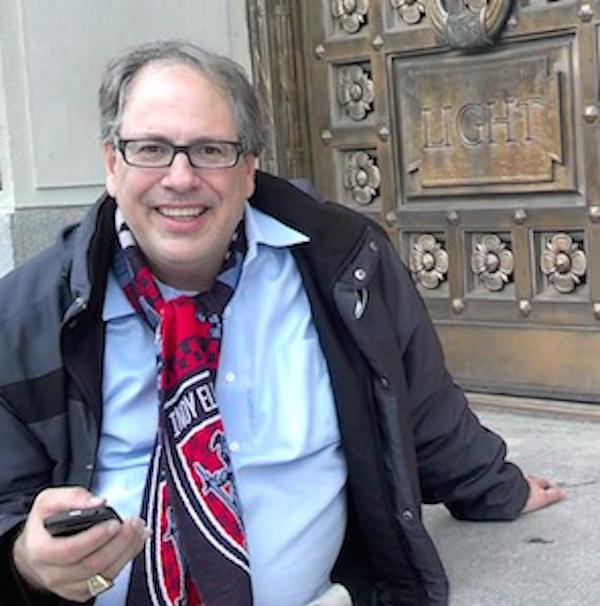 Indy Eleven president/general manager Peter Wilt has been a fan of social media (and his BlackBerry) — using both to make a personal connection to soccer fans. From his "Ask Peter Wilt" campaign on an early fan forum for Chicago Fire to his branded #tourdeindiana while with Indy Eleven, he's been fast enough to both measure fan temperature and build loyal followers with honesty — and a little edge.
Today, we ask our Indiana #TechTrendsetter six questions about his fans, stadium, BlackBerry and more.
Q: Give us your personal take on social media — which platforms work best for your team and why?
A: It's between Facebook and Twitter. They're both effective in different ways. We have a larger audience on Facebook, but Twitter gets into peoples' hearts and minds and it has brought us to the people who follow us. It's the personality of our delivery. It was a decision (we made) not to release banal information.
I made the decision early on to take risks with our social media, even when I was the only employee. We knew there would be occasions when the envelope was pushed too much while expressing our opinion. The alternative is straight, narrow and probably boring. We see ourselves as a community asset. To achieve that, it's important we explore options and make our presence engaging.
Q: In terms of devices, we know you love your BlackBerry. What device are you currently carrying from Verizon and what makes this your "go to" device?
A: I'm sitting at my desk 12 inches from a landline, but I'm talking on my BlackBerry. It's an extension of who I am. I'm comfortable with its apps and functions. BlackBerry devices have been around for more than a decade. The Q10 is the best I've ever had — features like the touch screen and the tactile keyboard make it incredibly functional and easy to use.
Social media in particular is very easy to use. I can monitor the Indy Eleven Reddit site, a smaller group, but an important one for fans. The sites I most frequently visit are Twitter and Facebook. It's a hybrid of personal and work use. The BlackBerry is very useful to leave regular comments. And I'm informed by all stakeholders — media and corporate partners. To me, BlackBerry has always been the most efficient device.
Q: What's the best social media feedback you've ever received from a fan, and why did it make your day?
A: I'm almost like a suggestion box (for fans). It's personally and professionally rewarding to know I can implement ideas so rapidly from social media. The email info@indyeleven.com is direct to me, and I'm very quick to respond, no matter the time of day. It rarely takes me more than 10 minutes to get a response out.
Over the Christmas holiday in our first season, we received hundreds, if not thousands, of orders for jerseys and scarves. A couple orders slipped through the cracks. I was able to take the social media complaints and address the issues right away. We hand delivered the jersey and scarves on Christmas Eve.
Q: You've hit the road before asking fans where to send you for road trips around the state of Indiana. Has technology always played a part in getting out there?
A: I went to all 92 county courthouses. I love history, travel and learning about places. Every time I went to a town, I'd look up information on my BlackBerry — historical events, buildings and notable people.
Then I'd go to those places and tweet it with a picture. It created almost a cult following with the hashtag #tourdeindiana. Our followers told me they learned more from the tour than they did from growing up here. Professional sports teams are all about community.
Q: What's the biggest instance where social media has helped or hurt the club?
A: On April 25, 2013, when we announced the name of the team as Indy Eleven, social media reaction was heavily against the name. For the most part, fans didn't like the name at a ratio of 80/20. But we explained that it was a testament to Indiana's 11th Regiment Indiana Infantry in the Civil War, and we told the story behind the name. That turned opinions around in two or three hours. Support eventually turned to more than 90% for the name.
We've made this a bottoms-up approach. Fans have more credibility than we will have. We brought fans in making sure they were knowledgeable and had a sense of ownership. They became advocates and evangelists, and their passion is what makes this sport unlike any other in America.
Q: If you could tell fans one thing you'd like them to do with social media, what would it be?
A: Sharing their passion for their sport and being able to do it in a positive way. The passion for soccer is addictive and contagious. When you take a friend who's never been to an Indy Eleven game, it really does connect. You can't help but be caught up in it. Use your social media to grow the sport.
For more Verizon Wireless news, subscribe via RSS feeds in the right rail.