Full Transparency
Our editorial transparency tool uses blockchain technology to permanently log all changes made to official releases after publication. However, this post is not an official release and therefore not tracked. Visit our learn more for more information.
More of our content is being permanently logged via blockchain technology starting [10.23.2020].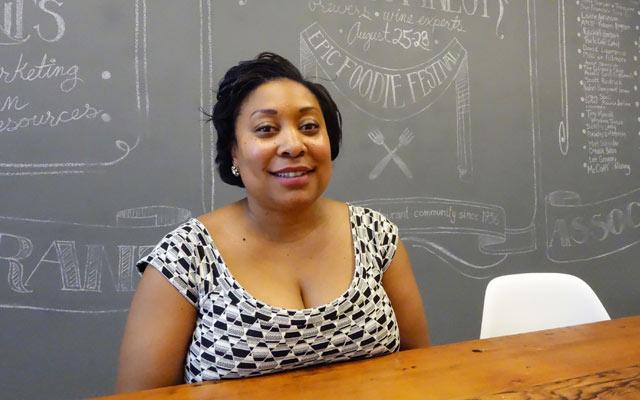 The vision for this series is to surface and share insights of thought-leaders and trailblazers who live at the cutting edge of technology. While the opinions featured may not necessarily represent those of Verizon and its employees, we still believe that we can each learn from experiences and opinions of others, which is why we've chosen to feature them here. This dialogue is how we take the first steps towards making innovations that matter.
Restaurants, along with the organic and slow food movements, have become more than just places to eat and food choices - they have led our culture towards new habits. Restaurants have become community centers and springboards for inspiration and innovation. Fine dining has leapt from the restaurant plate, onto our TVs and now into our social streams.
The current trend of Instagramming one's plate of food is a significant evolution from pre-internet photos of gatherings where you see a group of people, scrunched together to fit into the frame, their faces brightly lit by a flash. In many cases their plates are entirely out of the frame. It almost didn't matter what they were eating. Now, it's all about the food.
Gwyneth Borden, the Executive Director of the Golden Gate Restaurant Association (GGRA), is at the forefront, helping restaurants navigate the cultural shifts and trends of what it means to dine out. Enlightened from my meeting with Ting Kelly, where we were speaking about the future of health, wellness and human centered design, I walked a few blocks east from Union Square in San Francisco and over to the GGRA's offices to meet with Gwyneth to learn her point-of-view.
Gwyneth's role is a treasure for anyone who loves food, community and people. We met in a conference room with restaurant-slate-like chalk drawings on the walls around us. The drawings were so well crafted that I was tempted to touch one of the lines, to confirm they were really chalk and not paint. Along the walls were framed antique placemats and menus with club sandwiches for $1.25 and hashed brown potatoes for .40 cents, or creamed Holland herring with onion rings and an apple for $1.15, or charcoal broiled eastern loin pork chops Normandy for $2.50.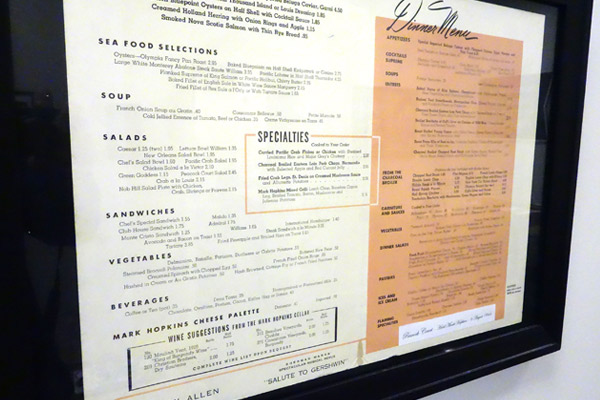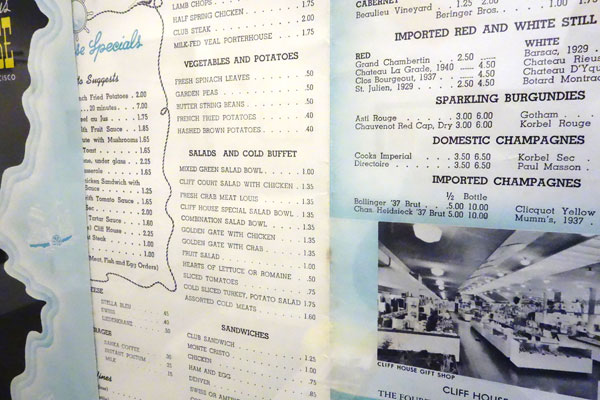 Gwyneth and I sat across from each other at a beautifully constructed conference table. Gwyneth radiated a strong positivity, a bottled-up desire to discuss the joys and happenings of the Bay Area...
Food is a unifier
"I think what's fascinating about restaurants is that they are the community centers and gathering places and the social entertainment for this current world because people are on their computers. Restaurants are both the online and in-person way to connect."
This seemed at first to be a contradiction. Gwyneth expanded on this thought…
"What's more Instagrammed than food? People eat three times a day. It's the one thing that unites people around the globe, and now with technology, people are literally uniting around the globe over food."
2015 was the first year that Americans spent more food on dining out than groceries.
Right, I thought. Everyone is photographing their food, everywhere, and sharing it on social media. Gwyneth continued, discussing how food can be an affordable luxury.
"Maybe you can't afford a luxury vacation experience or buy the most expensive luxury goods product, but you can eat, you can afford to eat, and maybe once a year you save up for a very decadent meal, or every day you can indulge in something not expensive but tasty, so there is a different and interesting world dynamic."
"Ok," I agreed, still thinking about everyone Instagramming their food. "Why is everyone Instagramming their food?"
Gwyneth smiles, her hands waving over the table as she talks. "We live in a world where people want to share experiences. In this world, people are more and more disconnected from one another. Technology is wonderful because it can connect you with people but it can also disconnect you because you're so siloed, spending time with your technology. With posting food, people feel like they're connecting with others and that it's a way to be aspirational – this is what I am eating, what I want to eat, etc. It makes people feel better about themselves. It's fascinating, the motivations as to why people post on social media in general are large. I do think that in the area of food that it's something that elicits a positive response, not like on a political level - it's a unifier. It's the ultimate form of positive reinforcement."
Wow. I had never thought of the notion that photos of food will nearly-automatically elicit a non-judgmental positive response (versus a selfie), and that would be the key insight into why people Instagram their food. Gwyneth continued…
Instagram is altering restaurant design
"Restaurants are now taking into account the lighting for Instagram: is your restaurant Instagrammable? There are restaurants that are known for being social. Mr. Holmes Bakehouse in the Tenderloin has established itself as a brand through amazing photos on social media, because the majority of the world has not been there but they feel they've lived it through social media. Lighting and presentation has always been a thing in food, but not comfort food so much. I think we're in a world where people care a lot more about how the end result looks because an all brown plate or all yellow plate doesn't show well. You want it be yummy, and you want someone to look at a photo from across the world or city and want to go to that place, so it absolutely does impact how people present food."
"This seems both good and…bad?" I ask.
With posting food, people feel like they're connecting with others and that it's a way to be aspirational – this is what I am eating, what I want to eat, etc. It makes people feel better about themselves.
"There was a funny post that went viral from a server talking about how service has declined in restaurants," Gwyneth explained, "with a whole rant about how a person sits down, they stare at their phone, they take forever to order because they're posting where they are, the food arrives, they take forever Instagramming, the food gets cold, etc. It's this really funny relationship where tech is allowing them to check in at restaurants but hinders the process of getting through the meal. It's an interesting dynamic technology has brought to us."
"If this is the current trend," I ask, "then what does the future of tech for restaurants look like? Is it all about the photography?"
"In the future, a person will walk into a restaurant and instantly the restaurant would be notified of who the person was, what they ordered in the past, their favorite wine, etc. "
"A personalized experience…"
"Yes. I currently have an app on my phone that my friend is piloting that reminds you of who people are; helps you with your memory. It's location-based, so when you visit a restaurant and either meet new people or enjoy the service you receive, you'll enter into the app who works there, their role there, you can even take a photo, so when you walk in you'll get a notification saying you met 'Greg' at this location and he's the manager, which is amazing. I look forward to a future when restaurants in turn can know if the person has been there before, their ordering preferences, etc."
"Personalization," I remark.
"We haven't gotten there yet, but I do see a future where that matters. I mean, loyalty in an increasingly competitive world is what people are trying to achieve, and this is through familiarity. Fake familiarity can be creepy - there's a fine line between creepy and really understanding what people want - and there's no replacement for human interaction, but finding a way to use technology to better ingratiate a relationship is worthwhile, and it's easily done. There's no way that you can see hundreds of customers a day and remember them all, but you had an easy way to track that, and I think technology is doing that."
"So, it won't only be about the customer capturing their experience, but also about the proprietor being able to provide an even more personalized experience…"
"And impact their business? What other ways do you see tech making an impact on the restaurant business?"
The appification of dining out
"Another thing that's very interesting is the world of mobile payments and booking reservations – we have had reservation booking for 15 years, through sites such as Open Table, but now there are many more competitors providing last minute reservations, concierge reservations – but the issue of mobile payments is becoming of greater importance. People are looking at how they can get past the social awkwardness of payment. Some of these payment platforms have been great, such as when groups go out to dinner, like Venmo and not have to worry about cash, or through apps like Reserve.
"Is there an outlier, some other factor that is effecting the restaurant industry in a way that wasn't expected?"
"One of the changes that has happened with the growth of tech in San Francisco is that the tech companies all have cafeterias and kitchen spaces where they provide food for their people, which means lunch business for brick and mortar restaurants has been struggling. One of the considerations in going out to eat is to determine how much time you have. There's actually an app that in advance of going to a restaurant allows you to order your food, pay for it, and then when you walk in the door, your food is fired and you can sit down to eat. There are no more interruptions for business meetings because you've already preselected what you wanted to eat and paid for it while still having the restaurant experience but more efficiently. That's a new innovation that exists that is solving a real problem of butts in seats at restaurants where people don't have a lot of time but still want to have the restaurant experience.
"What's also fascinating about San Francisco is that we have mandatory composting, so all restaurants must compost, and the garbage company that we work with sells their compost to farms and wineries all over the Bay Area. There's this entire ecosystem where we are taking our food waste and actually putting it back into our food ecosystem. It's pretty amazing that we're able to get that accomplished here."
"How much of an impact do sites like Yelp have on the whole restaurant ecosystem?"
Yelp. Necessary evil?
"Yelp is an interesting beast: it's a gift and a curse. When California passed a law that restaurants should only provide water upon request, many restaurants complied, but people complained on Yelp. How easy would it have been for Yelp to provide that tip? That's what we're trying to figure out, because the restaurant industry is one of the fastest growing, and is also one of the oldest around, and has always existed. While there has been innovation in the restaurant space, there hasn't been as much as in other industries. People have discovered invoicing and supply chain management, but most restaurateurs are technophobic. Consumers may demand more technology in the restaurant space, but many still just want the traditional experience. Restaurants are community centers for all intents and purposes.
In one instance, a woman ordered a whole fish but didn't realize it would have the head and tail. She got angry but pretended it was fine when asked by a manager, and her date was evidently not pleased with her because of the scene she made. Ultimately, she gave the restaurant one star on Yelp, basically blaming the restaurant for the bad date.
"There are studies that show for every half star increase in a Yelp review equates to 10 percent or 20 percent of business, so there's a direct correlation. Technology has allowed health scores assigned by the health department to restaurants in San Francisco are made available on both the health department's website and on Yelp. This is great for consumer education. The problem is if I get a bad health score today, what always happens is the health department comes back for a re-inspection but they don't issue a new score, so you're stuck with that score until the next full inspection. Then Yelp decided 6-8 months ago that they were going to post a warning that pops up that this restaurant was in its bottom 5 percent of health scores in San Francisco. In theory, this is a great thing for consumer education. Reality is that the restaurant had a re-inspection and had to correct those issues but that's not going to show. Now, when you look at the restaurant on Yelp, you're accosted with this bad information. This impacts businesses substantially."
"Wow. That's fascinating, the delays in tech that cause negative impact. What would you say is the biggest pain point in the Bay Area food business?"
"The biggest pain point in the Bay Area is the cost of living, and the restaurant industry isn't a well-paid industry. So how do we quantify and make customers understand the true cost of food? They want healthy food, locally-sourced food. How do you educate people about that? Because of big agribusiness, frozen food, canned food and fast food, Americans have an assumption that food should be cheap. The truth is good quality food shouldn't be cheap and can't be cheap. If it is cheap, you have to look at the other end of the process: people aren't being paid well, it's not good for you, etc. The biggest challenge is how to get people to value food the way they value others things. Every day you have to eat at least once day, most eat three more times a day, and what's more important than what you put into your body? Don't we value the things we put into our bodies? Don't we value the people who make it? Who farm it? How do we teach that value to people? We see our food prices are increasing in San Francisco, from everything to minimum wage, we have paid sick leave, we have paid parental leave, really great benefits that everyone wants to give but restaurants have very tight margins so their prices must increase. The food industry is labor intensive. In a software company you can have two or three people write amazing software that can yield 50 fold or more. That's just not the case in food. The vision for me for the future is getting people to value food the way they should, and the people who prepare it are part of the process.
The true cost of food
"If we're going to glamorize chefs and food, and take photos of it and make it the centerpiece of our social lives, how do we better value what we see on the plate, or what we take a picture of? I think the future is people understanding and being more enlightened about that and the whole ecosystem, and more than just considering if something came from a good farm or is organic. There's a bigger story that we aren't telling that needs to be examined. That's the biggest pain point – people understanding the true cost of food and be willing to pay for it, and hold accountable those companies and businesses that aren't doing that, because when talking about organic, people say it's not scalable to feed the world, but it's not scalable because right now it hasn't been scaled in large form. That will happen - it needs to happen."
I walked out of my meeting with Gwyneth doubly energized. Tech is not only being used both for the front and back of house restaurant function, but could have a place, should have a place, in enabling good food to be accessible to all. The questions remain on how to scale good food, and what impact will that movement have on new cultural trends and morals. As it was with the first wave, it appears the Bay Area is a potential starting point for the next wave of food as a movement.
Read more conversations from this series:
Jason Moriber is a creative communicator with a background in social and digital for CSR, tech and start-ups. He's working within the Communications team at Verizon, charged with developing a new model for corporate and brand communications. Connect with him on Twitter @jasonmoriber or on Instagram @designinginnovation