For Three Kids, Taking a Risk Led to Big Rewards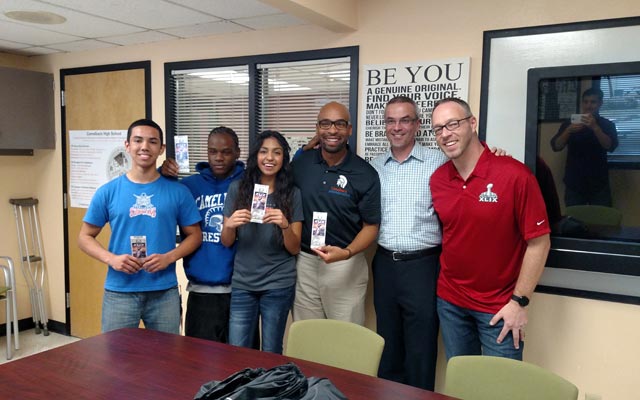 By all accounts, Super Bowl XLIX was a thrilling game. But for three students from Camelback High School in Phoenix, I know that it was life-changing.
Eddie Wilcox, Wendy Navar and Nijah Morgan received the VIP Super Bowl trip of a lifetime. When we reached out to their principal, Dr. Quintin Boyce, to tell him what we had in mind – giving Super Bowl tickets to three of his students – he was nearly speechless. Camelback High – which is participating in Innovation through Design Thinking, a Verizon program that stresses design, innovation, entrepreneurship and building skills in STEM – is a school of 2,000 students in an economically disadvantaged area. (Eighty-nine percent of students qualify for the free and reduced lunch program). These are students who would have little chance to actually be at an event like the Super Bowl.
But since Phoenix was the host city of the game, we chose Camelback High to receive tickets donated by the NFL. Boyce was asked to select students in the program who have had to deal with major challenges this school year to join him at the Super Bowl. He did this by announcing an essay contest.
Eddie, Wendy and Nijah, and 59 of their schoolmates responded to Boyce's mysterious request: write an essay on how they had overcome a personal or academic hurdle. Their principal gave them no other information; just the topic. They had no idea why they were writing the essay or what – if any – reward there was for taking part.
So they took a chance and laid their souls bare, recounting a childhood lived over the soundtrack of gunfire, a long and potentially discouraging wait for adoption, and what it is like to overcome addiction. They wrote about resilience, self-sufficiency and unyielding faith.
They wrote their way to the Super Bowl.
And while Camelback is in the city that just played host to one of the greatest games on earth, the potential opportunities Phoenix offers is sometimes lost on these students. 
"One of the biggest challenges for my students is the ability to dream and want for more when all you can see is the devastation in the neighborhoods in which you live," Boyce told me.
There are moments in education that have the ability to transform the rest of your life, a point where students can see the potential of their future life unrolling before them, inspiring them to strive for greater achievements: personal, academic and eventually, professional.
By taking a risk in their essays, Eddie, Wendy and Nijah have been able to experience that kind of transformative moment. It's altered their perspective. It's helped these three young people realize not only that can they dream bigger, but that they also deserve to be in rarified air. Seeing the game from the inside gave them a glimpse of the potential of their lives.
Their visit to the Super Bowl confirmed that, because of their work and because of who they are, they not only deserve this reward, but deserve all the rewards to come that result from their unique achievements.
This article was contributed by Rose Kirk, President of The Verizon Foundation.