#ThrowbackThursday: Sharing Something Cool That Happened (Before Tech)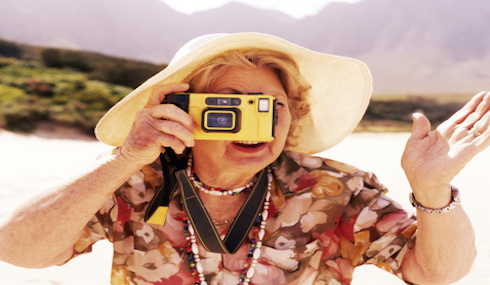 This is part of our #ThrowbackThursday series – with a focus on tech, of course!
What's the first thing you do when something awesome happens? For most people, it's taking out their smartphone to snap a pic, send a text or type a tweet.
But how did we share these wonderful things before we had smartphones? How did we show others the silly antics of our kids or pets? When attending a rockin' concert, eating a delicious meal or running into an old friend … how did we let everyone else know what we were up to?
We asked some of our reporter and blogger friends to tell us how they used to share things in the pre-smartphone era. Here's what they had to say:
"I can remember watching and waiting for it to snow when I was in high school. The Internet was just a thing and websites weren't to the level they are today. I would sit there and hit the refresh button every few minutes to get the updated radar – I wanted to see where the snow was and when it was going to get to me! Now, I pull up an app like The Weather Channel and there's radar that updates every 30 seconds or so (automatically!). Not only that, but there are real-time rain alerts that highlight when it will rain, based on your phone's GPS. That's a night-and-day difference!"
– Tim Tender (@TT_7), Weather Central, Madison, WI
"I went to New Orleans for Mardi Gras in 1983. I took pictures with my Kodak Instamatic 110 camera and absorbed the experience. Upon returning home, I had the pictures developed at the local Walgreens. My friends and I met up in our friend Dave's basement, face-to-face and we'd 'chat' about my 'snaps.'"
– Timothy A. Wachowiak (@TimNGI), Next Gen Indy, Chicago
"I can remember receiving a Polaroid camera for my birthday and being so excited to have instant pictures. Of course, the film was incredibly expensive … so no goofy photos allowed! I also remember after my senior prom, I had to wait for a week to get the photos back from the camera shop. This was even before you could print photos at the drugstore! The bummer was ordering doubles of everything only to find there was a smudge on the lens and you had a batch of terrible photos. We would get together with friends to look at all our photos and then order copies from each other."
– Amy Carlson, NBC 15 Weekend Live co-anchor, Madison, WI
How did you share exciting things in the days before smartphones and the Internet?
For more Verizon Wireless news, subscribe via RSS feeds in the right rail.