Tips for Making Your Home Green and Eco-Friendly on Earth Day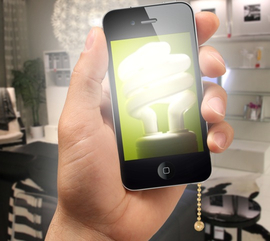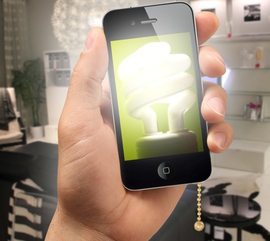 With today being Earth Day, many people are making commitments to begin living "greener" lives. A great way to start is by transitioning your home into a more tech environmentally-friendly place to live every day. Here are a few ways that Verizon Wireless suggests you can get a jump start on being more green in your home life:
Panasonic Solar Charger: Use the power of the sun to charge your batteries, rather than electricity. SolarSmart uses an extremely efficient solar panel to charge two Panasonic rechargeable AA battery cells that can be easily removed and used in devices. The unit can also power smart devices through USB cables, and can even serve as a powerful LED light source.
Multitask with a Tablet: Tablets consume less energy than PCs and laptops, and can serve several functions: book reader, game player, Internet browser, music player, video player. Tablets such as the new Galaxy Tab 10.1 even feature an S Pen that can turn it into a notepad and sketch board.

Unplug your Devices: Do you sometimes leave the house worrying the curling iron is still plugged in, or perhaps go on vacation and wish you'd turned off the entertainment system? When you're not home, items such as these are still drawing phantom power, even when they aren't in-use. A Belkin WeMo Switch can help manage your power usage with its ability to control outlets from across the room, or even across town. Simply use it in any standard outlet, plug in your appliance and download the app to have complete access and control of your appliance via your smartphone or tablet.
Phone recycling: According to Earth 911, every year upgrades or damage make 100 million cell phones obsolete. Instead of sitting in a drawer or landfill, one way to do something environmentally-friendly with old devices is to donate them. Verizon Wireless collects no-longer-used wireless devices to benefit our HopeLine Program, which provides wireless phones, minutes and financial support to domestic violence shelters across the country. Phones that cannot be refurbished are recycled in an environmentally sound way. Since 2001, HopeLine has collected more than 10 million phones, properly disposed of 2.1 million no-longer-used wireless phones and kept more than 200 tons of electronic waste and batteries out of landfills.
Paperless Billing: Look for a more eco-friendly way to pay your bills, such as paperless billing. Verizon provides paperless billing to all customers, meaning a faster and more convenient way to pay your bill and reduce paper clutter. It also means saving trees and reducing greenhouse gas emissions.
In addition to providing customers with opportunities like these to "go green," Verizon also has many programs in place to lead by example in the wireless industry. Verizon currently has more than 100 retail store locations that have earned the EPA's ENERGY STAR qualification or LEED certification from the United States Green Building Council. Additionally, by eliminating in-store print brochures, we save 70,000 trees annually. Instead, brochures and receipts are offered via electronic delivery.
For more information on Verizon's green initiatives, visit an overview of our efforts here. We hope that these tips for making your home green serve as an inspiration on doing a little bit more this Earth Day!
For more Verizon Wireless news, subscribe via RSS feeds in the right rail.