Verizon and Epic! Gaming Lounge to Host Lone Star State's Largest eSports Tournament Featuring 500/500 Mbps FiOS Internet, $40K in Prizes
Verizon and Epic! Gaming Lounge to Host Lone Star State's Largest eSports Tournament Featuring 500/500 Mbps FiOS Internet, $40K in Prizes
More Than 1,000 Competitors Will Battle Aug. 7-9 Over Call of Duty Advanced Warfare, Super Smash Bros., Mortal Kombat X and Ultra Street Fighter 4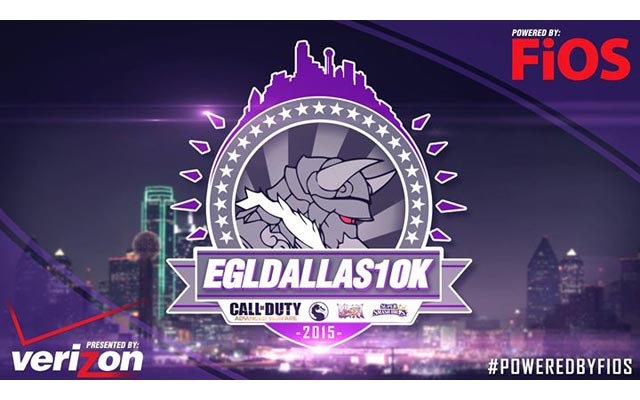 IRVING, Texas – With the U.S. government recognizing some of the world's top gamers as professional athletes in what SUPERDATA estimates is a $612 million global electronic sports industry, the stakes couldn't be much higher.
Verizon and Epic! Gaming Lounge will test some of these gamers on Aug.7-9 at host the EGLDallas10K video game tournament at The Keller Pointe in Keller, Texas. Contestants will be playing for $40,000 in prizes over a Verizon FiOS Quantum Internet connection of 500/500 megabits per second (Mbps), delivered over Verizon's 100-percent fiber-optic network. At 500 Mbps, you can download a 20 minute HD movie in 16.4 seconds. 
"Video games represent the most expressive, dynamic and exciting form of entertainment available to consumers today, but without a fast and reliable connection to other players, playing online can be a frustrating affair," said Chris Melissinos, director of corporate strategy for Verizon and video game industry leader. "Verizon FiOS provides the speed and reliability that ensure you get the optimal online game experience required by today's video games."
With the surge of digital media and entertainment, the video game industry has seen significant growth. Newzoo estimates that in 2014 there were more than 170 million gamers in the United States alone. During the largest video game tournament in the world on October 18, 2014 in Seoul, South Korea, Riot Games drew in over 27 million live streams of eSport action.
The need for an ultra-fast, strong and reliable connection has never been more crucial as online game platforms such as Valve are beginning to rival the likes of Amazon and Facebook for top Internet traffic in the U.S., as shown in findings from Deepfield.
"At Epic! Gaming Lounge and Café, we promote a positive social gaming environment for casual and competitive gamers alike," said café owner Shane Cappelle. "By holding an event like EGLDallas10k, we get to bring together a whole community of competitive gamers, the likes of which Texas has never seen before. And, by teaming with Verizon FiOS, we can expose gamers to an experience they won't soon forget."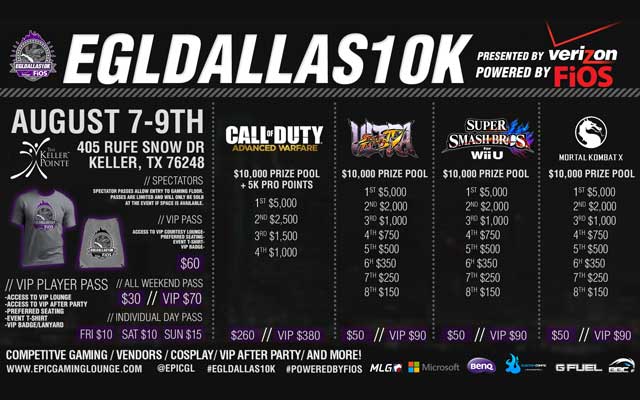 Competitors will vie for the top spot in Call of Duty Advanced Warfare, Super Smash Bros., Mortal Kombat X and Ultra Street Fighter 4. Games during the tournament will be played on the XBOX One, Xbox 360 and Nintendo Wii platforms.
For competitor and spectator registration, tournament rules and other details for EGLDallas10k, please visit vz.to/egldallas10k.