Verizon Donates $65,000 to Southern Wisconsin Community Organizations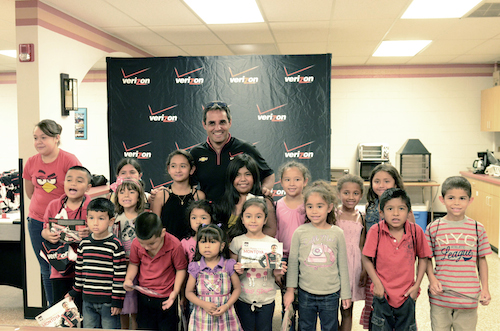 August was a busy month for our HopeLine program. In addition to launching the #VoicesHavePower campaign—where $3 is donated to domestic violence shelters and service programs for every message of hope sent using the hashtag #VoicesHavePower, or by submitting a message at VoicesHavePower.com—your participation in HopeLine has resulted in Verizon presenting $65,000 in grants to three community organizations in southern Wisconsin.
We presented a grant of $25,000 to Milwaukee's Sojourner Family Peace Center, the largest non-profit provider of domestic violence prevention and intervention services in Wisconsin. The check presentation was attended by Milwaukee District Attorney John Chisholm, Milwaukee Police Department Assistant Chief James Harpole, Sojourner Family Peace Center Executive Director Carmen Pitre and Verizon's Greg Dorff.
Sojourner's Community Domestic Abuse Advocacy Program (CDAAP) equips the center's community advocates with tablets to directly serve victims in the community and work with the Milwaukee Police Department.
We also presented a grant of $30,000 to End Domestic Abuse Wisconsin, the leading voice for victims of domestic abuse throughout Wisconsin. The grant, presented by Wisconsin District Attorney J.B. Van Hollen, End Domestic Abuse WI Executive Director Patti Seger and Verizon Wireless Director of Retail Amber Oldroyd, serves the organization's work addressing teen dating violence and healthy relationships. According to End Domestic Abuse WI, one in three adolescents will experience some form of physical violence from a dating partner each year.
How do you get involved? Through the HopeLine program. Thanks to donations of no-longer-used wireless devices, we've been able to donate hundreds of thousands of phones and provide millions of dollars in cash grants to partner agencies, like Sojourner Family Peace Center and End Domestic Abuse WI.
We also partner with community organizations to advance STEM (science, technology, engineering and math) education.
Additionally, we presented a grant of $10,000 to the United Community Center, a comprehensive social service agency serving the families of Milwaukee's south side, including more than 400 low-income students. We presented the check to the center's Precollege Program by IndyCar Series Racing superstar Juan Pablo Montoya, United Community Center Executive Director Ricardo Diaz and Andrea Meyer, PR manager for the Illinois/Wisconsin Region of Verizon Wireless.
For more Verizon Wireless news, subscribe via RSS feeds in the right rail.