Verizon Employees Give Back to Ohio at Pelotonia & More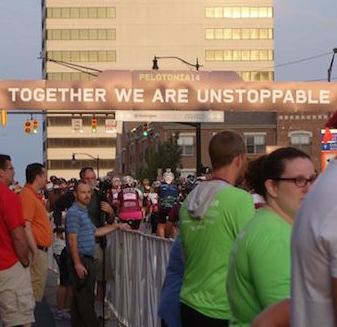 Employees at Verizon are supported by a corporate culture that honors community service and charitable giving.
The Verizon Credo, which offers employees a benchmark of our company's values and priorities, states in part, "We are good corporate citizens and share our success with the community to make the world in which we work better than it was yesterday."
The Verizon Foundation proudly recognizes employee contributions through matching gifts and celebrates the efforts of employees who volunteer for 50 hours or more with charitable organizations or educational institutions by enabling them to apply for a $750 volunteer grant to the nonprofits where they volunteer. Last year in Ohio alone, Verizon employees logged more than 9,000 volunteer hours – and through their volunteerism, raised more than $115,000 for Ohio nonprofits!
In addition, hundreds of our Ohio employees made donations that the Verizon Foundation matched, which delivered more than $125,000 in matching grants last year to the nonprofit community.
This year, our employees are well on their way to matching and exceeding their volunteerism and commitment to giving back to the community.
One particular effort stands out as a prime example of the passion and determination Verizon employees bring to their causes. Recently, six Verizon employees from the Hilliard, OH office biked more than 550 miles across the state of Ohio to raise more than $17,000 for the James Cancer Research Institute of Columbus during the annual Pelotonia fundraiser.
Ashley Tryban, a coordinator at Verizon's Hilliard Health and Wellness Center, shares more about her Pelotonia experience:
"I have participated in tons of nonprofit, community builder, active events over the years. I have never participated in anything as powerful and meaningful as Pelotonia. The Columbus event is unique in that it gives 100% of the money raised to Ohio State's James Cancer Research Institute to find a cure for cancer. The money we raise can be tracked on their website to grants, programs or assistance focused on fighting and ultimately ending the disease. This year, more than 7,000 riders raised more than $13 million dollars. All the money stays local, so it can keep making Columbus the destination in treatment care."
"I spent about four months passively fundraising (because I am terrible at asking people for money!) to get to my $1,800 goal for my 100 mile ride. This was the second year I have participated, and both years, for one day, I am in awe. The way something so beautiful can come out of such a horrible disease amazes me - it is as if cancer is something we all have in common. Working for a great company helps, as well. The Verizon Foundation matches all my coworkers' and my own donations to the dollar. This makes fundraising a breeze (mostly because of the amazingly generous coworkers I have in Hilliard!)."

"I am honored that I am healthy enough to ride. Personally, I have lost many friends and family to the disease, and my hope is supporting this event will help to ensure my family, friends and I have a fighting chance to stay healthy. My sore bum and a few fundraising events are nothing compared to battling cancer, chemotherapy or losing a loved one. When you look at it like that, why not bike 100 miles?"
Our Verizon employees are hopeful that with the new corporate building in Hilliard, enough participants can join the race in 2015 to create a corporate team.
Six-year Pelotonia veteran Jon Davis captured his experience at Pelotonia with a GoPro camera. Check it out, and experience Pelotonia for yourself: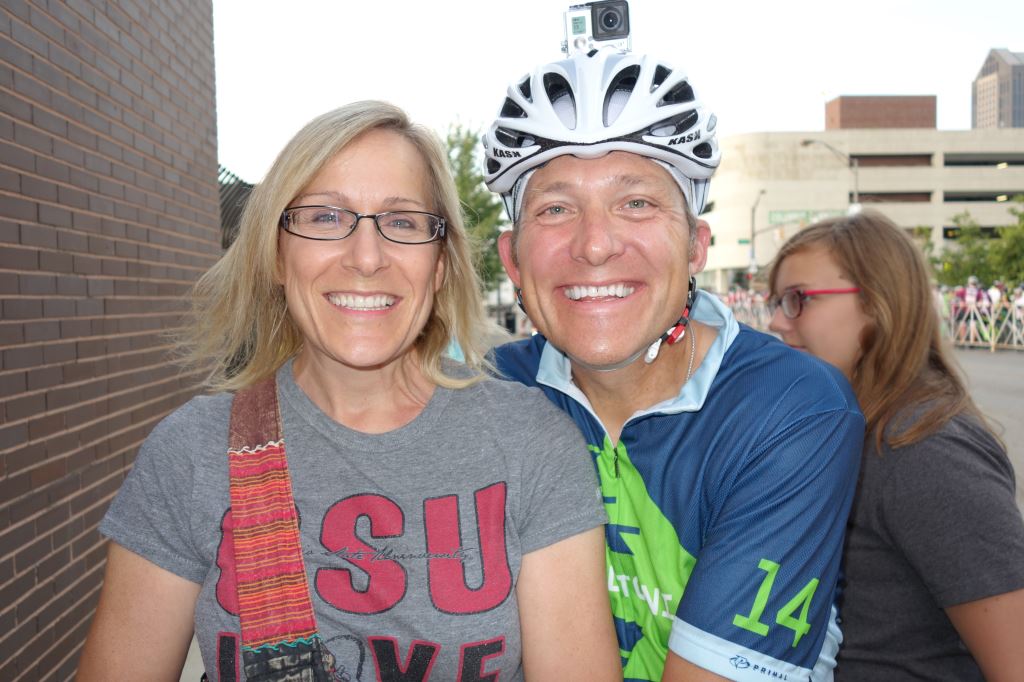 Jon Davis wearing the GoPro at Pelotonia.
Congratulations to these Verizon employees who gave back to the Columbus community via Pelotonia:
Max Avner
Verizon Wireless, Data Sales Team
# of years doing Pelotonia: Volunteer in 2009. Virtual rider in 2011, 2012, 2013.
2014 ride distance: 100 miles
Funds raised: $2,500+ (including Verizon Foundation matches)
Kevin Cryan
Verizon Enterprise Solutions
# of years doing Pelotonia: 3
2014 ride distance: 100 miles
Funds raised: $3,000 (including Verizon Foundation matches)
Jon Davis
Verizon Law and Public Policy
# of years doing Pelotonia: 6
2014 ride distance: 100 miles
Funds raised: $6,000+ (including Verizon Foundation matches)
Ryan Mullenix
Verizon, Business and Government Customer Operations
# of years doing Pelotonia: 5
2014 ride distance: 50 miles
Funds raised: $850 (including Verizon Foundation matches)
Ashley Tryban
Verizon Wireless, Health & Wellness Coordinator
# of years doing Pelotonia: 2
2014 ride distance: 100 miles
Funds raised: $2,500+ (including Verizon Foundation matches)
Raffy Ouzounian
Verizon Wireless Revenue Assurance
# of years doing Pelotonia: 1st
2014 ride distance: 100 miles
Funds raised: $2,450 (including Verizon Foundation matches)
For more Verizon Wireless news, subscribe via RSS feeds in the right rail.