Verizon GoPro Captures Underwater Adventures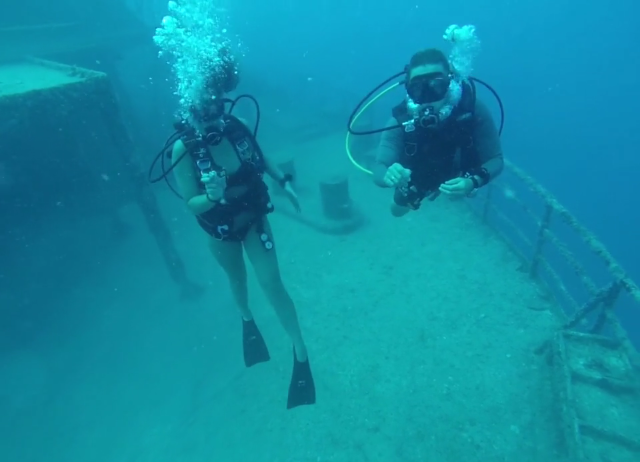 This is a guest post from Klare Williamson, an assistant account executive at Wordsworth Communications. Klare works with Verizon Wireless Midwest Area on its PR efforts in Ohio and West Virginia. She shares her latest scuba diving excursion in Key West, FL, captured thanks to a Verizon GoPro.
My sister and I became certified scuba divers two years ago and since then, I've been hooked. As Ohio natives, we take every chance we get to head to warmer climates to take on new dives. From Southern Florida reefs to Mexican caverns, there are few adventures that compare to experiencing an underwater ecosystem firsthand.
Coming back from our excursions and trying to describe the beautiful coral and amazing marine life to friends and family was almost impossible. On a few occasions, we hired a dive guide to tote along an underwater camera, but the results were fuzzy and not comparable to what we had actually seen. It seemed like there was no way to effectively and accurately document our experiences – until we bought our Verizon GoPros.
Each armed with a HERO4 Silver Edition, we set out for the deepest wreck dive we had ever attempted – the Gen. Hoyt Vandenberg in Key West, FL. The ship was built in 1943 and used as a troop transporter during the final years of World War II. It was the first ship to return to the New York harbor after the war and later served as a missile tracking ship for the United States Air Force. After retirement, the ship was sunk seven miles off the coast of Florida.
Now the second-largest ship ever sunk as an artificial reef, the Vandenberg is 10 stories high and 140 feet under the surface of the water. Because deeper dives require close monitoring of oxygen levels and planned time for decompression, we followed a Key West guide through the ship to ensure we made the most out of our trip to the ocean floor. She led us through the cargo holds and hallways of the ship, ending at the massive satellite on the main deck.
The GoPro was incredibly easy to carry underwater and didn't interfere with any movement required in tight spaces of the ship. I effortlessly captured footage of the dive and was amazed by the vivid quality of the video after we returned to the surface.
Thanks to the power of the Verizon network, we were able to send celebratory photos after the dive to our family - while still sitting on the ship seven miles from shore. That night we pieced together the footage from the dive into a digital video and shared with family and friends via social media. It was reassuring that we could count on Verizon's network to capture and share our special memories without the fear of losing service.
I'm already counting down the days until our next dive, and I'll be sure to bring along my Verizon GoPro to capture all the amazing memories!
https://vimeo.com/143172067#t=0s
For more Verizon Wireless news, subscribe via RSS feeds in the right rail.