Verizon HopeLine Grant to Provide Bystander Intervention Training to ROTC Cadets

Next month, Jana's Campaign, based in Hays, KS, is bringing its domestic violence awareness educational programming to Kansas City with the Heartland Campus Safety Summit. Verizon has partnered with Jana's Campaign for the summit's 2nd annual meeting by providing an $8,000 HopeLine grant.
For the 2014 summit, Jana's Campaign has added a new pre-summit workshop on bystander intervention training. This six-hour training session will educate attendees on how to best react to situations of gender-based violence. The Verizon HopeLine donation will fund 100 ROTC cadet's attendance to the new pre-summit workshop. By holding this two-day conference in Kansas City with support from Verizon, Jana's Campaign hopes to make access to this critical training both affordable and convenient.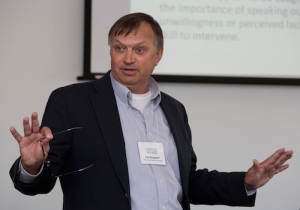 Dr. Curt Brungardt speaking.
"Jana's campaign believes that to educate as many folks as possible, we need to provide an affordable, regional conference," Dr. Curt Brungardt, president of Jana's Campaign, said. "Kansas City is home to a number of outstanding colleges and universities. Several of those are really leading the way in reducing and preventing gender-based violence. Bringing in national experts to help our region and encourage folks to share best practices with one another is an excellent way to spread that knowledge."
Brungardt, who lost his daughter Jana Mackey to a domestic violence incident in 2008, is passionate about educating as many audiences as possible about gender-based violence recognition, reaction and prevention. His decision to concentrate Verizon's donation on ROTC cadet's attendance was a strategic one.
"With Verizon's grant, we're going to train attendees to go back to college campuses and implement intervention programs that encourage people to act. When they see something, they'll say something and do something. The most effective way for a bystander to intervene is to stop something before it happens," Brungardt said. "What's neat is not only will the cadets take this training back to college campuses, but they will also carry it with them into their career with their military organization. We feel like this unique combination will have a lasting impact on both college campuses and the military."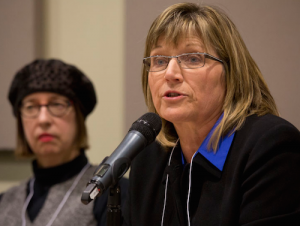 Christie Brungardt, founder of Jana's Campaign.
The pre-summit will be held on November 12, 2014, followed by the returning summit on November 13, 2014. Attendees will have access to discussions, speakers, panels and workshops teaching them how they can be integral parts in ending domestic violence across college campuses.
For information on Jana's Campaign, the Heartland Campus Safety Summit, or the pre-summit workshop, please visit www.heartlandsummit.org.
Stay up-to-date on Jana's Campaign news by following them on Twitter @janascampaign.
For more Verizon Wireless news, subscribe via RSS feeds in the right rail.