Verizon Hosts Seminar on Technology at Del Webb Community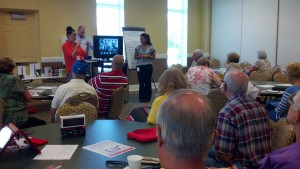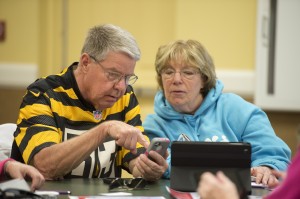 Larry Voth and Barb Lyons at a hands-on Britton Falls summer workshop that highlighted technology at Del Webb in Britton Falls.
Back in the day, as in 1965, John Weikel remembers lugging a mobile briefcase phone to his construction job sites. The device cost a whopping $5,000. If he got a call when he was out of his car, it would notify him by honking the car horn. John is now one of the savviest seniors at the toney Britton Falls in Fishers, Indiana.
He's become a go-to guy for other residents on iPhone news after attending Verizon's in-store workshops. John now attends Wireless Workshops at his Del Webb community. Verizon's data and retail specialists point to him when someone asks about specific iPhone apps and how they work.
More than 80 residents this summer have shared tips and tricks for apps, backing up personal contacts, video and photos in the iCloud, and just generally having a good time. All tech assistance was provided with hands-on demonstrations by Verizon Wireless experts who conducted a series of special workshops just for the residents of this community.
John, 73, just landed his iPhone six months ago and admits he's still learning.
When one of Verizon's data specialists started talking about coupon apps, John was quick to share his Kroger app and tell everyone how you can simply have your phone scanned as you check out of the store with your groceries – no more plastic gizmos on your keychain for bar code scanning.
"You don't have to use that little thingie – just get the app," he said.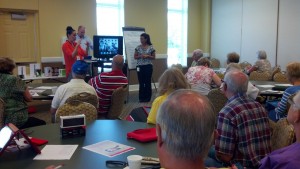 Kim Catellier, lifestyle director for Britton Falls, said the workshops have helped "homeowners become very tech savvy to keep up with today's lifestyle but also to stay in touch with their families and especially the grandkids."
"In the past year, I have seen a change in our homeowners wanting to learn more about the latest smart phone or how to Skype, for example. Our homeowners definitely like convenience so having the workshops held in our community is very beneficial to them."
John has become a bit of an apps expert after working with a data consultant at Verizon Wireless. To save money, he's learned how to use GasBuddy, Key Ring, MovieTickets on his smartphone.
Lynette Newman, a Verizon Wireless store manager who coordinated the workshops and connects residents to her nearby retail location in Noblesville, said most attendees have told her that the advice continues to get them to the next level when it comes to wireless tech. She said most residents have attended more than one workshop, as topics covered Android and Apple devices as well as the latest advances in wireless accessories.
Questions in this workshop included using devices for overseas travel, finding the best portable chargers, and showing how to share a tune on a small Jawbone JAMBOX Bluetooth portable speaker that had been downloaded to an iPhone.
These residents were raring to go after the two-hour clock ran out and many stayed on with additional questions, including a man who asked about using his iPhone's talk-to-text feature to communicate in Spanish with relatives.
Like many who leave Verizon's Wireless Workshops, John has also come to realize that his smartphone is pretty much the one device he's come to rely on to stay connected. "It's not the computer anymore," he said. "I use this almost more than my PC." After this workshop, John was headed home to organize the folders on his phone.
Verizon is happy to host workshops regarding technology at Del Webb communities and any number of other active senior communities across the Midwest. If you are interested, please contact me on Twitter at @VZWMichelle or email me at michelle (dot) gilbert (at) vzw (dot) com.
For more Verizon Wireless news, subscribe via RSS feeds in the right rail.