Verizon Partners with Montgomery County on Community Service & Sustainability
Verizon Partners with Montgomery County on Community Service & Sustainability
This is guest piece from Tabb Bishop
Through a combined outreach initiative, Verizon and Montgomery County Executive Isiah "Ike" Leggett encouraged employees and area residents to participate in the county's Community Service Week as well as Verizon's Employee Office Supply Swap and free Electronics Recycling Rally at the company's Silver Spring, Md., office on Friday, Oct. 25.
Several county officials including the Office of Community Partnerships Director Bruce Adams joined Leggett and Verizon's Mid-Atlantic Region Vice President Tony Lewis and other company executives to announce this collaborative effort.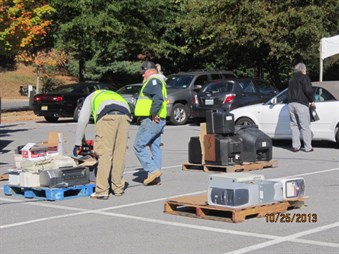 During the rally, more than 100 environmentally conscious Marylanders donated a variety of electronics from their offices and homes.  Seventeen pallets of unwanted recyclables were collected.  The supplier disposing of the discarded items will adhere to Verizon's zero-landfill objective, meaning the materials will be reused or recycled so that they do not end up in a landfill. 
The Office Supply Swap took place on Thursday, Oct. 24, when Verizon's 2,100 employees at the Silver Spring facility filled 15 boxes with office supplies, including binders, notepads, pens and markers that were donated to a local nonprofit organization – the George B. Thomas, Sr. Learning Academy in Bethesda, Md.  These items were presented to the academy's founder, George Thomas, who was on site for Friday's recycling rally.  The supplies will be used to support student achievement.
Employees in Verizon's Cockeysville office also collected nearly 200 unused binders, which were donated to the Baltimore County Public Schools Department of Student Support Services, the Baltimore County Public Schools Office of Homeless Education and Shady Springs Elementary School in Rosedale, Md.
Congratulations and THANKS to everyone who participated!