Verizon Technology Brings Corn Maze Fun to Fall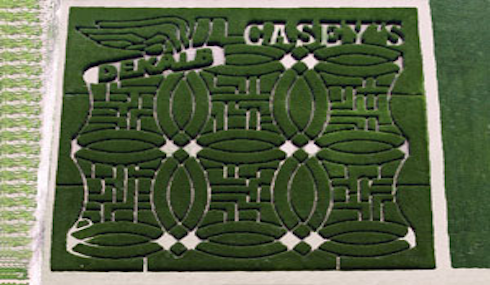 Although corn mazes may seem like fun and games during the fall months, they can actually mean big business for farmers – providing supplemental income from $5,000 to $50,000 annually.
That's why Rob Stouffer, owner of Precision Mazes in Missouri and a Verizon customer, has found a more efficient and technological way to create them for his customers, including the Geislers of Ankeny, IA, who welcome thousands of visitors each year to their 10-acre corn maze at Growing Family Fun.
Rob, one of only four corn maze creators in the country who develops custom mazes, relies on technology and Verizon's 4G LTE network to help him deliver a customized final product.
Rob uses his Verizon smartphone to speak with customers, email maze designs to the graphic design team and find farms with GPS technology. He also utilizes tools like Yelp to identify great local places to dine at, the Gas Buddy app to find the cheapest fuel and various apps for securing good prices at hotels.
"Before I became a Verizon customer, I was dropping way too many calls. I'm more than pleased with my coverage now," he said. "I also use my smart phone to take pictures of the pathways I'm cutting, so I can communicate those with my clients and send them the pictures to show them what it looks like from my view in the machine."
To physically create the mazes, Rob uses a track loader. He relies on commercial-grade GPS with latitude and longitude to precisely tell him where he's located in the field and where to cut to create the image for that maze.
"My business combines art and science with technology," Rob said.
In honor of the 10-year anniversary of Growing Family Fun, Rob designed the Geisler's maze to feature a double wedding ring barn quilt pattern that is from an actual quilt made by Malinda Geisler's great-grandmother. You can see the corn maze in person and check out all of the fun Growing Family Fun has to offer through October 31.
For more Verizon Wireless news, subscribe via RSS feeds in the right rail.