Verizon's HopeLine Helping Missouri Agencies Rally Against Elder Abuse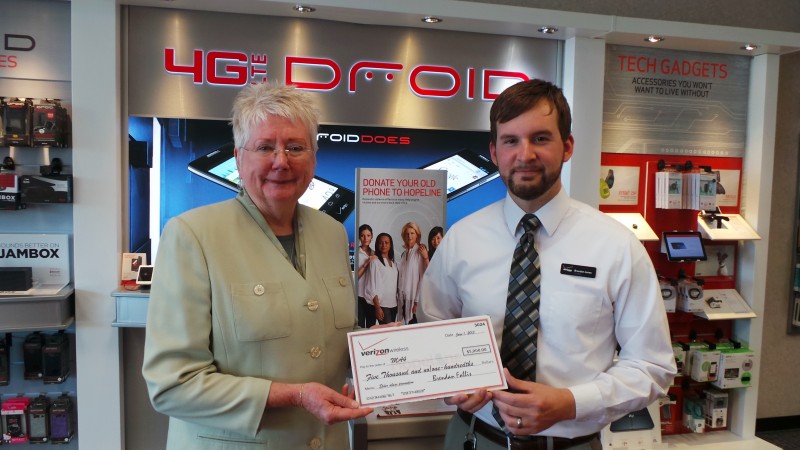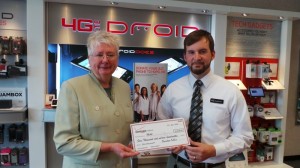 This is a guest post from Catherine Edwards, executive director of the Missouri Association of Area Agencies on Aging (MA4). In the photo above, Brandon Jones, assistant manager at the Columbia, Missouri, Verizon Wireless store, presents a check on behalf of Verizon's HopeLine initiative.
Domestic violence is abhorrent in every instance. But, when the abuse is directed at people who are older; who may have disabilities or problems with mobility; or who may be completely dependent on other people for the necessities of everyday life – the crime becomes even more insidious.
Such is the case with elder abuse. Elder abuse is physical, sexual, emotional, financial, or neglectful harm to an elder.
The consequences of abuse can be especially serious for older people because their bones are more brittle and recuperation takes longer. Even a relatively minor injury can cause serious and permanent damage. On a psychological level, seniors and people with disabilities may be socially isolated and physically and emotionally dependent on the perpetrator making it nearly impossible for them to report the abuse for fear of losing their last vestige of independence.
Last year, in Missouri, the Department of Health and Senior Services' Elder Abuse and Neglect Hotline received 32,796 calls involving seniors and adults with disabilities – and estimates are that only 1 in 5 cases are actually reported.
That's why the Missouri Association of Area Agencies on Aging (MA4), is doing something about this hidden face of domestic violence.
With support from the HopeLine program from Verizon Wireless, MA4 provides training to its team of volunteers throughout the state. On a daily basis, volunteers from Missouri's Area Agencies on Aging deliver meals and assistance to home-bound seniors. And when we do, we have the opportunity to talk with the seniors we serve. With proper training, our volunteers can help detect if an abusive situation exists – and we know whom to contact to help protect the person in potential trouble.
As the baby-boomer generation continues to age, the number of people over age 60 facing elder abuse situations will undoubtedly continue to grow. Now is the time for all of us to take a more pro-active interest in the health and stability of seniors in our communities who want to continue to live independently for as long as possible.
We salute Verizon Wireless for its efforts to prevent domestic violence and elder abuse in Missouri, and encourage everyone to become actively involved through the Area Agencies on Aging located in communities throughout the state.
On June 13, Brandon Jones met with me to present the Missouri Association of Area Agencies with a check for $5,000 from the HopeLine program. The funds will be used to provide elder abuse prevention and detection training to volunteers throughout the state.
For more Verizon Wireless news, subscribe via RSS feeds in the right rail.