Verizon's Wireless network ranked #1 for overall performance in Boston by RootMetrics®
Verizon's Wireless network ranked #1 for overall performance in Boston by RootMetrics®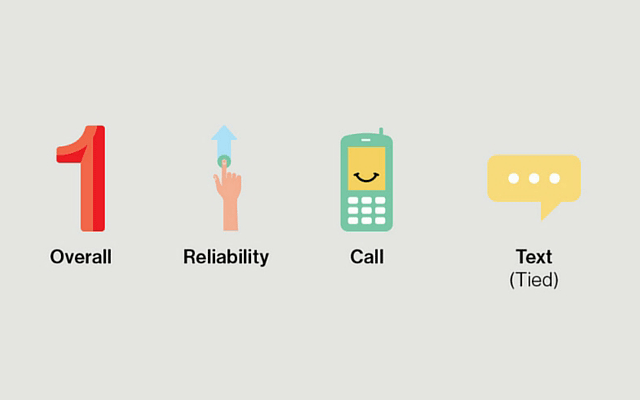 Verizon customers in Boston are enjoying all of the benefits of the top-performing wireless network in the area, according to the Boston RootScore® Report[s1]  , conducted by Seattle-based RootMetrics. In the new RootMetrics first half 2016 report, Verizon won the overall performance award in Boston.
RootMetrics is an independent mobile analytics firm that uses off-the-shelf consumer smartphones to test the network capabilities of all four major U.S. wireless carriers in six network performance categories across various geographies.
Verizon also was ranked first in network reliability and call performance. RootMetrics professional testers drove more than 4,000 miles throughout the Boston  metro area in the recent study. They compared national wireless competitors in 89 indoor locations and conducted over 61,000 total tests from April 3 to April 9.
"We are pleased that RootMetrics has recognized our continued dedication to building the best wireless network in the Boston area for our customers," said Michele White, Network Director for Verizon's Northeast Market. "This award paired with Verizon's recent announcement to invest $300 million in a city-wide fiber network demonstrates our ongoing commitment to provide the best telecommunications services in the city, while laying the foundation for future wireless innovation, including the deployment of 5G technology."
Across the U.S., RootMetrics rated Verizon's wireless network as the leader among all major national wireless service providers for the fifth consecutive time during testing in the second half of 2015. Verizon also earned the most first place or shared first place data performance rankings in the nation's top airports during second-half 2015.
Rankings based on RootMetrics Boston (April 2016), U.S. National (2nd half 2015), and 50 Airport (July-December 2015) RootScore Reports. Tested with best commercially available smartphones on 4 national mobile networks across all available network types. Your experiences may vary. The RootMetrics award is not an endorsement of Verizon. Visit www.rootmetrics.com for more details.
Andrew Testa serves as the Public Relations Manager for the New York Metro Region, and is responsible for external media and influencer relations, employee communications and community relations. Andrew is passionate about technology, and pens stories about industry trends and the impact of Verizon's 4G LTE network. He also chronicles Verizon Wireless' community efforts that includes HopeLine, a program that connects survivors of domestic violence to vital resources, funds organizations nationwide and protects the environment.