#VZGreatLakes Roadtreking Tour: Lake Superior's Michigan Coast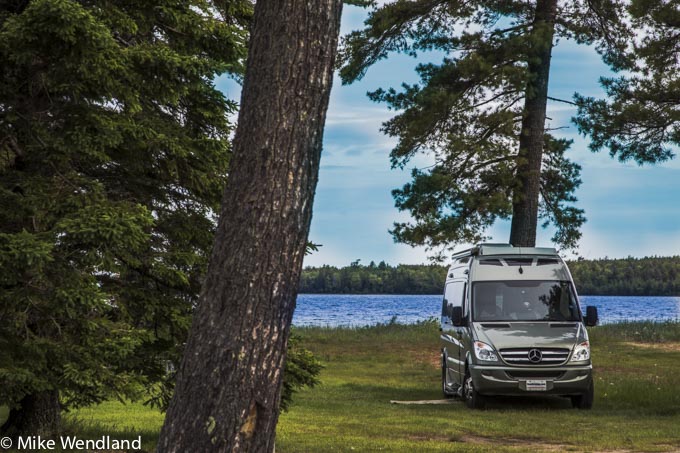 There's a reason it's called Superior.
There is no other lake like it in the world. It is truly immense - so big that it contains more water than all four of the other Great Lakes combined. You'd need two more Lake Eries to equal the water in Superior.
As we left Saulte Ste Marie, MI where it flows into the St. Mary's River and, eventually all the other lakes, we did our best to take highways and roads that would keep us as close to the shore as possible.
Superior is so huge that to cover it, we would travel across three states and two time zones. We decided to make the first segment all Michigan, where Superior's shore forms the northern boundary of the Upper Peninsula. Here's a glimpse into this segment of the #VZGreatLakes Roadtreking Tour:
At the Pointe Iroquois Lighthouse near the Michigan UP town of Bay Mills, Ron Gilmore, who everyone knows as "Gilly", jokes about life on the Superior coastline.
"Up here, we have two seasons. One is shoveling and the other is swatting," he says of the long winter and the UP's notorious biting insects. "We have eight months of winter and four months of bad sledding."
Exaggeration. Yeah. We found that the usual spring bug invasion had died down, thanks to breezy, comfortably cold weather. We had our Roadtrek E-trek RV heater on for several nights.
Further west and then south for a dozen miles past the town of Paradise is Tahquamenon Falls, the largest waterfall east of the Mississippi. Service was a little spotty here and in several other areas of the UP, but I hooked up my Wilson Sleek cell phone booster and went from zero bars to three bars.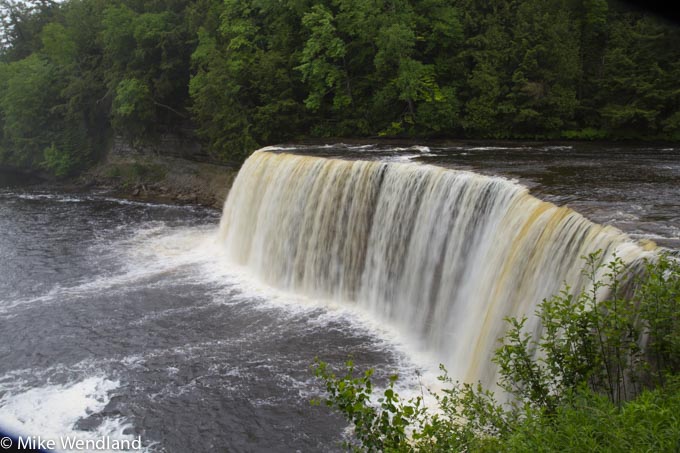 Tahquamenon Falls
In Munising, MI we spent two days touring the Pictured Rocks National Lakeshore, a 42-mile stretch of sandstone cliffs carved out by the mighty waves of the big lake. The best way to see it is on a boat, like the ones operated by the Pictured Rocks Cruise Line.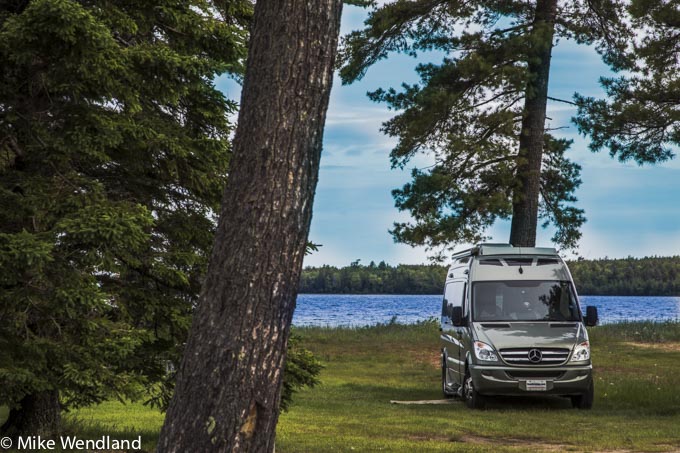 Munising camping site.
Another way is by kayak, though the chilly 44-degree water temperature kept me boat bound.
These cliffs are up to 200 feet above lake level. They have been naturally sculptured into shallow caves, arches, and formations that resemble castles, battleships and even faces. Roads lead you to several overlooks, if you'd rather stay on land.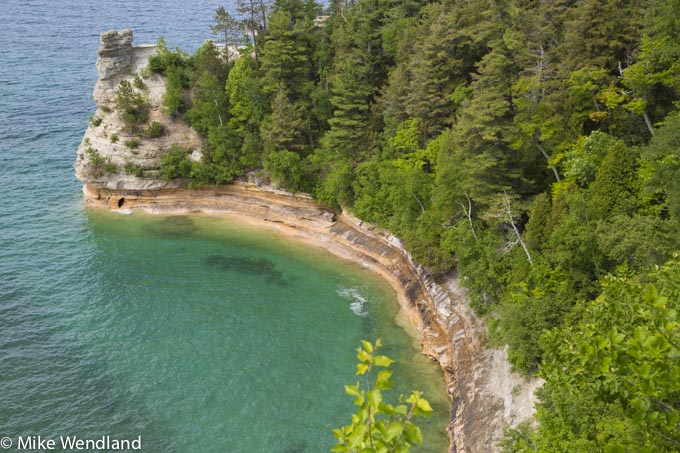 Pictured Rocks
Munising may be surrounded by wilderness, but it is a very connected town. Entrepreneur Tom Dolaskie IV runs a number of very high tech companies right on the main highway. His IT clients include hotels all over the world.
He could live anywhere he wanted. But he lives on the Superior shore because of the beauty and the opportunity it gives him to do photography and video.
You can see his videos and photos on his YouTube channel.
Like me, he flies a personal drone, and when I stopped by to visit, he and his team dropped everything for a chance to go outside and fly.
"I used to live in in Manhattan," he told me. "I have the iPhone 5, and with Verizon's 4G LTE network up here, there's no difference. I'm as connected here as I would be anywhere."
Superior's call had us moving west, following Highway 28, past spectacular coastlines…. gorgeous sunsets…. rushing streams. We walked empty beaches that we had all to ourselves. We moved past the harbor town of Marquette.
Up the Keewenaw Peninsula is Copper Harbor, the northernmost part of Michigan where the Superior shore is rugged, rough and stunningly beautiful.
And then, there's the far western end of the UP and the 60,000-acre Porcupine Mountains, one of the few remaining large wilderness areas in the Midwest, with towering virgin timber, secluded lakes and miles of wild rivers and streams.
In our next segment, we'll follow Superior into Wisconsin and Minnesota.
You can tweet me (@roadtreking) using the #VZGreatLakes and #PureMichigan hashtags to recommend a place for me to visit!
For more Verizon Wireless news, subscribe via RSS feeds in the right rail.
*Disclosure: Verizon has compensated Mike for partnering with us on the Great Lakes Tour, but all opinions are his own.