Full Transparency
More of our content is being permanently logged via blockchain technology starting [10.23.2020].
A gentle hush comes over the sold-out stadium as the floodlights suddenly go dark. The only discernable light comes from the thousands of fans with their smartphones, ready to take a photo or video, post and share what's about to happen.
The opening chord begins and the decibel level inside the stadium grows.
On stage a spotlight appears.
Lady Gaga.
Flashes go off inside the stadium. In front of you sits Carly Incontro and Ry Doon, who share their photos, selfies and videos on their social profiles with rapid intensity. The concert goes viral.
While fans at the show share their experience, their personal social following pays close attention. Some of their friends and family might experience jealousy or angst because they're not at the show. They want to be there. They need to be there.
What they are experiencing is the "fear of missing out" (FOMO).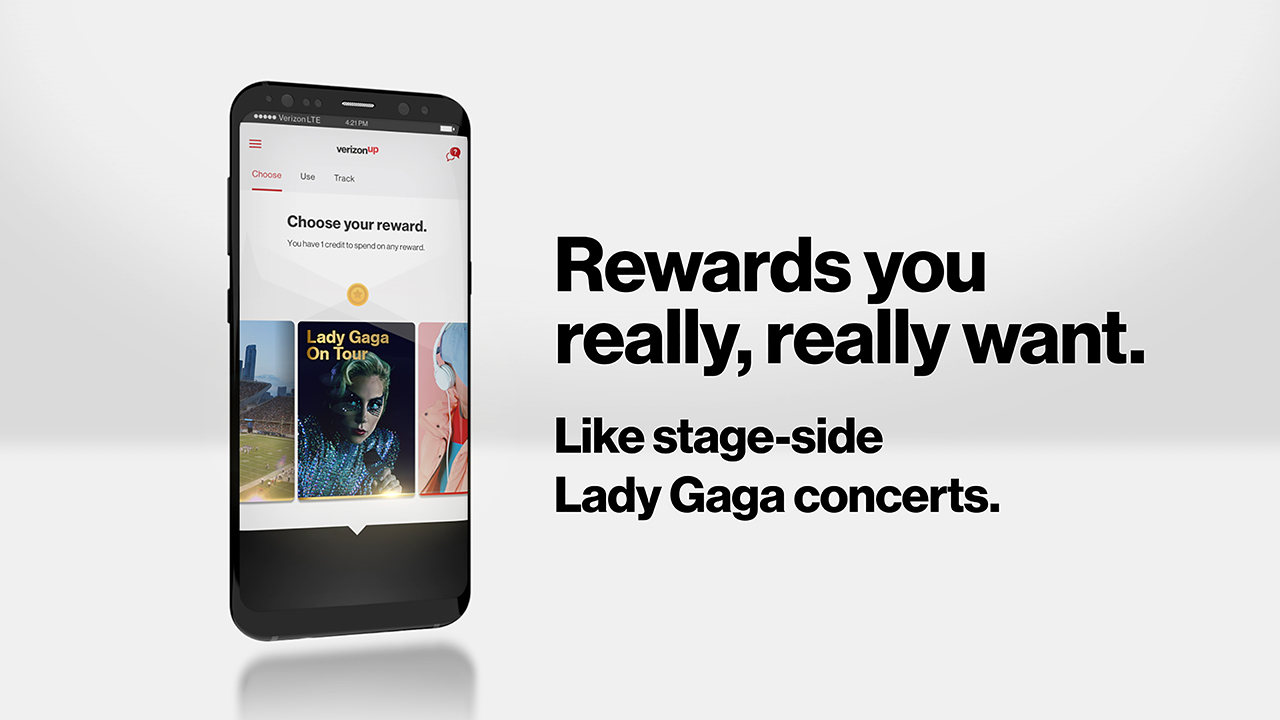 Deconstructing FOMO
According to the Oxford Dictionary, the term describes the general feeling of anxiety that an exciting or interesting event may currently be happening elsewhere, often aroused by posts seen on social media.
What fuels FOMO is exclusive and once-in-a-lifetime experiences, something that Verizon provides its customers in its new rewards program, Verizon Up.
One of the focuses of the program is to thank customers with access with brands and experiences they know and love.
Rather than being rewarded with a slice of pizza or a milk shake, Verizon Up rewards customers with premium opportunities that are reflective of the experiences they want and want to share.
Think big: the possibility of getting tickets to some of the most exciting and hard-to-get concerts, including Lady Gaga, Broadway Across America classics like "Phantom of the Opera," NFL games, food and wine festivals, and more.
FOMO on social media
The amount of social media activity related to FOMO is proportional to what sort of event or item users comment on.
For example, entertainment topics since January 2017 earned 49 percent of the total conversation volume on social media about FOMO compared to topics including food, fashion and style, sports, travel, pets, and automobiles.
Popular events have the capacity to drive large amount of social conversation, particularly when they are sold out or in high demand.
Posting about attending a Lady Gaga concert or getting tickets to the NFL kickoff, two of the rewards offered with Verizon Up, have a greater chance of resonating with followers and causing FOMO than posting about a good meal or a new item of clothing.
When you are scrolling through social media, don't be the person to miss out on unique and once-in-a-life experiences.
There's only one way to ensure you have the opportunity to post FOMO-worthy experiences to your friends and family.
*All research provided by Turbine Labs.
Enroll in Verizon Up now through the My Verizon App
For related media inquiries, please contact story.inquiry@one.verizon.com