Wedding Planning Apps, Technology Lessen the Stress of the Big Day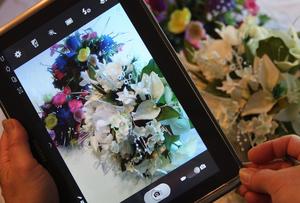 The weather is warm and the flowers are blooming—it's wedding season! Digital technology has made it much easier for wedding photographers to capture hundreds of photos and have those ready and shareable within moments for use in slide shows and highlight reels. Not only has technology helped streamline the photographer's role in a wedding, but thanks to mobile technology, such as tablets and unique wedding planning apps, it's also taken a little bit of the sweat out of planning the ceremony and events in general.
The Galaxy Note 10.1 tablet has received a lot of attention for its array of features, including multiscreen and an advanced S Pen Stylus. Using the Stylus brides can easily sketch, make seating arrangements, outline dresses and more while on-the-go, and the multiscreen makes it easy to browse wedding sites while taking notes. The large screen of the Note also gives brides the ability to zoom in on photos and take advantage of the capabilities that wedding apps like The Knot Ultimate Wedding Planner and The SeatingPlanner + offer.
Todd Spann of SO Magazine was intrigued to try out the Galaxy Note and see how it might help alleviate the stress of planning a wedding—and possibly make it a little more fun! To get his take on wedding planning apps and how to prep "tablet-style" read his review here.
For more Verizon Wireless news, subscribe via RSS feeds in the right rail.