Backed by Verizon's 5G network, multi-user collaboration can evolve in ways that were unthinkable just a few years ago.
Humans have always come together to work toward common goals. Whether building a fire or a multi-point virtual reality experience, the collaborative instinct hasn't changed—but the way people connect is undergoing massive shifts. The types of collaboration and the diversity of the participants is fueling a new generation of ideas, and as enterprises move toward instantaneous intelligence and real-time collaboration, their network has to shift, too. To guarantee their wildest, most innovative ideas can take flight, collaboration itself needs a rework.
Today's online collaborative tools allow multiple users to share work and push ideas forward, but the experience can be very two-dimensional. Sharing a file and awaiting feedback, or working on a digital sketch from multiple computers can also waste precious time. But what if team members could collaborate on projects in rich, fully rendered 3D, with virtually no lag? Suddenly any distance separating them closes, the conversation accelerates and creativity is unleashed.
Why collaboration needs to evolve.
"People either solve problems with the tools they have, or they develop new ones," says Dr. Ken Perlin, director of NYU's Future Reality Lab and creator of Chalktalk, an open source AR learning tool that renders multimedia objects in 3D.
He and other innovators are examining the future of collaborative work, and to do this, Dr. Perlin is working at the Verizon 5G Lab in New York City, located at Alley powered by Verizon, a membership community for entrepreneurs.
Having access to the world's first 5G-powered co-working experience has its benefits. Over Verizon's pre-commercial 5G node, Dr. Perlin and his students are freed to experiment at a fidelity and speed that the lab environment simply doesn't allow. "They can simulate it," Dr. Perlin says of his students' typical lab experience, "but they can't take it out into the world."
"Different designers need to share their concepts and work together in real time," says Jonathan Reeves, founder of Arvizio, a mixed-reality technology firm with practical applications in engineering, architecture, simulation and employee training. By tapping into Verizon's 5G node, Reeves is working to make Arvizio a true multi-point, multi-user platform—something only possible over a 5G connection. "With 5G, they can now share their designs, edit and modify on the fly, all in full 3D," he says.
"Working with Verizon and seeing their commitment to 5G has reinforced our belief that 5G is the future, and that we want and need to be a part of it."
— Jonathan Reeves, founder, Arvizio
Dr. Perlin and Reeves aren't waiting for the future to catch up to them. They're pushing ahead, and Verizon's 5G technology fuels their progress.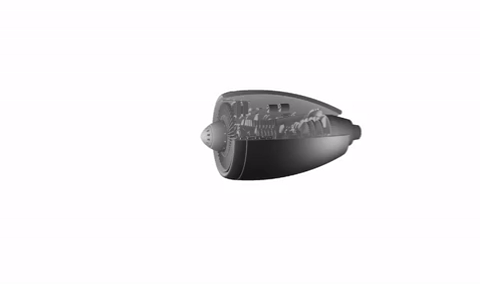 How 5G can turn potential into reality.
At the 5G Lab, Chalktalk is creating an interactive virtual whiteboard that is accessible by any number of users, at any given moment, from any 3D angle. Dr. Perlin is developing a "work surface" where colleagues will be able to sketch, animate and interact in real time—a fact that could have wide-ranging implications for everything from classroom education to product design. But like any mixed-reality experience, Chalktalk requires ultra-high bandwidth and nearly imperceptible network latency to ensure people work together at the highest possible level.
"What you really need is a time-critical connection," says Dr. Perlin. "Being able to do a sub-10-millisecond hop as opposed to a 100-millisecond hop makes all the difference. When I hold my hands in front of my eyes and draw in the air, all the right things need to happen without any delay. 5G actually allows that to happen."
For Arvizio, Verizon's 5G technology is the difference-maker. Reeves' participation at the Lab has demonstrated just how vital a 5G network is to unlocking his concept's full potential.
"Historically, we've used HoloLens over Wi-Fi networks, primarily in a single location," says Reeves, referencing the mixed-reality frames that have provided a visual interface for Arvizio. "Two or three of us could put on our HoloLenses and share the experience of a virtual walkthrough. But 5G brings to the table the ability to extend that experience—to remote locations, to multiple virtual rooms, people communicating, collaborating, annotating. It's a whole new game."
Increasing speed and bandwidth, as well as lowering latencies—a must for high-quality AR—allows Arvizio to expand its potential client base to industries that require complex visualization and collaboration tools. Reeves sees automotive and aircraft manufacturers as prime candidates for this brand of real-time mixed reality. "The design of large, complex machines is almost never done in one location," he says. "We're talking here about the next phase in the elimination of distance."
Both Chalktalk and Arvizio represent major steps in the evolution of professional collaboration —and at Verizon's 5G Lab, their development is accelerating.
Reeves says his time at the Lab offers a glimpse not just at the future of collaborative work, but at the future itself. "5G really is a game-changer," he says. "Working with Verizon and seeing their commitment to 5G has reinforced our belief that 5G is the future, and that we want and need to be a part of it."
Verizon's leadership on 5G.
5G is the fifth generation of wireless technology. But users will know it as one of the fastest, most robust technologies the world has ever seen. That means not only quicker downloads, but also richer immersive experiences that will have a massive impact on how we live, work, learn and play. The connectivity benefits of 5G will make business more efficient and give consumers access to more information faster than ever before. Autonomous cars, smart communities, industrial IoT, remote healthcare—they all will rely on 5G.
That's why Verizon built its own 5G technology to accelerate testing and drive the development of a worldwide 5G standard. And we continue to work with our other technology partners to further advance 5G technology and reach important milestones on the path to full deployment—both in the lab and, most importantly, in the real world where it matters most.
"We talk about 5G as the fourth industrial revolution," says Hans Vestberg, executive vice president and chief technology officer for Verizon. "What we are doing is transformational. Here at Verizon, we not only have the best network for today, but also for tomorrow. It's why we always say: We don't wait for the future. We build it."
Is your business ready for 5G?
Our 5G assessment and technology adoption tool will help you see how ready you are. Your answers will shape a personalized report, identifying key technologies that could help you fuel your 5G action plan. Start the assessment.