Disaster recovery of the future – Tech vs Mother Nature
Learn about new approaches to countering the latest disasters.
Full Transparency
Our editorial transparency tool uses blockchain technology to permanently log all changes made to official releases after publication. However, this post is not an official release and therefore not tracked. Visit our learn more for more information.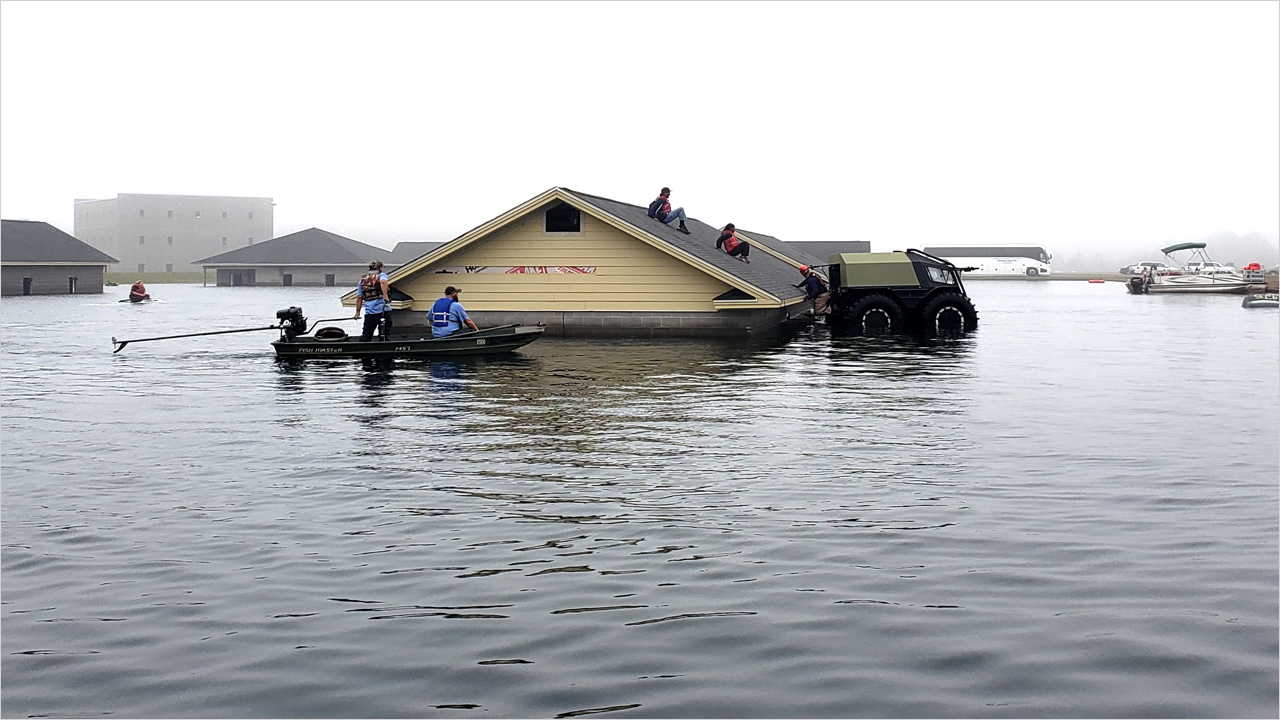 As the aircraft rolls down the runway, the pilot shields her eyes from the morning Florida sun. This was not just another beautiful day to fly, however. The winds of Hurricane Michael had just barely died down, and ten miles south of the little airfield, the residents of a devastated city were waiting for the aircraft to bring their mobile phone connectivity back online. The pilot was focused on getting her drone on autopilot in its assigned flight path, slowly circling overhead because it carried an airborne cell site that connected hurricane victims with 911 call centers and by  extension, worried relatives both on and off the Panhandle. It was one of the only aircraft authorized to fly over the area, and could have very well been the most important.
New tech, for a new reality
If it sounds like some fictional future, it's not. This is an actual deployment as part of an unprecedented response by Verizon to Hurricane Michael's direct hit on Panama City, Fla in 2018. Our team was there, and this year Verizon is ready to do it again, because there is never a good time for a community to be impacted by a disaster. Governments and companies large and small can do their best to prepare, but Mother Nature always tends to throw us a curveball. Life just happens, and whether it is a vehicle that won't start or that critical person away on vacation at the wrong time, there always seems to be something that catches us off guard. Governments spend millions of dollars per year on all manners of drills, plans, infrastructure upgrades, leadership trainings, etc., and while most are valuable, each is as unique and incompatible with each other as the various radio networks we all use.
Disasters are becoming more frequent and more powerful. NOAA recently published a new report saying that tropical cyclone rainfall rates will be increasing this century along with the proportion of tropical cyclones that reach Categories 4 and 5. That's the bad news. So how do we use technology to better prepare first responders for a new age in disaster recovery?
Adapting approaches
It will start with training. Training will need to take on new levels of realism, challenge and interconnectivity to respond to more severe and complex disasters. It is highly unlikely that one  community, fire department or hospital will be the only organization responding to an incident. Large scale exercises, replicating a train derailment or bridge collapse, for example, are valuable but staging them is costly and travel is expensive so it's rare that everyone will be there if it's not the real thing.
5G will help change that. 5G-enabled augmented reality (AR) and virtual reality (VR) will allow training designers to bring disasters to life in a virtual world. This means we will be able to bring the right people together with fewer barriers, like travel.
Imagine the FEMA hurricane chief being able to participate in dozens of drills a year as a hologram, instead of just one or two in person. A CDC expert on water contamination could counsel the local water department manager on protecting their lakes by walking along the shores with VR and literally point out their weaknesses. Meanwhile, as community resiliency becomes more important to city councils, the ability to train will become more realistic and cost effective.
Once disaster strikes and a community goes into response mode, what is positioned ahead of time is all that may be available for several days. With the CDC noting in 2017 that the majority of homes now have only a mobile phone for connectivity, Verizon understands that our wireless networks are often the only means of communications that someone has during an emergency. Much of our networks and cell sites are triple redundant when it comes to fiber connections and power sources, but we know that things still happen. Generators fail and fiber lines can be cut by falling trees, so we are always thinking about new ways to restore connectivity faster, so first responders can focus on saving lives.
We have been building our "farmyard" of COLTs, COWs, CROWs, HORSEs, GOATs, Big Red and more for over a decade now. We are able to bring in pre-positioned vehicles from across the country to augment our network for first responders, plug gaps in coverage caused by storm damage, and provide vital power generation and comfort for communities impacted by disaster. But we are still at the mercy of the roads; even though we are often the only ones traveling toward a disaster area.
We go to exceptional lengths to get our people and equipment where it is needed, from helicopters to ferries, but getting our network assets in place in the first day or two after a disaster is always a challenge. Drones are changing that and are only getting more capable.
During the hurricane season of Fall 2018, we were proud to launch several aircraft, both manned and unmanned, to bring vital network connectivity to our customers and first responders over devastated areas where connectivity was limited. I imagine a future where dozens of drones, both large and small, can deploy within hours of the winds dying down so victims can make lifesaving calls and enhance first responders' communication. We are getting closer but there are still many challenges, and solutions like digital license plates for drones are needed to help get us there.
I remain optimistic about the future. Humanity's brightest moments are often when we are all pitching in to help each other in times of crisis. Climate change is demanding more from us all as extreme weather becomes more frequent. I am confident that technology will enable us to respond to whatever nature throws at us next, putting solutions into the hands of brave men and women who keep us safe.
They, and the communities they protect, deserve nothing less.
For related media inquiries, please contact story.inquiry@one.verizon.com
Related Articles