Why these parents say the GizmoWatch is a great smartwatch for kids
When kids are old enough to run around the neighborhood, but too young for a phone, these parents say the GizmoWatch is a good first step into tech.
Full Transparency
Our editorial transparency tool uses blockchain technology to permanently log all changes made to official releases after publication. However, this post is not an official release and therefore not tracked. Visit our learn more for more information.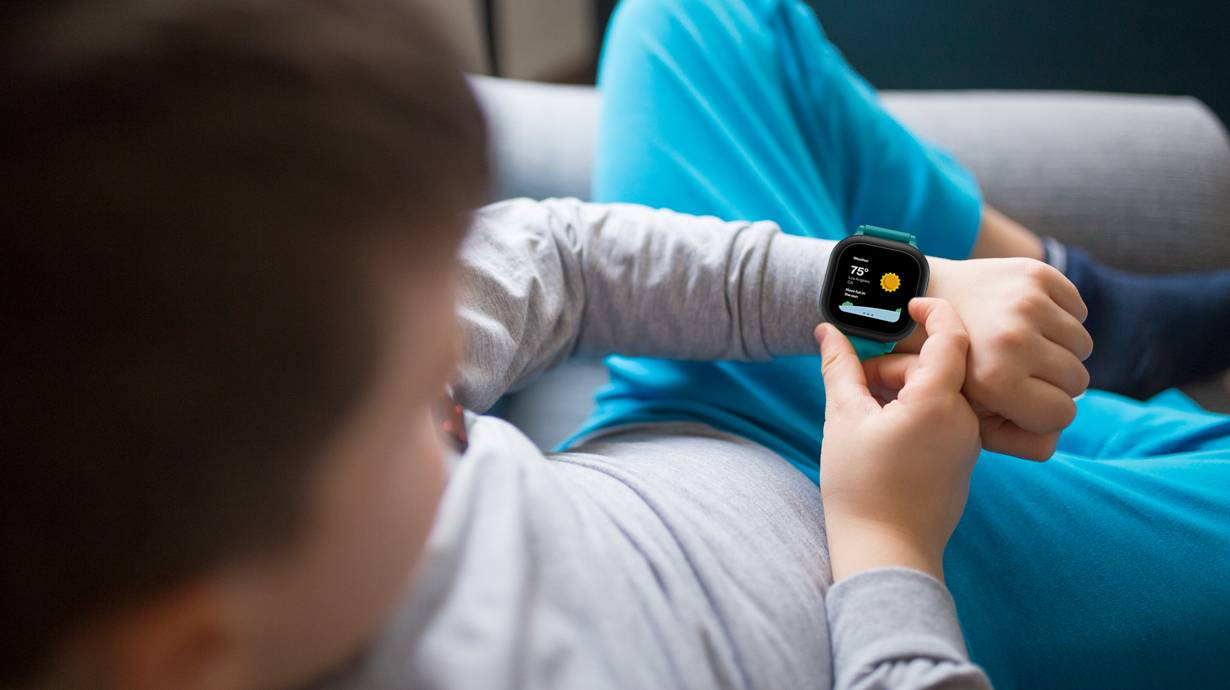 One of the great joys that only today's digital parents can experience, is getting that first text from your kid. Even if it is a string of 30 emojis.
"The first text was 'I'm here,' and it was just very comforting," says Jessica Bonikowske, a mother to three boys ages 5, 9 and 12, about her son sending that first text from a GizmoWatch that he'd arrived where he was supposed to be. "He used it for what it was intended for."
If you're reading this, you're probably deep scrolling the best smartwatch for kids reviews—and enduring mini-campaigns from your kid to get one—and still looking for that piece of convincing data that the GizmoWatch is the right one.
Consider these: The GizmoWatch 2 is Wirecutter's top pick for kids, and earned USA Today's 2022 Editor's Choice Award , and if you're a Verizon customer, it's also the easiest one to get started with.
But when asked, the parents interviewed for this article say that the GPS tracker—the ability to see the location of the device and the child who is wearing it—plus two-way calling drove the final decision.
"We did a lot of research about what to buy because there are a number of trackers," says Ray Pastore, Ph.D., professor of esports and online teaching and learning at the University of North Carolina Wilmington. "The one thing we liked, in addition to being a tracker, was the two-way communication. He could call us. Many were just a tracker."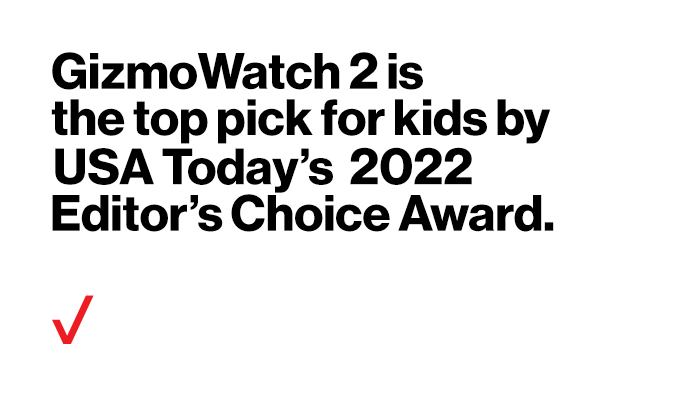 What is a GizmoWatch and how does it work?
"We got it because it has no internet, no camera. It has a GPS tracker on it, and he can call us,"—Jessica Bonikowske, who got the device for her oldest son.
When kids are old enough to wander around the neighborhood with friends but not old enough for a smartphone, parents may start thinking about keeping better track of their kids, and that often leads them to look for a smartwatch, like the GizmoWatch for kids.
It's part phone, part GPS tracker, and parents can control everything on the device through an app installed on their phone. The device is similar to a fitness or activity tracker with a touch screen on the watch face to scroll through the calling, voice text and messaging features. The device comes with its own phone line and costs about $10 a month for Verizon customers.
Plus, the Verizon smartwatch for kids has been around for a few years, with ongoing updates. The first edition was released in 2018 as an update to Verizon's award-winning GizmoGadget and came with 4G LTE connectivity, a faster processor and a more durable watchband. In 2020, the GizmoWatch 2 got an even faster processor—the Qualcomm Snapdragon Wear 2500—and later, the GizmoWatch 2 released a special Disney edition in November 2020. And this year, a new software update in May offers a weather app and message readout.
A fast processor with 4G LTE connection matters because most adults can tolerate a little lag time in using a device, but not most kids, says Pastore. The fast processor in the GizmoWatch makes for a fast, responsive experience, which can boost their interest in using it.
"When you start up any of these watches, it can take anywhere from 20 seconds to a minute," says Pastore, who reviewed the GizmoWatch for his 6-year-old on his YouTube channel. "If there's a two- or three-second lag, he could think it's not working and get frustrated fast."
Setup is fast and easy, so kids can start tracking steps, making calls and texting you heart emojis in just a few moments.
And Bonikowske says her son picked up learning the tech faster than her parents. "In like five minutes he understood how to use it," she says.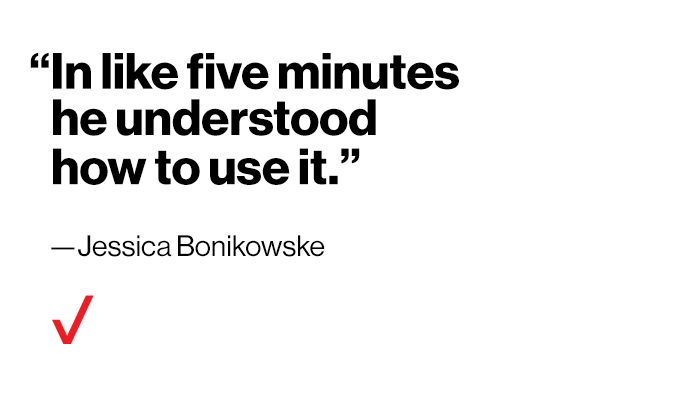 Introducing tech to kids with smartwatches
"It's taught him responsibility. He has to take it with him, and it's building a trust in our parent-child relationship; and he has the tools to do it," Bonikowske says.
Kids and technology can be tricky: Too many bells and whistles can be distracting, and if it's too complicated, discouraging. That's why choosing a simpler device to introduce your kid to technology may make the most sense.
The GizmoWatch for kids has simple calling features and messaging options that give this age-group the ability to to stay in contact, whether there's an emergency or just a quick need to feel connected on that first sleepover.
The new message readout feature is good for individuals with a wide range of disabilities as well, says Clay Hadden, a speech pathologist in Charleston, South Carolina, who specializes in using high tech to help kids learn how to talk. And because it looks like a device that every other kid is wearing, a kid with dyslexia for example, doesn't stand out while adapting to new skills.
"For some kids with learning disabilities, the readout function is going to be more socially accepted when it's in the form of a cool watch," Hadden says.
Because it's a smartwatch for kids, the conversation can start early about the age-appropriate use of tech, says Bea Moise, a cognitive specialist and parent of two neurodivergent children who coaches digital parents. She suggests teaching kids early to ask a caregiver for permission about when to use the device.
That means learning to put the device on the charger when not in use, setting boundaries around not making calls at inappropriate times, such as during school, and helping kids understand that it's a primer device: How they use it now will help determine if they're ready for the responsibility to use a smartphone later. For example, can they follow the rules you establish together as a family for the device, can they give it back when asked, and can they take care of the tech when it's not being used.
"It's good on play dates when another parent is present," Moise says. "You're intentionally teaching children that this isn't something they have with them all the time."
Parental controls
"We can control things from the app; I can control if it's going to ring or be on silent mode. We also set it to Auto Answer, so if I call him, it will buzz a few times and it just answers and we can listen in," says Pastore.
Parents and caregivers can adjust the device from the GizmoHub app on their phone. Enter up to 10 phone contacts—family members, friends, and grandparents—and thoughtfully restrict who can call your kid. The parent app also controls the brightness on the digital display to maintain battery life, and device volume. From the dashboard, parents can activate school mode or quiet mode, which limits device use during the day.
"We had a rule: It was not allowed to go to school," says Bonikowske. "We had an incident where it did go to school. I got the notification on the phone, and I called him, heard the classroom in the background, and I muted it. I emailed the teacher, and said 'I'll come pick it up.'"
Smartwatches with GPS trackers offer parents peace of mind
"Find my Device we use all the time. It's an essential feature," Pastore says.
For parents with no time to figure out how these things work, Common Sense media says the GizmoWatch 2 was its pick for the best GPS tracker and the easiest to use. From the start, you can open the parent app to track your child's location, activate SOS calling, QuickDial and Auto Answer features. Plus, with geofencing, you can draw a border around an area your child is permitted to go—such as a neighborhood—and get a notification when they've gone outside that boundary.
Pastore uses the "Find my Kid" and "Find my Device" options, too.
"He comes home and takes it off in his room," Pastore says. If his son forgets where he put it, Pastore opens the app, taps Find My Device, and the watch beeps.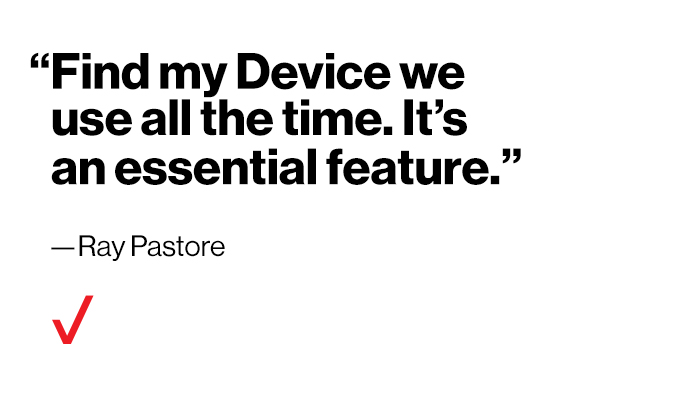 Help kids build healthy habits
"My oldest son has a technology addiction, that's why we leaned into the Gizmo option," Bonikowske says.
Ongoing research from the National Library of Medicine shows that wearables with timers and reminder features on the GizmoWatch can have a positive impact on kids struggling to stay organized. With additional tools such as the weather app, a fitness tracker and physical games, the GizmoWatch provides features that can help kids stay organized and on top of their day, set daily reminders, or set physical activity and step count goals. And they can set fitness goals and track daily activity with the built-in activity tracker for kids.
The new weather update displays the location by city and state, current temperature, and weather icons such as cloud and sun for the current weather condition along with a matching phrase, such as "Have fun in the sun." The second weather screen displays the current conditions for air quality, pollen and UV exposure.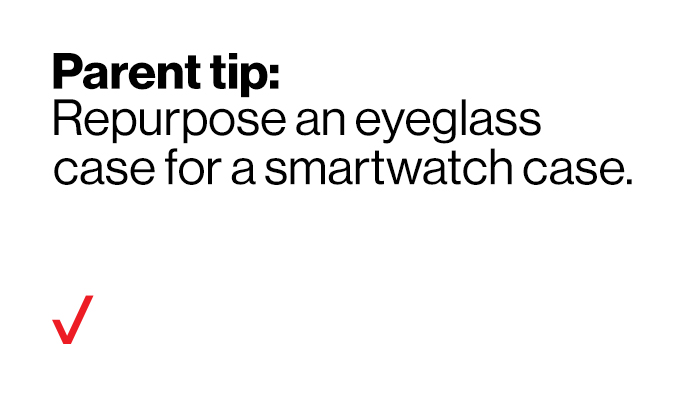 How's that decision going for you …
"My son can call us at anytime," Pastore says. "We call him; he picks it up. It's working. We're going [on vacation] in two weeks, and he's going to wear it there in case he gets lost, heaven forbid."
But be prepared: Seeing that first text may not hit like hearing their first word or taking their first step, but it's definitely worth a screenshot.
"The first text, he sent me lots of pictures. He's 6. He can't type or read just yet," Pastore says. "It was a pineapple. He probably sent 30 of them. It was many."
Here's to many more pineapple and poop emojis.
GizmoWatch Frequently Asked Questions
What is a GizmoWatch?
The Verizon GizmoWatch 2 is a kid-friendly smartwatch designed with a child's safety in mind. Caregivers can call or text kids anytime to see when to pick them up or what they want for dinner. Set up to 10 trusted contacts they can send voice notes to, call, or text with pre-written messages like "I love you."
What is the best age for a GizmoWatch?
The GizmoWatch age range is 3 – 11 years old.
Can you send text messages on the GizmoWatch?
Yes. Parents can enter a list of 10 pre-approved contacts for children to send and receive messages.
Are GizmoWatches safe for kids?
The GizmoWatch was designed with kids' safety in mind. From the GizmoHub app, parents can track their child's location, monitor text messages and program the device to connect only with a list of approved contacts.
Can both parents have the Gizmo app?
Caregivers, parents and grandparents can download the GizmoHub app with permission from the owner's app, granting access to the dashboard for tracking and messaging. For instructions, click here.
Is the GizmoWatch waterproof?
The watch is "water-resistant." This device has been tested to be IPX7 compliant and should not operate under water. If all covers are tightly closed, the device is protected against water immersion to a maximum of 1 meter deep for 30 minutes.
How is GizmoWatch 1 different from GizmoWatch 2?
For a GizmoWatch vs. GizmoWatch 2 comparison: The GizmoWatch 2 moved the back button and power button from the front of the watch to the side. There was also a slight increase in touchscreen display size. In 2020, the GizmoWatch 2 got an even faster processor—the Qualcomm Snapdragon Wear 2500—and later, the GizmoWatch 2 released a special Disney edition in November 2020. And this year, a new software update in May 2022 offers a weather app and message readout.
Can you use a GizmoWatch without Verizon?
No. The GizmoWatch will only work with a Verizon phone line.
Get the GizmoWatch 2 and find new ways to stay connected—and safe—with your kids.