Gizmo Watch 3: What parents need to know
The new kid-friendly smartwatch features more GPS tracking insights, video calling, a Bluetooth connection for earbuds and more.
Full Transparency
Our editorial transparency tool uses blockchain technology to permanently log all changes made to official releases after publication. However, this post is not an official release and therefore not tracked. Visit our learn more for more information.
The Gizmo just got an upgrade. In January, Verizon released the Gizmo Watch 3—a kid-friendly smartwatch with new features that make parenting a little easier. Topping the list of updates are more GPS tracking options, a longer battery life and twice the number of approved contacts each child can use.
Of course, even the best technology won't work if kids can't get into it. So the Gizmo Watch 3 also gets upgrades kids will love, including a front-facing camera for recording videos and taking pictures they can share, and the ability to pair the Gizmo Watch 3 with Bluetooth earbuds, just like the big kids.
You'll still find everything that already makes the GizmoWatch great, too. As a parent, you can still use the watch to help kids stay on track of their chores and to-do lists. Kids can still use the built-in activity tracker and interactive games to reach their daily step goals. And, of course, the watch is still the best way to give kids a little independence while teaching them how to check in with you along the way.
So what's new with Gizmo Watch 3?
It doubles the number of approved contacts your kid can connect with. Previous versions of the GizmoWatch let parents approve up to 10 phone numbers, including the primary guardian, for children to text and call. The Gizmo Watch 3 allows up to 20, including the primary guardian.
You can set more safe zones. GPS tracking and monitoring are among the top reasons parents get the GizmoWatch for their kids. With the Gizmo Watch 3, parents can set up more than one safe zone and get a notification when their child goes from one place to another, such as going from school to a friend's house.
Kids can make video calls with the front-facing camera. The new front-facing camera lets kids make video calls and take pictures and record video messages they can share with trusted contacts.
Longer battery life. The Gizmo Watch 3 has a new processor—the Qualcomm ® Snapdragon Wear ™ 4100—that delivers 80% more talk time and 20% more standby time.
It's easier to add Gizmo Watch 3 buddies. If your child and a friend both have the Gizmo Watch 3, they can each send a quick message request to get approval to be "buddies" who can message, call or chat with each other.
More customization options. You can choose from several new watch face designs, including two new options that change with the seasons and the time of day.
Bluetooth connections to earbuds. A new Bluetooth connection makes it easy to pair the watch with wireless earbuds or headphones.
More games. In the new GizmoWatch kids can play Tic Tac Toe, Gizmo Says and Puzzle.
How the Gizmo Watch 3 measures up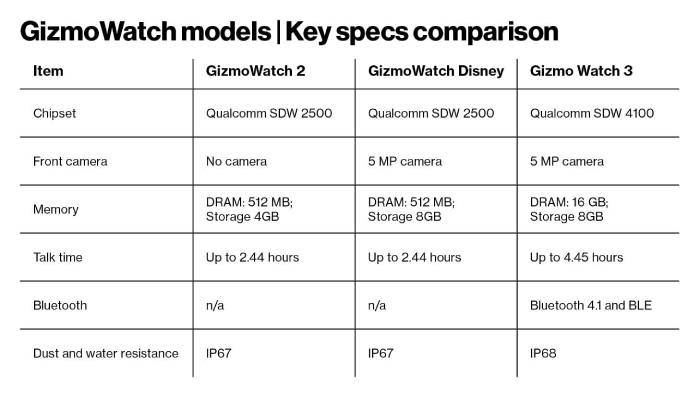 More about GizmoWatch
2018—The first edition was released as an update to Verizon's award-winning GizmoGadget.
2020—The GizmoWatch 2 got an even faster processor—the Qualcomm ® Snapdragon Wear ™ 2500.
November 2020—The GizmoWatch 2 released a special Disney edition.
2022—A new software update in May featured a weather app and message readout.
2023—The Gizmo Watch 3 gets an even faster processor, designed to be more responsive without draining the battery.
The takeaway? If you're looking for a reliable, kid-friendly smartwatch that keeps getting better—and that you'll love and your kids will actually use—you've found it with the Gizmo Watch 3.
Gizmo Watch 3 is available for $4.17 a month for 24 months on Verizon Device Payment (0% APR; $149.99). For a limited time, if you buy one Gizmo Watch 3, we'll give you $100 off a second one.*
---
*Buy the Gizmo Watch 3 for 24 monthly payments and get another with a new line for 24 monthly payments. Up to $99.99 device payment purchase per Gizmo watch with new line required. The second Gizmo Watch 3 must be of equal or lesser value, less $100 promotional credit applied to the applicable account over 24 months. The promotional credit ends if eligibility requirements are on longer met. 0% APR. Any plan. Taxes and fees may apply.