How to manage a busy morning routine with timers and the Gizmo Watch 3
A cognitive specialist and parent of two shares her research-based strategies for using the Gizmo Watch 3 to make the morning rush a little easier.
Full Transparency
Our editorial transparency tool uses blockchain technology to permanently log all changes made to official releases after publication. However, this post is not an official release and therefore not tracked. Visit our learn more for more information.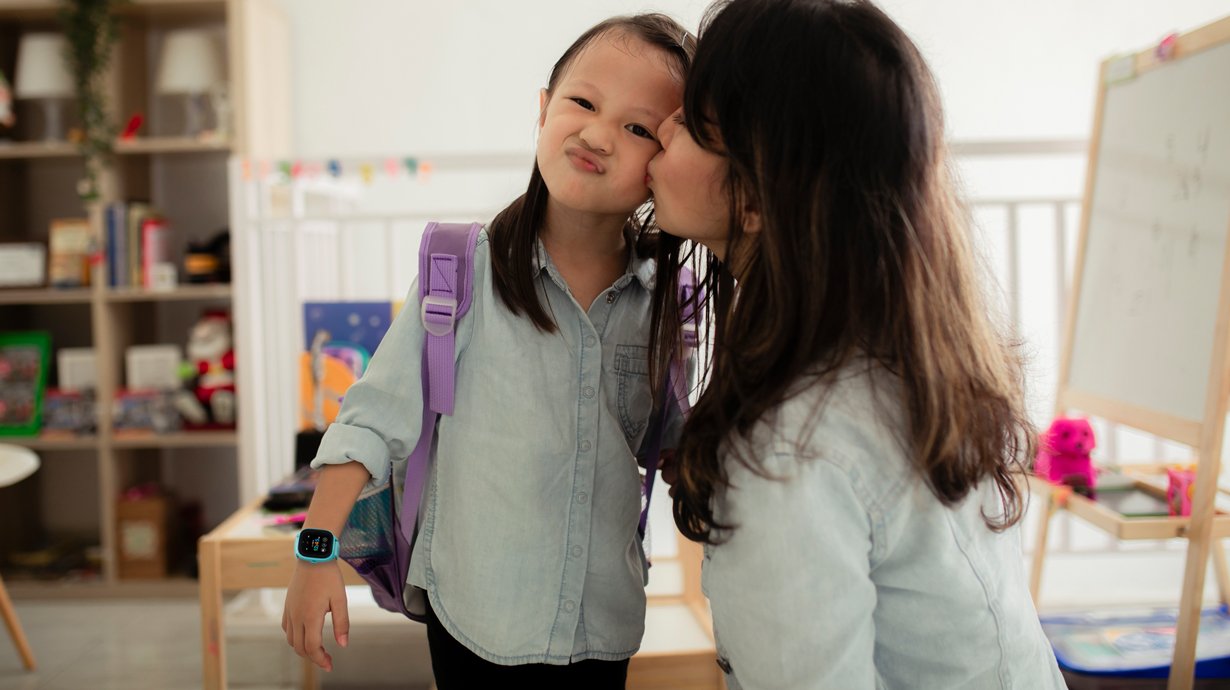 Mornings are crunch time in our house. It feels like we're all on deadline and sometimes forget the basics. Like putting on shoes or going to the bathroom. We've learned a few tricks to keep it moving, like putting shoes in the car the night before. But with so many details to track and two very vibrant, energetic children, the morning chatter can feel more like an interrogation than a chance to connect before they head out the door.
Do you have your homework?
Do you have your backpack?
Is your homework in your backpack?
There's been a noticeable difference in the morning routine since we started using the Gizmo Watch 3 and GizmoWatch 2 with our kids, who are both neurodivergent. Abby, age 9, has attention-deficit/hyperactivity disorder (ADHD). Jake, 11, is autistic. I'm ADHD too, and as a parent and cognitive specialist, I'm always looking for research-based ways to help families and children like mine be more independent.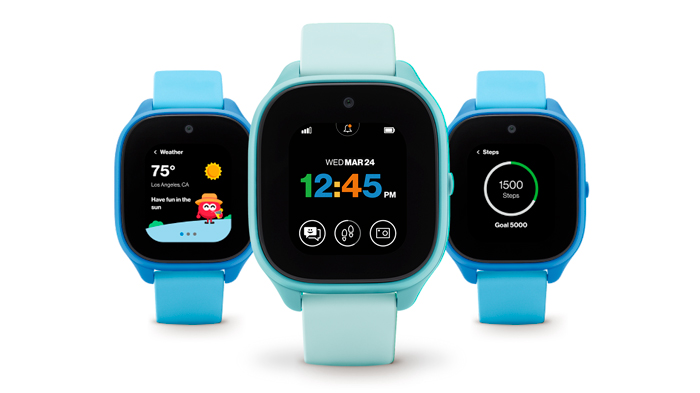 The Gizmo Watch 3 has some great benefits for kids who are neurodivergent, like the new GizmoBuddies feature that makes it a little easier to make friends, and GPS tracking, which is ideal for autistic kids who tend to wander. But the texting, voice messages, timers and to-do lists in the Gizmo watches have greatly eased our morning routine.
Here are a few ways we use timers in the morning rush.
The timer that moves with them
My kids were already familiar with timers before we started using the Gizmo watches. There are timers in their bathrooms and big visual clocks in almost every room in the house. They carried timers with them from room to room. Even neurotypical children can struggle with time management, but children like mine have time blindness: They struggle to know what time it is now, how much time is left and how quickly time is passing.
"This makes way more sense," Abby said to me when I handed her the Gizmo Watch 3, in a why-haven't-we-been-using-this-before tone. "I don't have to go from room to room walking around with a timer."
Plus, they can control what tone the timers make when they go off. Abby likes a vibration notification. Jake likes the Verizon Air Waves ring tone.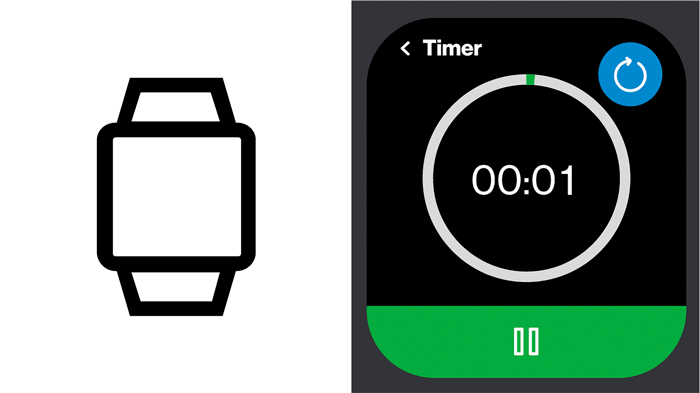 Using timers with the morning to-do lists
My kids can get overwhelmed with even the simplest tasks that seem to come easy for everyone else. Setting up reminders for what needs to be done in the morning brings a lot of ease to the day, and can set the tone for a smooth transition into bedtime.
In the evenings, I create their to-do lists for the next day using the GizmoHub parent app on my phone. For the morning routine, for example, they'll get a notification when they're supposed to get started, and the timer starts counting down. Here's Abby's morning routine:
Abby's Morning Routine
Abby knows she has 15 minutes to do the following things to get ready for school, and she checks off each item as she goes along, starting at 6 AM.
Wake up

Brush teeth

Get dressed

Go downstairs

Put on shoes and socks

Put homework in the backpack
When she finishes the tasks, she sits in her little cubby area and reads until her dad or I can take her to school.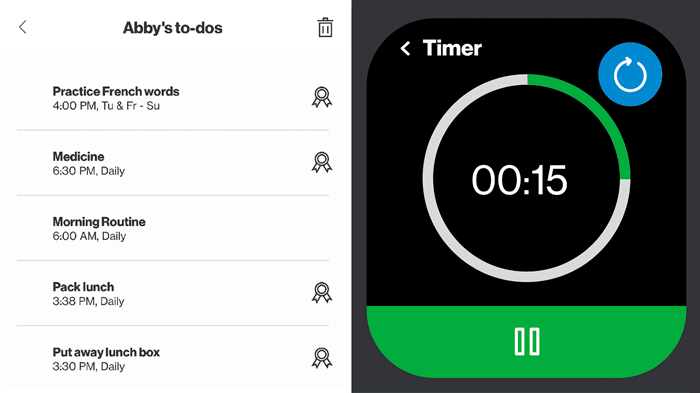 Sending text reminders instead of calling up the stairs
Before we got the Gizmos, I'd make a smart-speaker announcement to see if they were on track or to get them downstairs. Now I just send a message to their watches, or check their progress on their to-do lists by opening the GizmoHub parent app. And they can decide how they want to be notified: Abby likes a text, and Jake prefers to get a voice message to see if he's on track.
Using the timer for chores
We also use timers for after-school chores that need to be done before homework. With timers, the time blindness is still there, but they begin to get a feel for time when the timer goes off.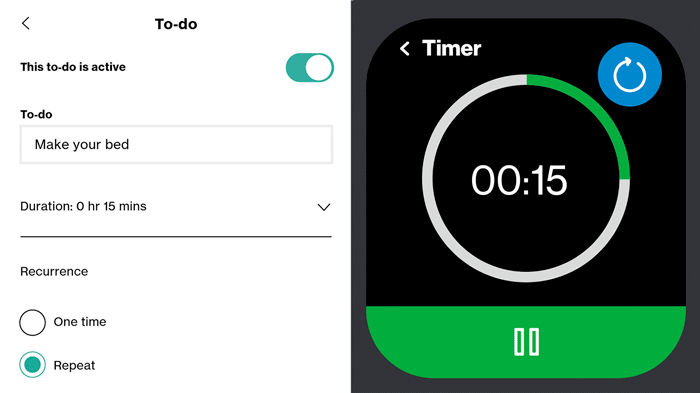 For chores, I keep two jars full of popsicle sticks. I write a different chore on each stick. The kids each pull one stick a day from each jar. One jar has chores like sweeping, or emptying the recycling. And the other jar holds chores with the sweeter stuff, like "Compliment your sibling," or "Give Dad a hug."
When it comes to chore time, they pick a stick, I set a timer, and the work begins. We don't use timers for the love and hugs chores, though. We take our time with that.
Using the timers for mindfulness breaks
We also use the timers on the watch for family mindfulness challenges. I'll open the GizmoHub app and send them both a message to take a few minutes and do nothing. They'll set the timer on their Gizmos, and watching the numbers count down is incredibly calming for my kids.
Takeaway
Safety should be the No. 1 priority for any new device you bring into your home. The Gizmo Watch 3 has some great safety features built in, plus some new features you'll need to know how to use before you give your kids the smartwatch. I can't begin to tell you how many times parents have come back to me to try and reinstate rules about electronics after they've already given their child full access and no guardrails.
Take time to learn how the device works and what it can do. Install the GizmoHub app on your phone to access all the control features. For most families, this is going to be the entry point for your child having access to calling friends and family. The way you use the Gizmo Watch 3 can set the tone for the way they use all future electronic devices. Start with this list:
Dedicate time to learning the device.

Educate yourself on all the features.

Set up a four-digit Security PIN or a FaceID.

Review the trusted contacts with your child.

Learn how to set the safe zone alarms.
Our family routine is now focused on connections rather than corrections. The Gizmo Watch 3 has removed some of the micromanaging aspect of daily routines. When I can spend less time delegating tasks to my kids and more time on relationship building, everyone benefits. Our mornings are smoother, and our evenings are filled with meaningful interactions.
Ready to see how the Gizmo Watch 3 can ease your daily routines?
Screenshot this for later
Using Gizmo Watch 3 timers in the morning
Create the kids' morning to-do list once and set it for a daily occurrence. This helps kids stay on track even on the weekends.
Check their progress on the list in the GizmoHub app. If they need a nudge, send a text or voice message.
Make an after-school to-do list that eases the next morning's routine, such as packing their lunch or laying out clothes for the next day.
Use the timer to take mindfulness breaks, which can improve cognitive function, self-control and emotional well being for kids with ADHD.
verizon.com/parenting