Submit your video success story: 2022 BlueJeans by Verizon Customer Awards
Full Transparency
No Updates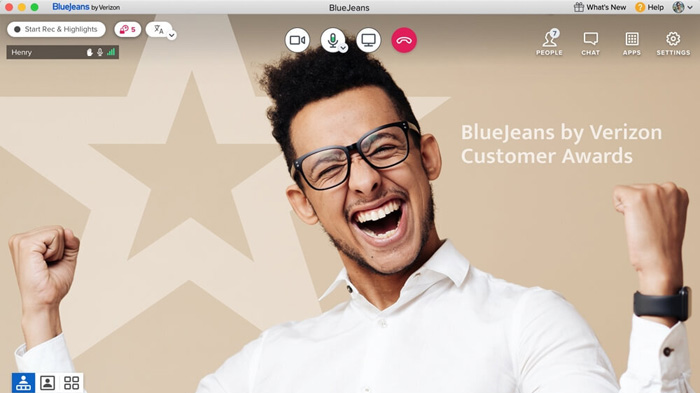 NEW YORK, N.Y. - Verizon Business today announced submissions are now open for the BlueJeans by Verizon Customer Awards program. Recognizing innovative customer achievements in video communication and collaboration, winners will be announced and celebrated on Verizon's Up to Speed in May 2022.
The third annual awards will showcase customers who have transformed the way they collaborate, communicate and get work done using BlueJeans. Customers are encouraged to submit their nominations in four categories for the awards program. Category winners will then be selected by a panel of judges based on the creativity, impact and business value of their BlueJeans use case. One winner will be recognized in each of four categories. Out of these winners, the BlueJeans Customer of the Year will be selected and announced live on Verizon's Up to Speed twitter channel.
"Customer expectations have changed rapidly over the past two years. They are more environmentally conscious and digitally savvy," said Chadd Thompson, global head of marketing and customer experience, BlueJeans by Verizon. "As a result, we've seen some truly transformative and innovative use cases emerge. We look forward to celebrating all of the new and exciting ways our customers are using our platform to showcase the power of video."
Categories for the BlueJeans By Verizon Customer Awards include:
Most Successful Hybrid Work Transformation – The category recognizes an individual or organization that has successfully navigated change/disruption to create new revenue streams, ensure continuity, or foster connectedness in our new world of work.

Biggest Impact – The category recognizes an individual or organization that has shown significant return on investment as a result of using BlueJeans. The ROI can be quantitative or qualitative, honoring a diverse set of outcomes.

Most Innovative Use Case – The category honors an individual or organization that has demonstrated superior skills in applying BlueJeans video technology to support a creative or pioneering use case outside of traditional virtual meetings.

Best Use of BlueJeans Events – The category celebrates the most creative or successful use of BlueJeans Events to support brand awareness, customer retention, or human resource initiatives such as employee engagement and culture building.
Learn more about the 2022 awards and how you can share your story on the BlueJeans By Verizon Customer Awards page.