Call for nominations now open for the 2023 BlueJeans by Verizon Customer Awards
Full Transparency
No Updates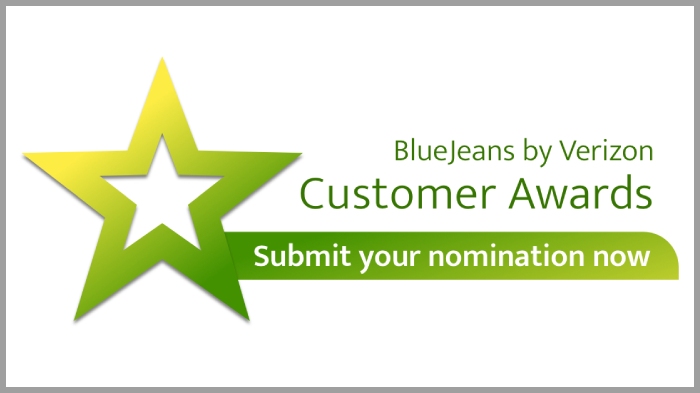 NEW YORK - Verizon Business today announced submissions are now open for the fourth annual BlueJeans by Verizon Customer Awards program. Celebrating excellence around the use of video to drive workplace transformation, winners will once again be announced on Verizon's Up to Speed video podcast in May 2023.
"Today's flexible work environment is constantly evolving, and so are the customer use cases we're seeing emerge as a result," said Chadd Thompson, CMO, BlueJeans by Verizon. "With BlueJeans, organizations have been unleashing the potential of video to immerse and captivate audiences for everything from corporate all-hands to high-impact launch events, and we can't wait to showcase these dynamic customers at the forefront of delivering the experiential workplace."
The awards will showcase trailblazing customers who have demonstrated an outstanding ability to execute change management by improving their communications, fostering creativity and innovation or solving complex problems using the BlueJeans platform—BlueJeans Events/Studio, BlueJeans Meetings, BlueJeans Rooms/RaaS, BlueJeans Expo or the BlueJeans Gateway for Microsoft Teams. 
Customers are encouraged to submit their nominations in one or more of the four categories for the BlueJeans By Verizon Customer Awards:
Top Workplace Modernization – Recognizes an individual or organization that has successfully transformed their workspace to best support virtual communication and collaboration, enabling seamless connectivity across services and devices. 

Biggest Impact – Recognizes an individual or organization that has shown significant return on investment as a result of using BlueJeans. The ROI can be focused on a broad set of outcomes, including business results or social, environmental, or cultural benefits.

Most Innovative Use Case – Honors an individual or organization that has demonstrated excellence in applying BlueJeans video technology to support a creative or pioneering use case outside of traditional virtual meetings.

Best Use of BlueJeans Events – celebrates the most creative or successful use of BlueJeans Events to support marketing outcomes such as brand awareness and demand generation, or human resource initiatives such as employee engagement and culture building.
Category winners and honorees will then be selected by a panel of judges based on the creativity, impact and business value of their BlueJeans use case. Winners will be announced live on Verizon's Up to Speed twitter channel.
Submit your nomination today through March 31, 2023. To learn more about the awards program and previous winners, visit the 2023 BlueJeans By Verizon Customer Awards page.